Michael D. Wolff, Esq. Awarded "America's Top 10% Honored Lawyers of 2022" by the American Registry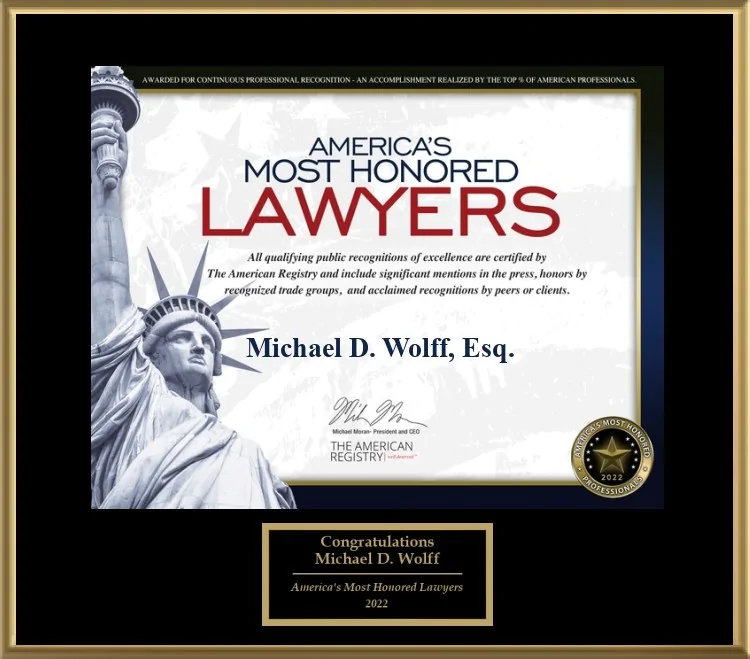 MIDDLETOWN, NY — September 12, 2022 – The Law Offices of Sobo & Sobo announced today that Michael D. Wolff, Esq.—personal injury lawyer and managing partner of Sobo & Sobo—has been awarded the title of "America's Most Honored Lawyers in 2022" by the American Registry. Mr. Wolff was recognized as being among the top 10% of the country's most trusted and experienced lawyers in personal injury law. 
"This award is a testament to all of the hard working team members here at Sobo and Sobo," said Mr. Wolff. "I am honored to have been able to help so many clients throughout my career."
The American Registry is partnered with some of the country's largest organizations that specialize in identifying business excellence across virtually all industries. These organizations collect and study peer review ratings, customer reviews, and industry analysis to help customers and clients discover business leaders like Mr. Wolff, who stand out in their fields as industry pioneers and consistently demonstrate excellence in customer and client satisfaction.
After Michael received his Bachelor of Science degree in Political Science from State University of New York College at Brockport, he attended Quinnipiac College School of Law in Hamden, Connecticut and obtained his Juris Doctorate. He received New York and New Jersey Bar admissions in 1995, and has practiced personal injury law ever since.
"Having worked with Mike every day for over 10 years, I get to see his daily commitment and dedication to our clients," said Greg Sobo, Founder and CEO of Sobo & Sobo. "Not only one of our very best lawyers, Michael is also generous with his time helping fellow team members. This is a well-deserved award to a consummate litigator and good friend."
###
About Sobo & Sobo LLP
Established in Middletown, New York in 1969, the Personal Injury Law Firm of Sobo & Sobo is made up of a group of professionals with a passion for helping others who also happen to be really talented attorneys. We have become recognized leaders in the field of personal injury law in our over 50 years of representing accident victims throughout the NY and Tri-state area.
Learn more about Sobo & Sobo at www.SoboLaw.com
About the American Registry
The American Registry's mission is to help industry leaders display and preserve their professional recognitions. They are proud to be selected as the official and authorized recognition products partner for some of the country's most trusted professional organizations at identifying business excellence. These organizations rigorously gather up peer review ratings, customer reviews, industry analysis, to ultimately uncover the best of the best professionals in business.
Learn more at www.AmericanRegistry.com 
CONTACT
Lauren Beigel, Marketing Director
Sobo & Sobo LLP