Venturing on The Snowy Roads of NY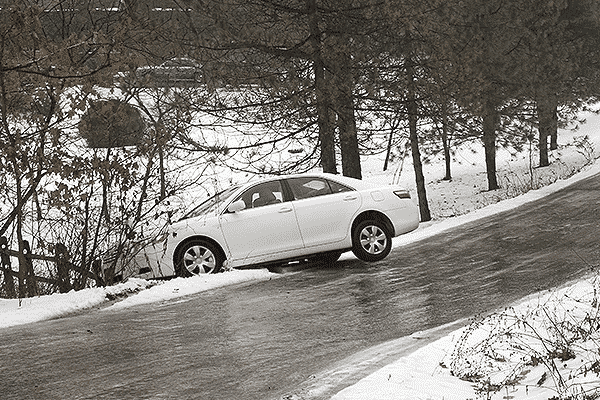 This winter, a number of snowstorms have moved through New York. In late January and early February 2013, parts of western and central New York received 15 to 21 inches. This is not the end of it, though. Even more weather that is treacherous is expected to move through the entire state over the next couple of months.
With poor winter conditions in sight, it is important that motorists exercise safe driving practices on the streets. Snow and ice breed slippery roadways, which are extremely hazardous to drivers. If you must attack the roads in winter, be certain that your car is prepped.
Before you begin
Before you get on the road, make sure your car is ready for the snow. Begin by checking your tires. Snow or all-weather tires have good traction and prevent sliding on icy streets. You should also inspect your windshield wipers. Make sure they are working and are appropriately clearing debris from your view. Also, refill your vehicle's windshield wiper fluid. This helps break up ice and clears snow from the surface of the window.
You may also want to equip your car with the following safety items that can help protect you if you are stranded or stuck:
Ice scraper and snowbrush
Shovel
Abrasive material to help with traction (for example, cat litter)
Blankets, clothes and boots
First aid kit
Matches
Flashlight and batteries
Jumper cables
Flares
Food
These are just a few items that may help you get out of a bind.
On the road
Once you get moving, drive slowly and stay alert for any hazards, including black ice. Also, look out for blowing snow, which can interfere with your vision. Keep your headlights or parking lights on so other vehicles can see you in dark environments.
As you move along, triple your normal distance from cars ahead of you. If a car stops abruptly, it will take a longer to come to a halt on slick roads. Also, slamming on your breaks might encourage sliding. Therefore, allow a good amount of room between your vehicle and other objects.
If a car accident does occur, it is best to keep aware of your surroundings and know where you are on a road. Therefore, you can inform safety services of your location. In the event that your vehicle breaks down or becomes inoperative, leave your vehicle and stand out of the way. Do not position yourself in front of your car as a collision could ensue. Keep a safe distance until assistance arrives.
Ultimately, it is best to avoid dangerous driving in extreme winter weather. If you are unsure about weather conditions, look to your local media for information on road conditions. If you happen to attack the roads and you are injured by motorist who was not exercising safe driving habits, contact an experienced personal law attorney. As you scrap to obtain suitable care for the harm that you have sustained, you deserve compensation.