Manhattan Motorcycle Accident Lawsuits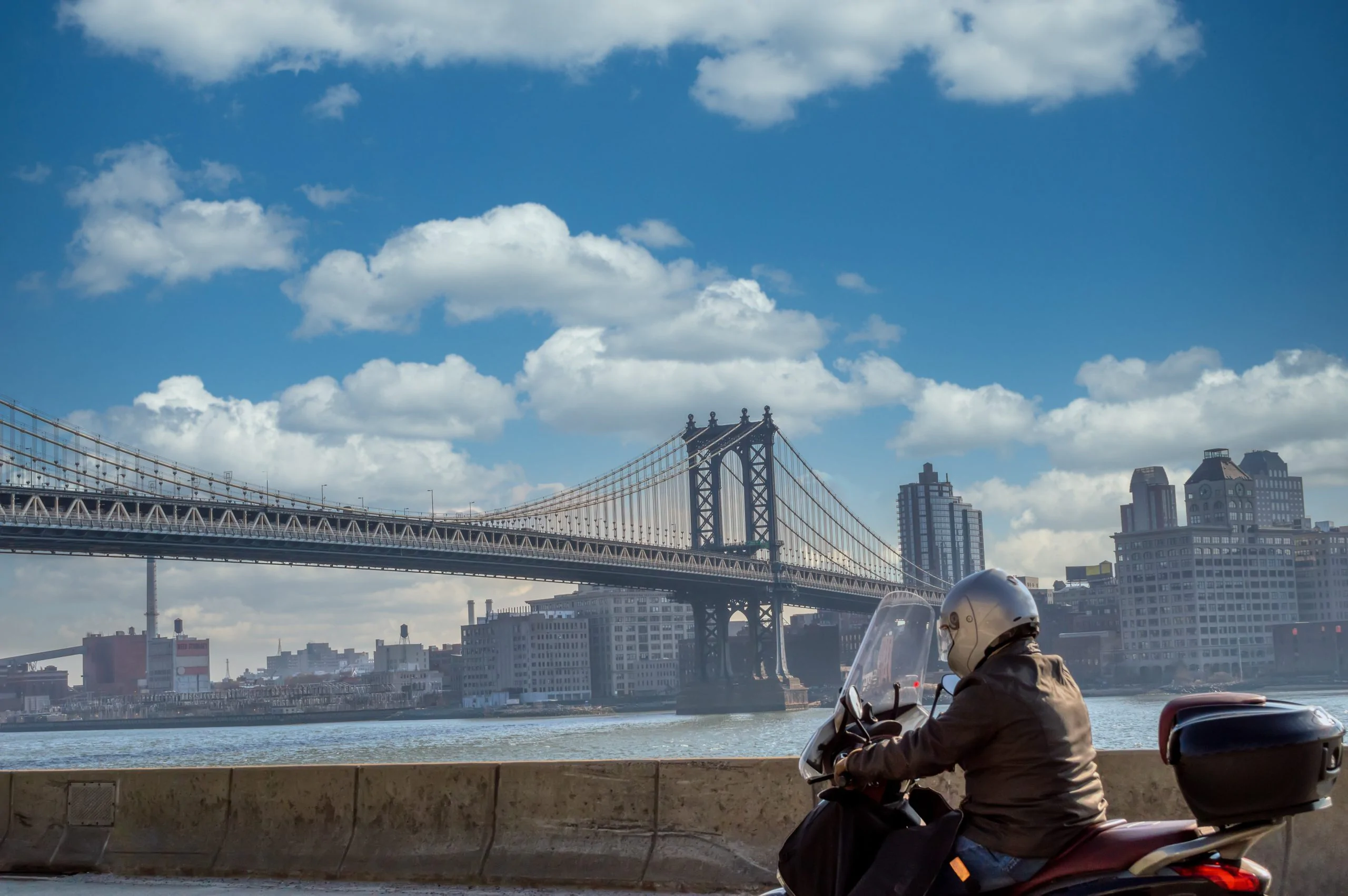 Motorcycle accidents are on the rise in Manhattan, and reckless behavior may be partly to blame, according to reports from the Insurance Information Institute. New York City experienced a spike in motorcycle fatalities over the past year. According to city data collected from the NYPD, 50 motorcycle accidents claimed lives on NYC streets in 2020, compared to 25 in 2019.
Fortunately, motorcyclists who are severely injured in accidents caused by another's negligence may be entitled to compensation that can cover all related medical costs, time spent out of work, pain, suffering, and other damages.
Motorcycles: A Dangerous Form of Travel in NYC
Historically, New York City has demonstrated a higher fatal crash rate for motorcycles than the rest of the state. The city's motorcycle fatal accident rate is 89 per 100,000 registered vehicles— nearly double the average rate in all other state regions, according to the NYC Department of Transportation's (DOT) Motorcycle Safety Study.
DOT stats further highlight the danger: Motorcycle accidents accounted for 14 percent of the traffic fatalities in NYC from 2010-14. This statistic is more concerning when one considers only 2 percent of the city's registered vehicles were motorcycles.
The Most Common Cause of Motorcycle Accidents
It may seem that motorcycle crashes would be prevalent on highways, where excessive speed could be an issue. But the DOT's study found just the opposite holds true. In fact, 77 percent of all motorcycle fatalities happen on local roads.
The most common cited cause of motorcycle accidents with injuries, according to the study, is overtaking. Overtaking occurs when a motorcyclist attempts to pass a vehicle in front. This accounts for 14 percent of all motorcycle accidents in New York (double the amount of cars, for which overtaking only accounts for 6 percent of all collisions).
Other common causes for motorcycle crashes cited by the DOT include:
Drag-racing on empty streets

Inexperienced riders

Alcohol use in conjunction with motorcycle riding

More younger drivers hitting the road
Safety Violations that Contribute to Motorcycle Fatalities
There are three factors that up the danger and can be controlled to some extent, either by motorcyclists or manufacturers.
Helmet Use:

Motorcycle helmets are typically worn in New York City. In fact, NYC helmet use far exceeds the national average. However, nearly one-fourth of motorcycle riders in fatality cases were not wearing those approved by the US Department of Transportation.

Protective Clothing:

Jackets, pants, gloves, and other protective gear can reduce the seriousness of injuries. NYS requires eye protection and helmets. but not other protective apparel at this time.

Standard Motorcycle Safety Features:

For bikes with antilock brakes, the fatality rate is 31-percent lower than disc brake or combined brake systems,

as per the Insurance Institute for Highway Safety

. But not every motorcycle is so equipped.
Most Dangerous Intersections in Manhattan for Motorcyclists
Certain intersections in Manhattan have been the scene of repeated motorcycle accidents. According to the City of New York Police Department's Motor Vehicle Collision Report for June 2021, the following intersections are where motorcycle accidents occur most frequently:
Eighth Avenue and W. 38

th

Street

Ninth Avenue and W. 35

th

Street

Seventh Avenue and W. 57

th

Street

Third Avenue and E. 14

th

Street
Statute of Limitations for Motorcycle Accident Lawsuits
New York State law puts a time limit on when an injured motorcyclist can file a personal injury lawsuit against the person who caused the crash, called a statute of limitations. In any personal injury case, the statute of limitations is three years from the date of the accident.
When a motorcycle accident results in a fatality, a wrongful death suit may be filed on behalf of the deceased's estate. Here again, there is a statute of limitations, which is two years from the date of death. In this case, New York law does not go by the date of the accident. The deceased might not have succumbed to his or her injuries immediately after the crash.
Rather than accept compensation offered through insurance, it is recommended that injured parties first consult with a motor vehicle accident lawyer. Filing a personal injury lawsuit typically results in settlement amounts many times larger than what insurance offers to help with a victim's pain, suffering, and other damages.
How to Sue for Motorcycle Accident Injuries
After an accident, many do not want to wait until the statute of limitations is about to run out to seek compensation. So, the injured party will hire a personal injury attorney to pursue a lawsuit as soon as possible.
A personal injury attorney is experienced at navigating the legal system to obtain an award for injured clients. When injuries result from a motorcycle crash, that step is the same: Hire a skilled personal injury attorney who will assess the facts that led to the accident, and explore the value of the individual's case.
One of the first steps will be to prepare and file a complaint. This complaint will include the facts of the lawsuit and why the defendant was negligent or otherwise to blame. In many states a summons is also prepared, which identifies the parties involved and why they are being sued.
Service of process makes sure that those involved receive this documentation, as required by law. Essentially, the defendant (or person being sued) signs for required documentation, in which case they too will typically hire an attorney.
The injured person's attorney does more than file a claim in civil court against the person at fault for the accident. They also may take the following actions to help their clients:
Negotiate with the insurance company to seek maximum damages before the case ever reaches court.

Take depositions (or legal statements) from those involved.

Fight the legal case in court if a desirable settlement cannot be reached.

Update the client throughout the legal process to ensure deadlines are met, all paperwork is filed on time, and any questions or concerns are immediately addressed
Insurance and Motorcycle Lawsuits
In New York State, motorcyclists have liability insurance to protect them against medical expenses they might otherwise have to pay out of pocket.
According to the NYS Department of Motor Vehicles, this differs from the "no fault" insurance provisions that regulate other types of vehicles on the road in this state. With no-fault insurance, someone injured in an accident can be reimbursed for damages regardless of who was at fault.
Without this protection, motorcyclists are advised to review their insurance coverage at the time of purchase to see how they will be reimbursed. Filing a lawsuit can help ensure the maximum payout for injuries regardless of insurance policy details.
Contact a Manhattan Motorcycle Injury Attorney
With over 50+ years of experience winning settlements for injured motorcycle victims in New York City, our attorneys know what it takes to maximize compensation for your damages. Contact us online, or call 855-468-7626 to discover the value of your case.