Roll-Over Accidents in NY: Lawsuits & Statistics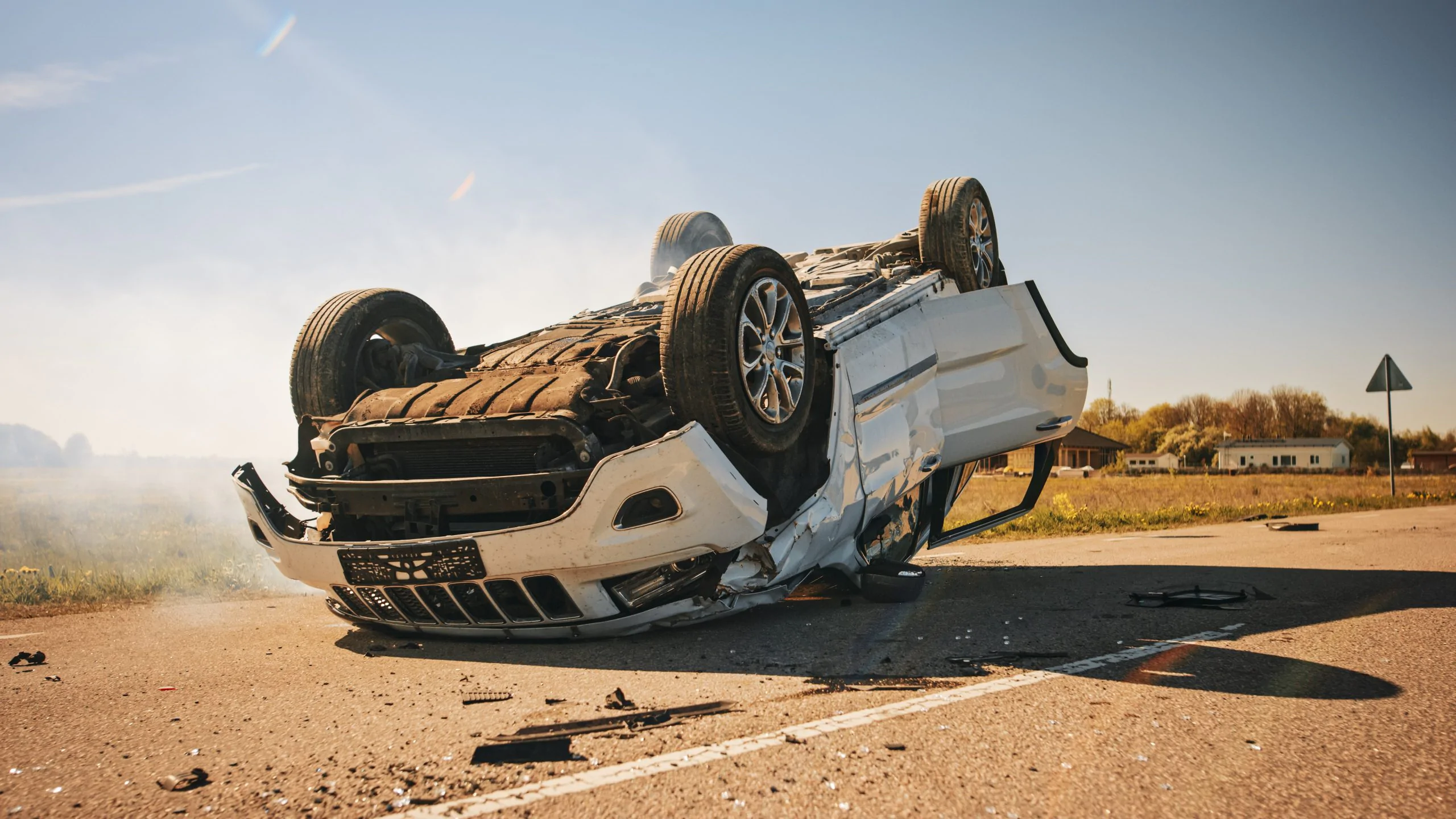 Rollover accidents are some of the most traumatic events a motorist could experience. Unlike other types of car accidents, there are usually numerous factors that contribute to the crash. Road conditions, environmental factors and the driver's role in the crash are all accounted for when determining liability in an investigation. 
Any New Yorker injured after a rollover accident is recommended to consult with the personal injury attorneys at Sobo & Sobo for help throughout the investigation, compensation negotiations, and court proceedings.
Types of Rollover Accidents in New York
Rollovers involve the flipping or rolling over of a vehicle. The Insurance Institute for Highway Safety reports that rollovers don't happen often, but they are frequently deadly. Rollovers make up less than 3% of vehicle collisions while accounting for more than a third of automobile accident deaths. 
There are two types of rollover accidents:
Tripped

rollovers are accidents in which an outside factor causes the accident, such as a guardrail, steep slope, or another vehicle.

Untripped

rollovers occur without the involvement of an outside factor. They are primarily caused by driving-related factors, such as speeding.
Of all types of auto accidents, rollover accidents are extremely likely to cause death due to the nature of the crash. The NHTSA reports that while head-on collisions are the most severe type of accident, rollover crashes are a close second. 
Rollover Facts & New York State Statistics
Data from the National Highway Traffic Safety Administration (NHSTA) paints a picture of concern for any driver in New York:
Rollovers count for

only

2.1% of all motor vehicle crashes, yet are responsible for

35% of all car accident fatalities

About 85% of all rollovers are single-vehicle accidents. This indicates that individual driver behavior plays the most significant factor in the cause of most rollover accidents.

Over 90% of all rollovers occur during routine driving actions such as driving straight or around a curve. This further emphasizes that driver behavior plays a substantial role in the cause of these accidents.

40% of all rollovers are the result of speeding. About 75% of rollovers occur on rural roadways with speed limits 55 miles per hour or higher.
Rollover accidents are strongly correlated to driver behavior, but there are several other factors that increase the likelihood of a rollover taking place.
Common Risk Factors for Rollover Accidents
The likelihood of a rollover accident in New York depends on the presence of the certain following risk factors.
Vehicle Instability 
A car's stability is determined by how much space exists between its left and right tires and the vehicle's center of gravity. Vehicles that are tall and narrow, like SUVs, trucks and vans, have higher centers of gravity and are more prone to rollover when making a quick turn. These vehicles usually transport heavier loads and may have uneven weight distribution. Drivers of these vehicles must be extra cautious, especially around bends and poor weather conditions.
Road Conditions
Roads that are inadequately maintained have uneven surfaces and potholes that increase the risk of rollovers. These poor conditions and other signals of neglect increase the chances of a vehicle rolling over. A poorly maintained median, curb, or guardrail are also more likely to cause an already susceptible vehicle to rollover.  In these cases, it's possible to file a claim against the state or the government entity responsible for maintaining safe roadways.
It must be noted that the statute of limitations for a claim against any agency of the state of New York is 90 days to give notice and 1 year and 90 days to file the claim. So, it is crucial to take action as soon as possible following any accident. 
Bad Weather
Rain, snow, and ice can make a vehicle more unstable and increase the risk of a rollover accident. A sudden application of the brakes or over correction of the steering wheel is even more dangerous is poor weather conditions and can cause the vehicle to flip. 
Roadway Trips 
A tripped vehicle refers to when the vehicle leaves the roadway and slides on its side before making contact with an object in the environment. This causes the vehicle to become airborne and rollover. 
The NHSTA reports that more than 95% of rollovers are tripped. Common "trips" in the roadway include guardrails, curbs, medians, steep slopes, and soft soil. Untripped rollovers make up less than 5% of rollover accidents and are primarily due to the driver's flawed operation of the vehicle.
Defective Car Parts
If a rollover can be attributed to a defective car part, the driver may file a claim against the automobile manufacturing company. To have a valid product liability claim, one must prove that the defect occurred during the design, manufacturing, or handling of the product. Proving a lack of warning to the consumer about the defective part would also be a valid claim.
All vehicles need to pass safety inspections before being legally sold. An example of a defect attributing to a rollover is if a vehicle's roof collapses on impact. A vehicle's failure to have adequate overhead protection installed in the roof directly compromises the safety of everyone in the vehicle. Vehicle faults that can cause a New York rollover accident include but are not limited to:
Fault electrical systems that fail to indicate a malfunction with system performance 

Faulty electrical systems that dangerously impact necessary mechanical functions, such as gas and brake pedal switches

Brake malfunctions that prohibit the driver from slowing down and stopping

Steering wheels may lock up, causing the car to remain moving in the same direction, leading it to strike something and then tip or roll 

Defective seat belts that fail to restrain passengers
Valid claims against automobile manufacturers must prove:
The defective part is related to the cause of the accident

Injuries sustained during routine and intended use of the vehicle

The vehicle was purchased with defective conditions and not modified
The statute of limitations for product liability is three years. Victims have three years from the date of the accident to take legal action against the manufacturer to claim damages.
Driver Accountability in Rollover Accidents
The drivers' behavior in a rollover accident will always be closely investigated and play a part in determining compensation value. Factors connected to driver liability are:
Speed

: Speeding is the cause for 40% of all rollovers. High speeds increase the risk of turnover while rounding sharp bends, and when a driver needs to swerve to avoid collision. Speeding also contributes to instances of overcorrecting.

Overcorrecting

: Overcorrecting is a natural reflex when a driver encounters a soft surface (such as soil or snow) and attempts to steer out of a slide and/or hit the brakes. This can cause the vehicle to lose balance and roll over.

Distraction

: Many rollovers are caused by the driver overcorrecting after not paying enough attention to the road. Cell phone use, operating the radio, or conversation with passengers are examples of distractions that often lead to rollover accidents.

Impairment

: Alcohol is involved in nearly 50% of all rollover crashes. Any amount of alcohol above a 0.00% blood alcohol concentration has the ability to affect a driver's vision, judgment, and muscular coordination. 
New York's comparative negligence laws allow victims to recover compensation for damages even if they are partially at fault. It's still possible to file a liability claim against an at-fault driver, but partial-fault could reduce compensation.
Rollover Car Accident Settlement Values
The details of every car accident are unique, making it hard to estimate that a rollover car accident settlement is worth without an initial investigation. However, it can be helpful for victims to understand the factors that go into calculating the value of a claim.
Injury Severity
Rollovers tend to lead to brutal outcomes for victims. Injuries commonly sustained in this type of accident are:
The severity of an injury is calculated into a settlement value and often reflected in medical costs.
Medical Costs
An experienced personal injury attorney can help retrieve records to calculate medical costs and expenses. Medical costs can include:
Ambulance transportation

Emergency department visit

Primary care doctor visits

Specialist services

Hospitalization

Rehabilitation and physical therapy

Medical equipment such as wheelchairs and crutches

Prescription medications
A reliable attorney will gather the medical records and invoices to document damages and calculate a fair value for short-term and long-term medical costs. They can also handle consulting a medical expert who can testify about any long-term care a victim may require.
Lost Wages & Earning Potential
Suffering injuries in a rollover likely leads most victims to have to miss work while recovering. A quality legal team can estimate current lost wages based on records of income and evaluate long-term effects of any injuries on a victim's career. Potential wage-related damages someone can include in a claim are:
Future earning capacity

Loss of promotion

Loss of medical benefits

Loss of pension or retirement benefits
An attorney can speak with medical experts and other expert witnesses who can testify regarding a victim's ability to work and earn a living after an accident.
Non-Economic Losses
In addition to economic damages, victims can recover non-economic damages associated with their injuries. An attorney will investigate to determine how much a victim qualifies for pain and suffering from a collision. If a victim is unable to participate in hobbies he or she once enjoyed, it's possible to claim compensation for loss of enjoyment in life. 
Severe injuries can leave lasting scars. Victims may feel significant emotional distress associated with disfigurement, especially if sustained on the face or other highly visible areas of the body. Many people endure psychological trauma after being in a rollover. Afterward, some have insomnia, fear of riding in a car, and other post-traumatic stress disorder symptoms. Depression, anger, and hopelessness may follow after a serious accident. Psychological struggles can negatively impact relationships, so a claim may also seek damages for loss of consortium.
Contact a NY Rollover Accident Attorney
Working with a competent rollover accident attorney can make a huge difference to the way a case proceeds. The skilled rollover accident lawyers at Sobo & Sobo will be able to connect the nature of any injuries with the crash to maximize the amount of recoverable damages.
 Our lawyers have over 50 years of experience in representing victims of rollover accidents across NYC and the Hudson Valley. Sobo & Sobo offices are conveniently located in the Bronx, Inwood, Middletown, Monticello, Newburgh, Poughkeepsie, and Spring Valley. Contact online or call 855-486-7627 for a free case evaluation.