Roll Over Accidents on Long Island: Lawsuits & Statistics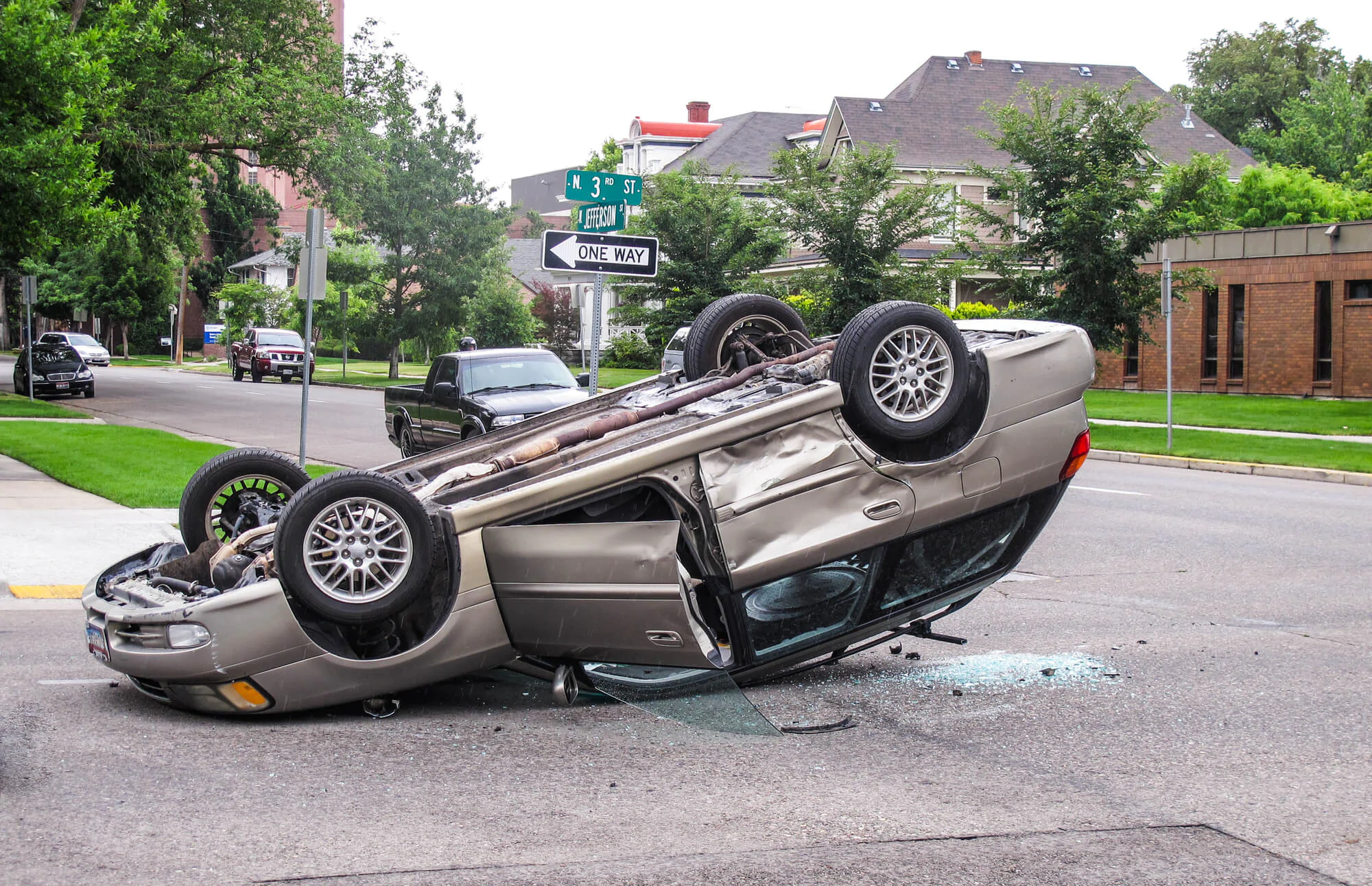 Roll over crashes occur when at least one vehicle tips over to the side or rolls onto the roof due to a collision, slip, or other incident. They can be very dangerous because they may result in the partial or complete ejection of vehicle occupants, like the driver or passengers. When this occurs, the chance for catastrophic or fatal injuries becomes much higher.
Victims of roll over accidents may incur very high medical expenses due to the severity of their injuries, the damage to their vehicle, and more. Injured victims due to another's negligence need to know how they can file a successful roll over accident lawsuit with the assistance of legal experts.
What to Know When Filing a Roll Over Accident Lawsuit
Many roll over accident victims may wish to file an auto accident lawsuit to pay for their medical bills and other expenses. But to acquire compensation, they must be able to prove negligence on the part of another group or individual, such as a city government, another driver, a construction company responsible for fixing roads, and more.
It can often be difficult to know who is responsible for a roll over accident, particularly if the details are not clear. Auto accident attorneys may be able to help victims gather the evidence they need and present that evidence to court in a timely manner.
Seeking Compensation for a Roll Over Accident
A successful roll over accident lawsuit may lead to compensation for past and future medical bills, lost income, and much more. Skilled legal experts could help roll over accident victims receive tens of thousands or hundreds of thousands of dollars by proving regular or criminal negligence in their case.
Causes of Roll Over Accidents
Like the majority of auto accidents, roll over accidents are frequently caused by a few potential culprits:
Driving at unsafe speeds

. For example, if a vehicle drives too quickly and impacts another vehicle at rest, the impacted vehicle may be tipped onto its side or flipped over because of the force behind the colliding vehicle.

Driving under the influence of drugs or alcohol

. An impaired driver is unable to respond to environmental hazards quickly. They may cause a roll over accident for themselves or another individual when they drive without their full reflexes.

Vehicle defects,

which may occur during design and/or manufacturing. While the majority of modern vehicles come with ESC or electronic stability controls, older vehicles sometimes lack this feature. Even vehicles with ESC protections may still roll over due to vehicle defects, such as weak tires, weight being distributed improperly, and more. For example, SUVs are more prone to rolling over since they are more top-heavy than other vehicle designs.

Tire issues

, such as tires that don't have proper pressure or that are otherwise damaged.

Environmental hazards

, such as roads that are not finished, potholes that drivers are not warned about, and more.
In some cases, one or more parties may be responsible for a roll over accident. In such incidents, those parties may be liable for a roll over accident lawsuit.
When Negligence Affects Roll Over Accidents
In any auto accident lawsuit, negligence can only be proven if:
The accused party had a responsibility, either explicit or assumed, to the victim of the accident

The accused party did not act in a common sense or reasonable manner

The damages or injuries sustained by the victim were the direct results of the actions of the accused party
Though it may seem cut and dry, negligence is never very easy to prove. Victims of roll over accidents should seek the assistance of legal experts to file the most ironclad case possible and to acquire maximum compensation.
Possible Injuries from Roll Over Accidents
Due to their severity, roll over accidents may cause a number of serious injuries, including but not limited to:
Broken bones

TBIs or traumatic brain injuries

Lacerations

Road rash

Paralysis

Bruises

And more
Depending on how serious the injuries are, victims may be required to pay exorbitant medical bills or stay in a hospital or clinic for some time. They may also lose their ability to work and earn income for a certain period of time, adding to their financial hardships.
How Common Are Roll Over Accidents?
Auto accidents of all kinds are common in New York throughout the state. According to the New York State Department of Health, there are around 292 deaths per year due to motor vehicle traffic-related injuries.
On average, there are around 11 resident deaths and 122 resident hospitalizations due to motor accidents in Long Island and Suffolk County per month, according to a recent study. 2019 alone saw over 42,000 crashes in Suffolk County by itself according to the New York State DMV. 
While the exact numbers of roll over accidents are not known, the National Highway Traffic Safety Administration indicates that 90% of roll over accidents only involve a single-vehicle – no other drivers may be present. That does not necessarily mean that another party is not at fault for most roll over accidents, however.
Furthermore, the majority of single-vehicle roll over accidents are "tripped", meaning that the vehicle's tires were tripped by one or more obstacles, like a guard rail, a curb, or a large stone. Annually, roll over crashes are responsible for around 30% of passenger vehicle occupant fatalities nationwide.
Contact a New York Roll-Over Accident Attorney
Sobo & Sobo are particularly experienced in the area of auto accidents, including roll over accidents in Long Island, Suffolk County, and beyond. With decades of experience under their belts focusing on these accidents, they are ready and able to help roll over accident victims file a lawsuit today.
Contact them today for a free consultation and more information about the help they can provide.