Single-Car Accidents in NY: Lawsuits & Compensation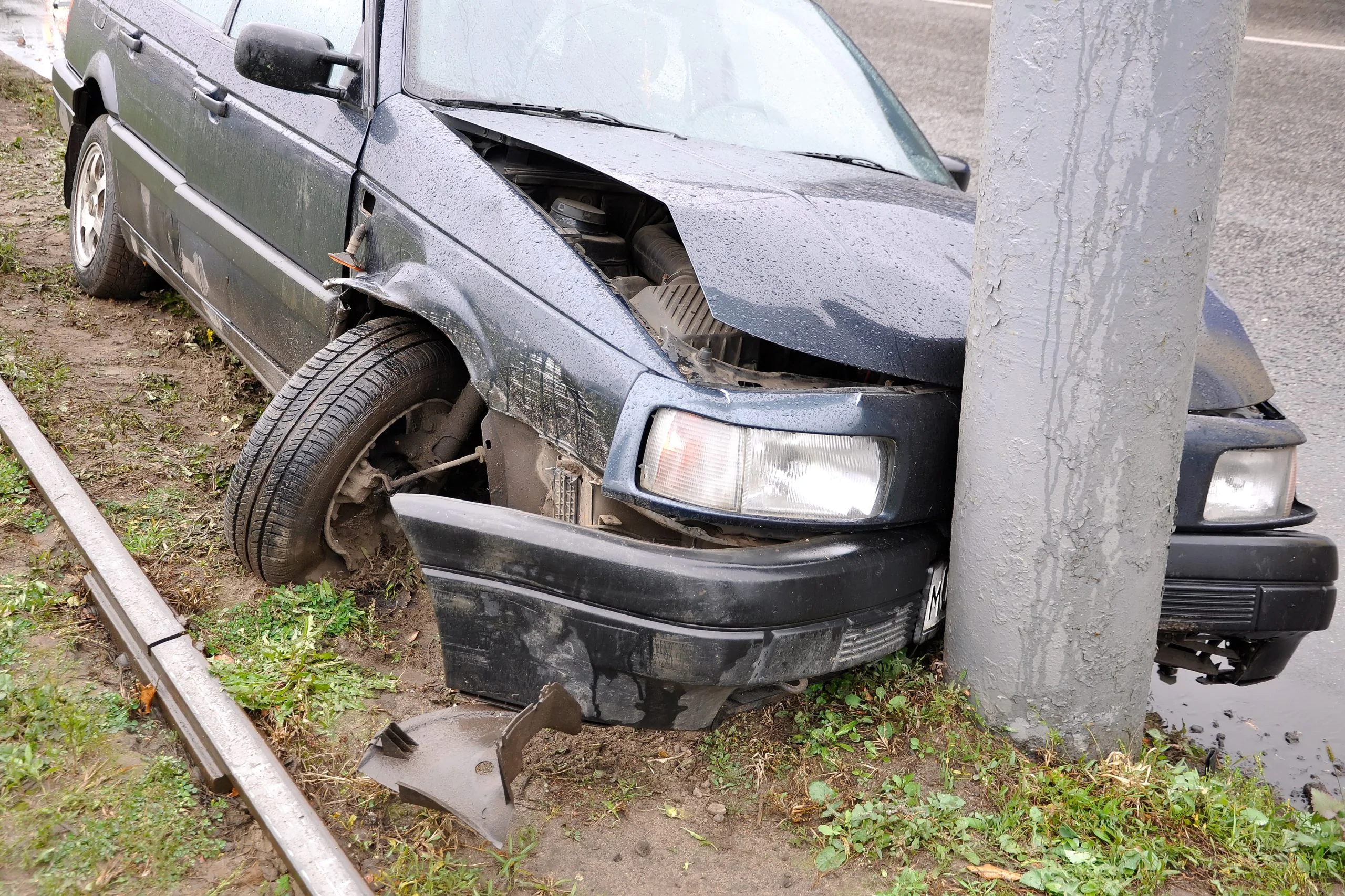 Not all auto accidents involve two vehicles or even two people. Single-vehicle accidents involve only a single automobile. Examples of single-car accidents include:
Accidental impacts against objects in the environment, like trees or telephone poles

Driving off the side of a road due to inclement weather, or to avoid an obstacle

Accidental collisions caused by roadway obstacles such as debris from highway construction, and animals
Negligence in Single-Car Accidents
New York is a no-fault state, which means that guilty parties' insurance companies are liable for damages or compensation as a result of auto accidents. But if negligence was a major factor involved in the cause of a single-vehicle accident, an at-fault party could be on the hook for further damages. Proving fault, however, could require the assistance of legal experts who know what to look for and how to present a successful case.
How Frequent Are Single-Car Accidents in NY?
Thousands of New York residents are involved in single-vehicle accidents each year. According to the New York Department of Motor Vehicles (NYDMV):
Approximately 40% of New York's major roadways are in either mediocre or poor condition. This highlights the danger that New Yorkers may be in when they drive on New York roadways, even if they observe proper driving protocols

As of 2014, New York has seen an average of

118,000 nonfatal single-car crashes

. Another 180,000 single-car accidents involve property damage, many of which are caused by preventable issues like poor road maintenance or a lack of signs
Causes of Single-Car Accidents
Single-vehicle accidents can occur for a variety of reasons, and possibly not because of driver error at all. For instance, some single-vehicle accidents occur when motorists obey all traffic laws correctly, but get in accidents due to variables outside of their control. For example, inclement weather, such as a flash flood or a snowstorm, can cause a driver to fall off the road or impact an object in the environment.
In other circumstances, animals may get in the way of a motorist and accidentally cause them to swerve too drastically, causing them to drive off the road and incur damage against the vehicle. However, some single-vehicle accidents are caused due to the direct negligence of another party. 
Single Car Accidents Caused by Negligence
Consider a scenario in which a driver moves down the road with uneven pavement or potholes. If the driver is not properly warned about the potholes ahead of time with a sign, the company responsible for the road's maintenance could be found at fault for any resulting accident.
Another example: a city may fail to maintain adequate streetlights or stop signs for busy roads in a metropolitan area. If this occurs and a vehicle gets into an accident because of improper warning, the city government or a contracting company could be held responsible for any damages.
Other common road structures or hazards that can cause single-vehicle accidents include:
Lack of sufficient road lighting

No markings for pedestrian crosswalks, which can lead to single-vehicle accidents involving a pedestrian

Poorly designed roads with blind curves or tight turns

Debris or gravel in the middle of the road, causing cars to swerve evasively

Improperly designed roadway bankings or edges

Poorly designed exit and entrance ramps for freeways
Those involved in a single-vehicle accident may not need to pay for the damages to their car or any damage to other property. If it was not their fault, they may be able to file a lawsuit and avoid penalties.
In most cases, consulting with a car accident lawyer is often required in order to prove total negligence on behalf of the guilty party. Court cases in New York require extensive evidence in order to prove negligence in single-car accidents, as on the surface it is often assumed that the driver themselves were wholly responsible in causing the crash.
What to Do After a Single-Car Accident
Anyone involved in a single-vehicle accident should first check themselves and anyone else involved, such as a pedestrian or bicyclist, for serious injuries. Emergency services should be called if necessary, including the police or an ambulance.
Once injuries are taken care of or the police arrive, victims of single-vehicle accidents can start considering their options from a legal standpoint. If a victim considers taking legal action, it is advised that they do not accept any initial offers from insurance, as they are often many times smaller than a settlement they could win through a personal injury lawsuit. Because of this, they should take the following steps before contacting a single-vehicle accident attorneys ASAP:
Obtain a police report of the accident

Gather witness accounts if possible

Keep track of all medical expenses related to the injury

Record all wages lost due to being out of work
Benefits of Hiring a Single-Car Accident Lawyer
Legal experts will have the knowledge and expertise necessary to develop an airtight case that maximizes a victim's compensation, while taking on the legal responsibilities for their clients. An experienced car accident attorney can help single-vehicle accident victims:
Gather the evidence they need from the scene

Easily navigate the complex legal process

Collect witness testimony, if applicable

Investigate the at-fault or negligent party, such as a construction company or a city's government

Organize all necessary paperwork, and ensure all deadlines are met

Explore the value of their case, and what they can expect to happen step-by-step throughout the legal process 

Stay in touch with clients to keep them updated on the progress of their case, and answer any questions and concerns they might have throughout
Contact New York Pedestrian Accident Lawyers Today
Sobo & Sobo's legal team have over 50 years of experience in winning single-car accident settlements for victims across New York City and the Hudson Valley.  They are ready and able to assist any single-vehicle accident victim file and win a lawsuit to acquire the compensation they need to:
Pay for past and future medical bills

Pay for damages to their vehicle

Cover any fees they may have incurred because of the accident

And more
For the best results, single-vehicle accident victims should contact Sobo & Sobo right away for a free consultation and more information.