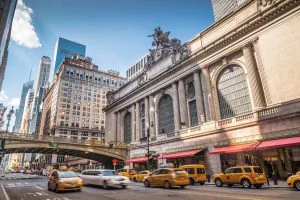 Personal Injury Lawyers in Midtown, Manhattan
Two blocks from Grand Central Station, the personal injury lawyers at Sobo & Sobo's Midtown, Manhattan office located at 369 Lexington Avenue, Suite 318, New York, NY are proud to help win the compensation and justice NYC clients deserve.
Our attorneys are ready to listen to your story, maximize your settlement, and take as much stress out of the legal process as possible. Contact us today for a free consultation and learn how our lawyers can help you win compensation for your legal damages.
Benefits of Working with Sobo & Sobo in Midtown, Manhattan
Over 50 years of experience winning NYC personal injury cases. For over 50 years, our personal injury lawyers have been serving the people of Manhattan, Brooklyn, Queens and Staten Island. Over the years, we have learned what it takes to successfully recover medical expenses, lost wages due to being out of work, and other damages including pain and suffering.
If we do not win, you do not pay. Attorney fees are paid with a portion of your settlement, which means you never have to pay out of pocket.
We don't use fancy legal terms. Our attorneys want their clients to be as informed as possible throughout the legal process. We will explain everything you need to know without any confusing jargon, so you can stay comfortable with your case's progress throughout your time spent with us.
We will take the stress out of the legal process. Filing a lawsuit of any kind can be a long, complex and frustrating process. That is why our lawyers specialize in helping to relieve the stress of our clients in any way possible, from gathering evidence, to organizing legal documents, contacting witnesses, collecting records, and more.
Legal Practice Areas for Manhattan, New York Victims
Health problems and injury happen for many reasons, and there are just as many legal remedies for each of them. Among those Sobo & Sobo specializes in include:
These rights protect NYC residents who are struggling with any kind of illness or injury caused by the negligence of another.
If you or someone you loved were recently injured, you may be eligible for compensation—even if you do not see your specific type of case on the list. Call 855-468-7626 for a free consultation.
Workers Compensation in Midtown, Manhattan
Every person who works in New York state is eligible for workers' compensation benefits. These benefits pay for the injured workers' medical care and also provide cash to compensate for workplace injuries and illnesses. If you work in New York, your employer almost certainly is required by law to provide you with these benefits in case of an injury or illness.
What to Expect
Workers' compensation claims can be frustrating. Insurance carriers who either don't care or try to avoid payment are common. The Workers' Compensation Board can slow the process and cause setbacks.
Fortunately, the workers' compensation lawyers at Sobo & Sobo specializes in speeding up the legal process, and ensuring their clients receive the maximum amount of benefits they are entitled to.
Social Security Disability Insurance
(SSDI): Manhattan
Every person who works is eligible for social security disability benefits. So long as an employee or employer paid necessary Social Security taxes in the past, you are covered. Almost every working person is covered under this insurance.
But unlike Social Security retirement benefits, disability benefits aren't automatic. Unfortunately, over 60 percent of the people who apply for SSD benefits are initially rejected. However, an expert SSDI lawyer can help raise the odds of approval significantly. The assistance of an experienced social security disability attorney can make all the difference.
How Long Does it Take to Collect SSDI Benefits?
It will take two to six months to reach a ruling on an SSDI case. If you are denied benefits, we will appeal that decision and request a hearing. This can take up to 22 months. If you are further denied benefits, we won't give up.
Winning Together
Free Consultation with a
NYC Personal Injury Attorney
Sobo & Sobo understands the mental, physical and emotional impact of an accident can be draining and will treat you with compassion throughout the litigation process. We know the missed time at work and mounting medical bills have put a financial strain on you and your family. Sobo & Sobo wants to serve you with all the experience of the world's biggest law firms, with the compassion and one-on-one care of a small one.
Call 855-468-7626 for a free consultation with a personal injury attorney in Manhattan, and ask them how they can help you get the settlement and justice you deserve.