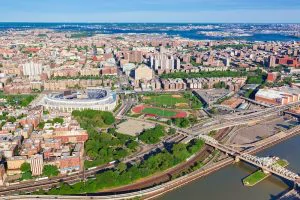 Bronx Personal Injury Attorneys
An accident can leave you feeling overwhelmed, unsure of what steps to take next. The lawyers at Sobo & Sobo have extensive experience working with accident cases across New York City and New York State. From Manhattan to the Hudson Valley, our eight offices serve clients every day.
Helping Personal Injury Victims in The Bronx
Every visitor to our Bronx office is entitled to an initial free consultation. We will hear your story with compassion and we will continue to be by your side until the day your case is settled. Our lawyers have been serving the people of New York for over 50 years, helping them win their cases and experience the success they deserve.
Listening to Clients
Sobo & Sobo has represented thousands of injured people and we know every case is different. Your injuries, your expectations and fears are all unique. So, our answers will be just for you. But we can guess at your questions:
"How much will this cost?"
"How will my medical bills get paid?"
"How much am I entitled to?"
"How long will this process take?"
Our approach to every client is a straightforward, no-nonsense one:
There are no fees unless we win.
We won't use fancy legal terms.
You'll understand us.
We'll keep you informed every step of the way.
Sobo & Sobo understands the mental, physical and emotional impact of an accident can be draining and will treat you with compassion throughout the litigation process. We know the missed time at work and mounting medical bills have put a financial strain on you and your family. Sobo & Sobo wants to serve you with the kindness you need after a terrible accident and help you seek the justice you deserve.
Workers' Compensation in the Bronx
Every person who works in New York state is eligible for workers' compensation benefits. These benefits pay for the injured workers' medical care and also provide cash to compensate for workplace injuries and illnesses. If you work in New York, your employer almost certainly is required by law to provide you with these benefits in case of an injury or illness.
What to Expect
Workers' Compensation claims can be frustrating. Insurance carriers who either don't care or try to avoid payment are common. The Workers' Compensation Board can slow the process and cause setbacks. But you won't have to cope with all this alone. Sobo & Sobo will be there every step of the way.
Social Security Disability Insurance (SSDI): Bronx, NY
Every person who works is eligible for social security disability benefits. So long as you or your employer has paid your Social Security taxes, you are covered. Almost every working person is covered under this insurance.
But unlike Social Security retirement benefits, disability benefits aren't automatic. Unfortunately, over 60 percent of the people who apply for SSD benefits are initially rejected. A lawyer can help. The assistance of an experienced social security disability attorney can make all the difference.
It will take from two to six months for a ruling on your case. If you are denied benefits, we will appeal that decision and request a hearing. This can take up to 22 months. If you are further denied benefits, we won't give up.
Winning Together
Contact a Personal Injury
Attorney in the Bronx
No matter what difficulty you find yourself in, call Sobo & Sobo for help at 855-468-7626 for a free consultation with an experienced personal injury lawyer. We'll meet with you at your convenience. There's no obligation, no cost to you and no pressure. We're here to listen and help.