Concussion Lawsuits: What to Know Before You File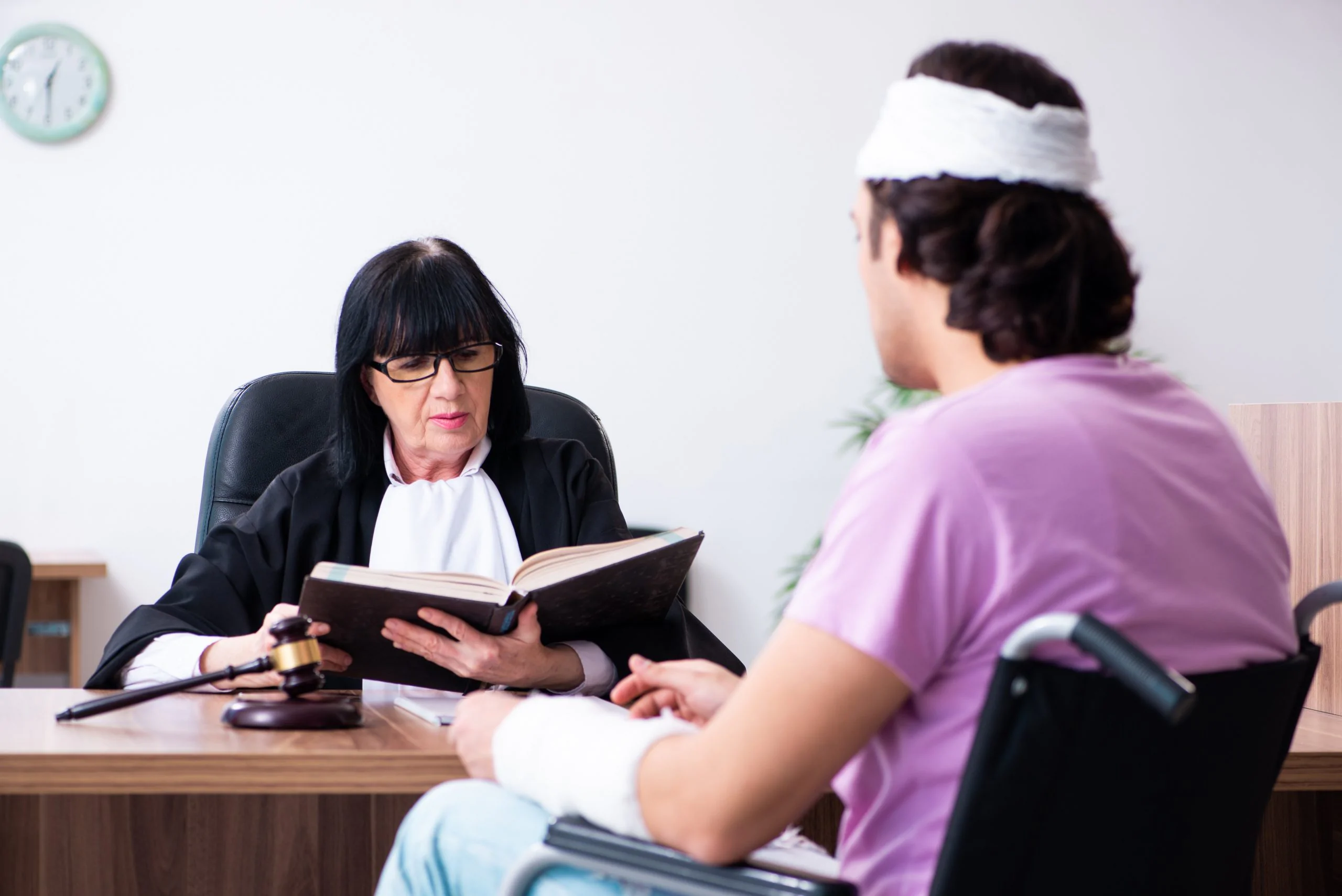 Concussion or head injury lawsuits can be difficult to navigate. Pursuing litigation against guilty parties can be difficult and complex, requiring years of related expertise in order to build a successful case. Before you file a lawsuit for your concussion, the laws surrounding head injuries, and what to do if you are a victim.
What is a Concussion?
A concussion is any traumatic brain injury that negatively affects your brain function. The effects can vary depending on concussion severity and the location of the trauma, although all concussions pose serious health risks and some include the threat of death.
The human brain is made of soft tissue and cushioned by spinal fluid to prevent excessive movement. If you hit your head too hard, your brain can physically impact the interior of your skull, which can cause bruising to the brain itself. It can also cause damage to blood vessels or injury to specific nerves.
Concussions are typically caused by blows to the head. These can be from direct blows, such as those sustained during a fight, or accidental blows, such as falling and hitting your head on an object.
What Are Some Activities That Cause Concussion?
Concussions can be caused by any impact to the head. The most common scenarios that cause these injuries include:
a personal attack involving a blow to the head
automobile accidents when the head is impacted by the seat or other debris
motorcycle accidents
sports, even when wearing headgear, can cause head trauma from impacts
slip and fall accidents can cause one's head to hit the wall or floor
work-related accidents or construction site accidents
Types of Concussions
Medical professionals categorize concussions based on three major categories:
Grade 1 or mild concussions are not very serious and usually last for less than 15 minutes. It is unlikely that you will lose consciousness
Grade 2 or moderate concussions are not usually accompanied by unconsciousness but symptoms may last longer than 15 minutes
Grade 3 or serious concussions are often accompanied by a loss of consciousness, although this is usually only for a few seconds
What Are the Symptoms of a Concussion?
Concussion symptoms can be mild or severe depending on the accident's seriousness. Additionally, some concussion symptoms do not immediately appear and may take up to an hour or several days to manifest. Upon suffering head trauma, you should pay attention to any signs of a concussion and resist falling asleep – this is often a sign of further injury.
headaches
blurred vision
sensitivity to light or noise
nausea or vomiting
clumsiness or general confusion
slurred speech
forgetfulness
ringing in the years
memory loss
concentration difficulties
changes in personality or behavior
New York Concussion Statistics (2008 – 2014)
Between 2008 and 2014, an average of 2,200 New Yorkers suffered fatal traumatic brain injuries (concussions resulting in death)
In the same period of time, an average of 19,000 New Yorkers suffered concussion hospitalizations
The same timeframe saw an average of 115,000 New Yorkers visit the emergency department as a result of concussion injuries
About 4,000 children in New York younger than 19 years old suffer concussions each year from sport-related activities
*Statistics collected from the New York State Department of Health (NYDOH)
What Kinds of Cases Allow You to File a New York Concussion Lawsuit?
You can file a New York concussion lawsuit based on the circumstances surrounding your injury. A personal injury lawsuit is applicable if your concussion was the direct result of someone else's negligence or malicious intent. In this case, you will need to prove negligence or an intent to harm on the part of the perpetrator in order to reach a successful conclusion.
If your concussion was suffered while at work, or as a direct result of work-related activities, you may be able to qualify for a worker's compensation case.
When Can You File a Concussion Lawsuit in New York?
You can file a concussion lawsuit in New York, if you have the grounds to claim and prove that your concussion was only received as a direct result of the actions of others. You cannot file a concussion lawsuit for general automobile accidents in most cases, since New York is a no-fault state when it comes to car accidents. This means that regardless of who caused the accident, your insurance is expected to pay for any costs related to your injuries.
However, you may be able to qualify for an exception if your injuries are severe.
What Evidence Do You Need?
In order to prove your personal injury or worker's compensation lawsuit, you'll need to provide evidence that supports your case. Your personal injury or concussion attorneys can help you retrieve or gather this information. You will need:
Testimony or evidence from a doctor or other medical professional who can describe and prove your concussion's presence and symptoms
Medical records to establish a link between the accident and injury
Employment records may be needed to show how your work performance were affected by the accident
A record of any wages lost as a direct result of your concussion
What Can You Get from a Head Injury Lawsuit Settlement?
Traumatic brain injury lawsuit settlements will often result in significant compensatory damages if you can prove that your injury was suffered as a result of negligence by another party or your employer. You can receive compensation for:
Past and future medical treatment related to your concussion or other injuries
Lost wages as a result of your inability to work
Loss of earning capacity for the foreseeable or permanent future
Costs of recurring expenses like caregivers, painkillers and more
Damages for "pain and suffering," or the physical and emotional trauma you may have suffered as a result of your concussion
Be aware that for a personal injury case, New York follows a comparative negligence statute. This means that a court will determine how much the defendant is responsible for your injuries on a sliding scale, expressed as a percentage. For instance, if the defendant is found to be 90% responsible for your concussion, they will be required to compensate you for 90% of your damages. You and your insurance provider will still need to pay for the remaining 10%.
What Kind of Attorney is Best for a Concussion Lawsuit?
Concussion injury attorneys are your best choice to form a rock-solid case and receive the largest amount in compensation to help get your life back on track. They're similar to personal injury attorneys but are specialized in the symptoms of concussions and the damages that are fair for the associated suffering.
What To Do Right After Getting a Concussion
The first 24 to 48 hours are the most important window immediately after suffering a concussion. Taking proper action is essential if you want to avoid more significant symptoms.
Firstly, pay attention to your symptoms. Immediately call 911 or visit a doctor if you have a severe headache, can't focus, or experience any variety of the above symptoms. Furthermore, do not sleep for at least three hours after the head trauma. Falling asleep could prevent you from seeking medical attention as your condition worsens. Do not take any pain medication before talking to a doctor.
If you are a person watching someone who's suffered a concussion, check them for symptoms frequently and do not let them sleep! Have them stand up every 20 minutes and close their eyes with their feet together in order to monitor their coordination and coherence.
Contact a hospital ASAP if you believe their condition is serious or getting worse.
New York Concussion Injury Lawyers
The concussion injury lawyers at Sobo & Sobo have over 50 years of experience winning head injury lawsuits for clients across the Hudson Valley, and the Bronx. Contact them today for a free consultation, and ask how they can help you receive the compensation you deserve for your suffering and medical bills.
Phone Number: 855-468-7626
New York Hudson Valley Hospitals and Doctors Known for Concussion Treatment
Orthopedic Associates
Poughkeepsie Office
1910 South Road
Poughkeepsie NY, 12601
St. Anthony Community Hospital
15 Maple Avenue
Warwick, NY 10990
Westchester Medical Center
100 Woods Road
Valhalla, NY 10595-8251
Adult and Pediatric
Mid Hudson Regional Hospital of Westchester Medical Center (formerly St. Francis Hospital)
241 North Road
Poughkeepsie, NY 12601
Level II Adult Only
Orange Regional Medical Center
707 East Main Street
Middletown, NY 10940
Adult Only, Level II
Vassar Brothers Medical Center
45 Reade Place
Poughkeepsie, N.Y. 12601
Adult Only, Level II
St. Luke's Cornwall Hospital
70 Dubois Street
Newburgh, N.Y. 12550
Adult Only, Level III
Montefiore Nyack Hospital
160 North Midland Avenue
Nyack, NY 10960
Adult Only