Top 10 Most Common Injuries During Holidays in New York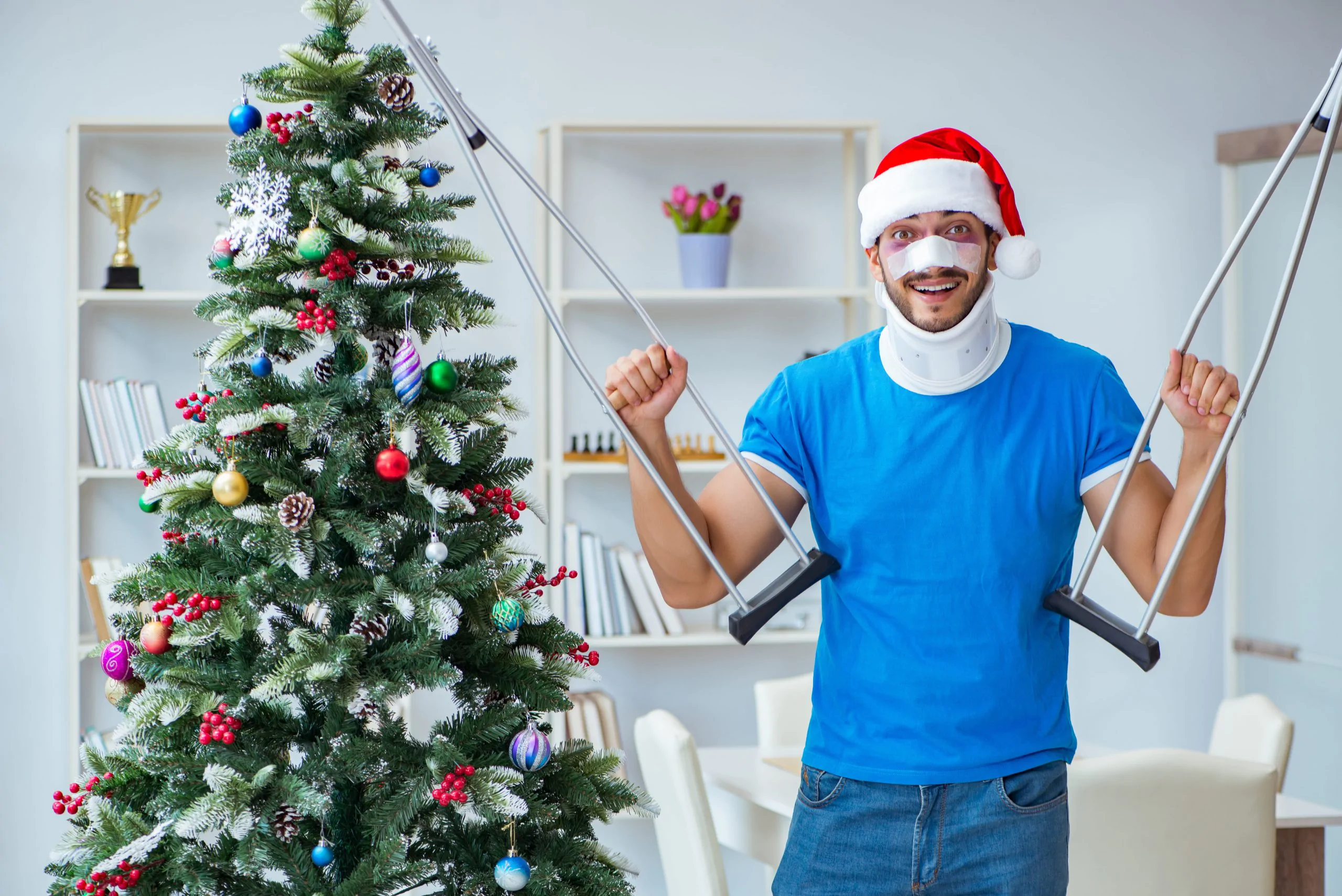 The holidays are an enjoyable time for many. But they're also a time when certain injuries are more likely to happen due to conditions like icy roads, excessive alcohol consumption, or other seasonal factors.
Top 10 Common Injuries People Experience During the Holiday Season
Bruises

– Slip and fall accidents occur at a higher-than-average rate during the holiday season, in large part because of slippery ground conditions like ice or snow. Putting up a mistletoe or hanging Christmas decorations on the outside of the house may lead to a fall and severe bruising. In 2010, for instance, over 13,000 people in the US were treated in hospital ERs because of injuries related to holiday decorating according to the Consumer Product Safety Commission (CSPC).

Broken bones

– Similarly, broken bones are common holiday injuries for New Yorkers (and Americans generally) across the country. These injuries occur either through a slip and fall or a car accident resulting from slippery conditions.

Head injuries

– Car accidents are particularly common during the holiday season. Icy road conditions and inclement weather can make driving hazardous, even for experienced drivers. Furthermore, many people consume excessive alcohol during the holidays—especially New Year's Eve—which impairs decision-making and driving skills.

Burns

– Many people forget to keep their Christmas trees away from the fireplace. This sometimes results in household fires. Similarly, many people light extra candles during the holiday season and may accidentally cause a burn injury as a result.

Spinal injuries

– Car accidents due to icy conditions or inebriated driving may result in significant car accident injuries, such as damage to the spinal cord. These injuries are particularly dangerous since they can result in long-term disability or pain.

Heart attacks

– Overconsumption during the holiday season often leads people to consume excessive amounts of sugar and fatty foods. Those with heart conditions may be at greater risk for heart attacks as a result.

Abdominal pain

– As with heart attacks, abdominal pain becomes more common during the holiday season. People tend to eat more than they should at family gatherings during big meals, leading to abdominal discomfort and in some cases, injury.

Lacerations

– People often spend extra time around knives and other sharp instruments during the holiday season to put together meals for their families. But using sharp knives—especially while inebriated—can be dangerous and result in a person cutting themselves or their family members by accident. Indeed, Emergency Room visits for alcohol-related injuries are notably higher around major holidays and holiday weekends,

especially in New York City

.

Poisoning

– Since many people avoid taking their medication or indulge in their vices over the holiday season, they may accidentally poison themselves by eating or drinking something they shouldn't.

Chronic condition injuries

– During the holiday season, pharmacy hours are often shortened, meaning it's harder for people to acquire the medication they need to keep chronic conditions like diabetes in check.
Why Do People Experience These Injuries During the Holiday Season?
The holiday season is traditionally one of merriment and social gatherings. However, people also have a tendency to let loose and indulge themselves more than might be recommended by a medical professional.
During the holiday season, people are more likely to:
Drink excessively

Eat a lot of unhealthy foods

Drive when they shouldn't

Put up holiday decorations in particularly dangerous conditions

And make many more not-so-safe decisions
So, the holiday season simply sets up a variety of circumstances and conditions that make certain injuries more likely to occur than they would otherwise. When the injuries are caused by another person, it's helpful to have the contact info of personal injury lawyers at the ready, as they can help with obtaining justice and compensation if necessary.
Causes of Common Holiday Injuries in New York
Most holiday injuries in New York and throughout America are caused by three major factors.
1. Icy Roads and Slippery Ground Conditions
Since nearly 70% of the United States' population lives in snowy regions, it's no surprise that icy roads and hazardous ground conditions cause an uptick in automobile accidents during the winter holiday season. The Federal Highway Administration reports that 24% of all weather-related vehicle crashes occur on snowy, icy, or slushy pavement. 
Driving on icy roads is much more dangerous than driving during normal conditions. In these circumstances, even experienced drivers could accidentally injure another driver or pedestrian.
Car accidents during the holiday season can be particularly deadly. The most recent data from the NHTSA in 2018 indicates that 432 people died as a result of car accidents on Thanksgiving, and another 1,087 people died from car accidents on Christmas because of adverse conditions.
2. Excessive Consumption
Many New Yorkers (and Americans in general) consume a higher-than-average amount of alcohol and sugary or fatty foods. Alcohol consumption can be particularly dangerous, especially since many people drive home after enjoying a Thanksgiving or Christmas celebration at another's house.
For example, the New York City Pedestrian Safety Study & Action Plan indicates that nearly 20% more crashes happened during both November and December as a result of holiday alcohol use and poor winter road conditions combined. This trend is likely indicative for the rest of the state as well.
3. Failure to Take Medication/Unable to Access a Pharmacy for Prescriptions
According to Consumer Reports, doctors and pharmacies frequently have shortened hours during the last few weeks of December. Other medical professionals are also on vacation. This can make retrieving medication for a chronic condition, such as a heart condition or diabetes, difficult or impossible.
Furthermore, many New Yorkers fail to take their medication in adequate amounts to compensate for increased consumption of certain foods or drink items.
Auto Accident and Personal Injury Lawyers for the Holiday Season
Given that a high number of car accidents, slip and fall accidents, and personal injuries occur during the holiday season, it's important to have skilled lawyers when needed. Sobo & Sobo can help victims of car accidents or personal injuries acquire settlements to help them cover their medical bills and other outstanding costs.
For instance, car accident settlements in New York can reach up to tens of thousands or hundreds of thousands of dollars depending on the severity of injuries sustained in the fault of the drivers. Some cases result in compensation of up to millions of dollars.
Alternatively, Sobo & Sobo may be able to help individuals acquire compensation for personal injuries. Such settlements are often worth hundreds of thousands of dollars to cover medical bills, loss of income, and more.
Contact Sobo & Sobo for assistance with any holiday injury or holiday car accident case.