The car accident lawyers at Sobo & Sobo's New Jersey office represent clients across the state who have been injured by driver and/or pedestrian negligence. They provide legal representation, service, and advice to locals who seek compensation for all accident-related damages. These auto accident attorneys maximize injury settlements to cover all their clients' accident-related damages including medical expenses, lost past and future wages, pain, and suffering.
How Attorneys Maximize Accident Settlements
The primary role of a car accident lawyer is to help their clients navigate the legal process and maximize the compensation owed for their injuries.
To do so, auto accident lawyers help their clients by doing the following:
Negotiating with insurance companies

Representing clients in court
Maximizing compensation to cover all related damages including medical expenses, lost wages, pain and suffering
Minimizing fault for an accident on behalf of the victim
Collecting and organizing witness statements, police reports, medical documents, and all other paperwork requirements
Filing claims on the victim's behalf
Keeping clients up-to-date on their lawsuit's progress with constant communication
Because of this, hiring help from a car accident attorney is often the best way to maximize the chance of winning settlements with the highest possible values.
How NJ Car Accident Attorneys are Paid
Some auto accident lawyers in New Jersey are paid by the hour, regardless of whether the case is won. Others, like those at Sobo & Sobo, are only paid unless they win, and only through a portion of the client's settlement. That means clients never have to pay unless they win, and never have to pay out of pocket.
Common Examples of Driver
Negligence in New Jersey
Some of the most common examples of driver negligence in NJ that result in injury lawsuits include:
Pedestrian Negligence in Car Accidents
Pedestrians are also subject to traffic laws, and can be considered negligent in a car accident if they fail to obey them.
Examples of pedestrian negligence include:
Jaywalking or crossing the street outside of designated crosswalks

Ignoring traffic signals or road signs
Walking or running while distracted (e.g. texting, listening to music, etc.)
Walking or running under the influence of drugs or alcohol
Failing to look both ways before crossing the street
Walking or running on busy roads or highways
Wearing dark clothing at night or in low visibility conditions
Ignoring construction or detour signs
Running into the street to chase after a ball or pet
Walking or running on a closed road or highway
If a pedestrian is found to be at fault for a car accident, they may be held liable for any injuries or damages that resulted from the accident. However, in many cases, even if a pedestrian is found to be partially at fault, the driver of the vehicle may still be held liable for a portion of the damages.
Proving Another Driver's Negligence
To prove another driver's negligence in a car accident lawsuit, you will need to show that the driver had a duty of care to exercise reasonable caution while driving, that the driver breached that duty, and that the breach of duty caused your injuries and damages.
This may require the use of evidence such as witness statements, accident reports, and medical records. This can be done alone, or with help from an injury lawyer, collects and organizes these documents for their clients.
New Jersey's No-Fault Laws
New Jersey has "no-fault laws" in place, which means that all parties involved in an accident must be paid by car insurance companies for their medical expenses, and lost past and future wages. These payments must be made to both the policy holders found to be responsible for causing the accident, as well any victims involved including passengers and pedestrians.
Auto insurance companies provide funding for medical coverage through personal injury protection (PIP), which is also referred to as "no-fault coverage". PIP covers all lost wages and medical expenses relating to an auto injury including all treatments, surgeries, medications, and medical equipment needed for recovery.
However, insurance companies are notoriously difficult to negotiate with, and often offer settlements 2-3 times less than what can be won through litigation. This is why hiring a car accident lawyer is often the best course of action for ensuring victims receive the maximum amount they are owed for their damages.
NJ Statute of Limitations for Auto Injury Claims
The New Jersey statute of limitations gives victims two years to file an injury claim, starting from the date of the car accident. If a claim is not filed within this time frame, NJ residents may have their claims rejected by the state's court system.
However, the statute of limitations can vary depending on the specific circumstances of the case, such as if the injury was not immediately discovered, or if the victim is a minor. Additionally, if the accident caused serious injury, such as death, disfigurement, significant limitation of use of body function or system or permanent consequential limitation of use of body function or system or significant limitation of use of body organ or member, victims may be able to file a liability claim to seek further compensation.
This is why it is important to consult with an auto accident attorney who is familiar with NJ car injury laws as soon as possible to ensure that the victim's rights are protected, and that the claim is filed within the appropriate time frame.
NJ "Serious Injury Threshold" Qualifications
New Jersey's "serious injury threshold" is a list of standards that limits certain types of compensation owed to car accident
victims depending on the severity of injury.
This threshold is defined as an injury that fits one of the following descriptions:
A permanent
disability injury
Disfigurement or
significant scarring
Common Injuries
That Meet
NJ's Serious
Injury Threshold
Proving The Severity of an Injury
To prove that an injury meets the serious injury threshold, the individual must present medical evidence that shows
the nature and extent of the injury, as well as the effect it has on their daily life.
This evidence may include:

Medical reports and documents

The individual's own testimony about how the injury has impacted their life

Testimony from medical experts
Most Common Types of Car Accidents in NJ
Some of the most common types of auto accidents that occur in New Jersey include:
T-Bone Collisions
Also known as side-impact collisions, these accidents occur when one vehicle strikes the side of another vehicle. They often happen at intersections and can be caused by drivers who run red lights or stop signs.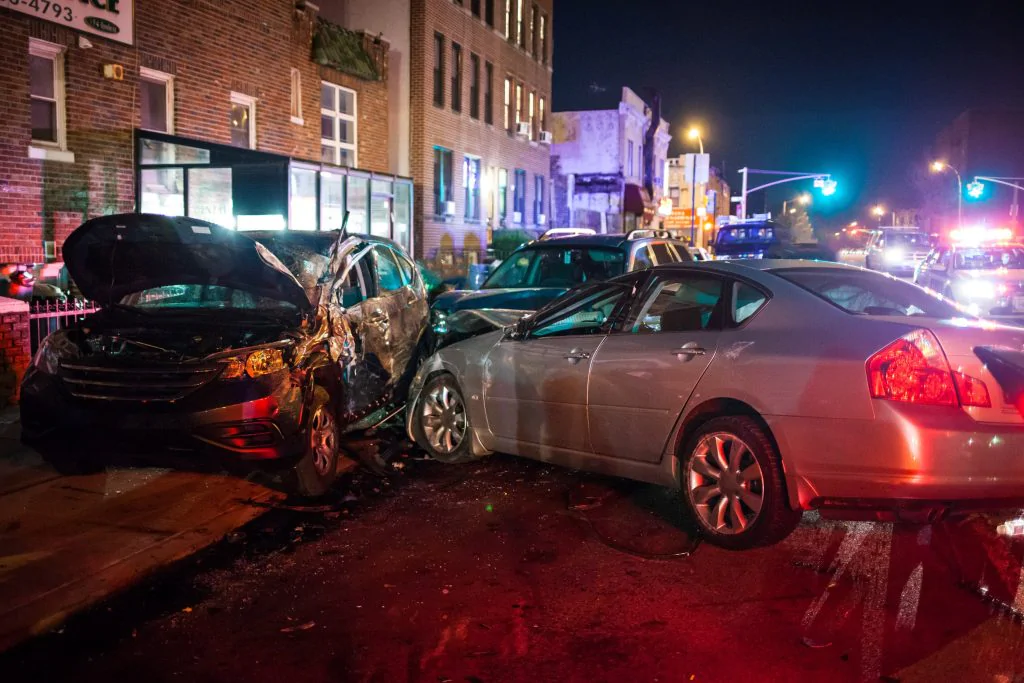 Unique Factors in Auto Accident Lawsuits
The legal process for accident claims can vary based on the vehicles involved in the crash. For example, injured parties may have a different legal experiences depending on whether an accident involved cars, motorcycles, commercial trucks, busses and boats in the following ways:
Liability: Liability is the legal responsibility for an accident. In a car accident lawsuit, the parties involved would likely be the drivers and passengers of the cars involved. However, in a commercial truck accident lawsuit, the process would involve not only determining fault between the drivers, but also determining whether the company that owns the commercial vehicle or employs the driver is also liable.
Evidence Collection: The process of evidence collection may vary depending on the type of vehicle involved in the accident. For example, the evidence collection process in a commercial truck accident may involve a more complex investigation process, as the truck's electronic logging device and maintenance records may be relevant to the case.
Insurance Requirements: The laws and regulations regarding insurance requirements for different types of vehicles may vary. For example, in New Jersey, drivers are subject to the state's no-fault insurance system, meaning that injured parties must first seek compensation from their own insurance company, regardless of who is at fault. However, commercial trucks may be subject to different insurance requirements as mandated by federal regulations.
Legal Standards: Different types of vehicles may be subject to different legal standards. For example, commercial trucks are subject to federal regulations and state laws, which may impact the legal process. Boating accidents, on the other hand, fall under maritime law, which may differ from state personal injury laws.
Statute of Limitations: The statute of limitations for filing a personal injury claim may vary depending on the type of vehicle involved in the accident. For example, in New Jersey, the statute of limitations for filing a personal injury claim for a car accident is typically two years from the date of the accident. However, the statute of limitations for filing a bus accident claim can vary depending on whether the bus is operated by a government agency or private company.
Contact a New Jersey Car Accident Attorney
Sobo & Sobo's accident attorneys provide free consultations to all NJ residents who are interested in discovering the value of their case, and never charge any fees unless the case settles, guaranteed. Schedule your free consultation today.