Chicago, IL Auto Accident Lawyers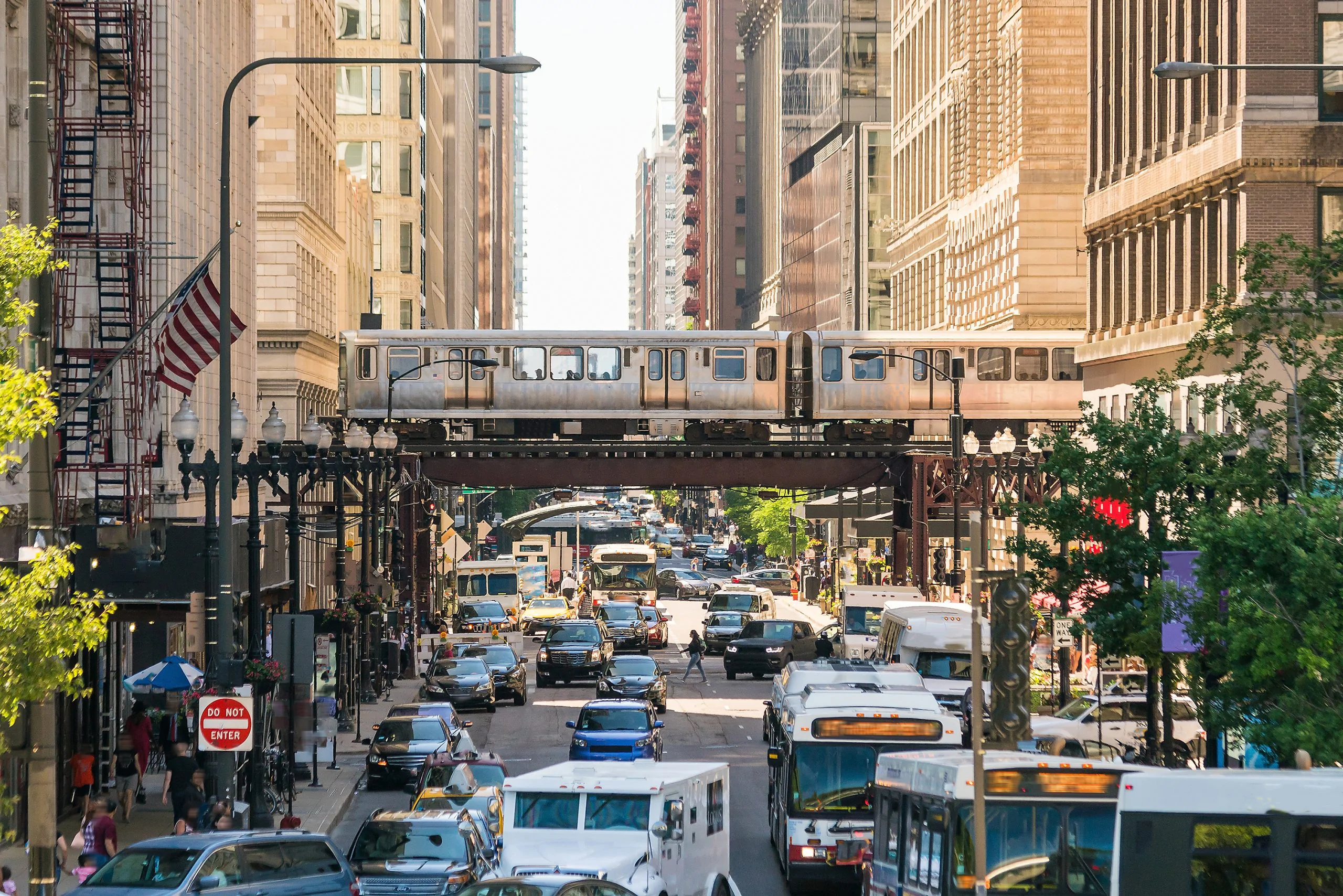 Auto accident lawyers in Chicago, IL represent victims in metro area who are injured in motor vehicle accidents caused by negligent drivers. They are skilled in representing clients injured in any type of motor vehicle accident that is caused by any kind of driver negligence. Their goal is to secure the highest possible compensation that covers their clients' medical expenses, lost wages, pain, and emotional suffering.
Case valuations with Chicago injury lawyers are offered to local residents in free consultations offered by Sobo & Sobo. Residents in the area can speak with an auto accident attorney today by calling 855-GOT-SOBO, or by scheduling an appointment online.
Types of Accidents Represented in Chicago
T-Bone Collisions: Also known as side-impact collisions, these accidents occur when one vehicle strikes the side of another vehicle. They often happen at intersections and can be caused by drivers who run red lights or stop signs.
Rear-End Collisions: These accidents occur when one vehicle crashes into the back of another vehicle that is stopped or moving slowly. They are often caused by distracted or tailgating drivers.
Head-On Collisions: These accidents happen when two vehicles collide while traveling in opposite directions. They can be caused by drivers who are under the influence of drugs or alcohol, or who are fatigued or reckless.
Rollover Accidents: These accidents happen when a vehicle tips over onto its side or roof. They are more common in SUVs and trucks, and can be caused by factors such as high speeds, sharp turns, or a defect in the vehicle's design.
Single-Vehicle Accidents: These accidents occur when a vehicle collides with an object or barrier, such as a tree or guardrail, without any other vehicles involved. They can be caused by factors such as driver error, poor road conditions, or mechanical failure.
Commercial Truck Accidents: Accidents caused by employed drivers of corporate-owned vehicles like semi-trucks, or public transportation buses.
Any accident involving a motor vehicle
Chicago Accident Settlement Values
Providing precise figures with 100% accuracy is impossible without knowing the specific details of a case. Every lawsuit involving auto accidents is unique, with different variables and outcomes, that can greatly influence the settlement value. Moreover, settlement values can fluctuate throughout the course of a case, making it a dynamic process.
However, individuals seeking an evaluation of their auto injury case can benefit from consulting with a skilled injury lawyer experienced in representing claims related to traffic accidents.
Recent Accident Settlements Chicago
Rear-End Collision: A driver was rear-ended while stopped at a traffic light, resulting in whiplash and minor back injuries.

Settlement Value: $40,000.

T-bone Intersection Accident: A driver was T-boned by another vehicle while crossing an intersection, causing moderate injuries, including a fractured arm and concussion.

Settlement Value: $75,000.

Pedestrian Accident: A pedestrian was struck by a distracted driver while crossing the street, leading to multiple fractures and substantial medical expenses.

Settlement Value: $200,000.

Hit-and-Run Incident: A cyclist was involved in a hit-and-run accident, suffering severe injuries that required extensive medical treatment and rehabilitation.

Settlement Value: $150,000.
*The examples provided in the previous section are for illustrative purposes only and do not constitute any form of guarantee or prediction regarding the outcome of any particular legal case.
Payment Process for Chicago Accident Lawyers
Vehicle injury lawyers in Chicago are compensated in various ways, depending on the policies of the law firm they work for. Some are paid by the hour, others are paid in flat fees, and still others are only paid with a portion of a client's settlement if they win. The most common ways traffic accident lawyers in Chicago get paid include:
Hourly Rates: Some lawyers may charge clients by the hour, especially for legal services outside of the actual litigation process, such as legal advice or document preparation. This is generally discouraged in auto accident cases, as it can be a financial burden for clients already in financial debt from injury-related expenses.
Flat Fees: In specific situations, attorneys may charge a fixed, upfront fee for their services. This form of payment is usually applied to simpler and more straightforward legal cases with a clear outcome. Still, this option can be a financial burden for clients already struggling due to missing work and paying medical bills.
Paid Through Settlements (Never Out of Pocket): Some injury lawyers are only paid with a portion of their clients' settlements, instead of out of pocket. If no compensation is won, they don't get paid. These accident lawyers have their own success directly linked to that of their clients, incentivizing them to go above and beyond to win the largest settlements possible.This is how the auto accident attorneys Sobo & Sobo are paid.
Contingency Fees: Most traffic accident attorneys work on a contingency fee basis. This means they only get paid if they win your case. If you receive a settlement or a favorable judgment, a percentage of that amount typically goes to your lawyer as their fee.
Chicago's Statute of Limitations for Motor Vehicle Accidents
Statutes of limitations are established by states, which means every state has its own unique statutes, terms and limits. Chicago's statute of limitations give clients two years to file an auto injury claim, beginning from the day the injury is discovered. Accident claims filed after Chicago's two year time limit will result in the lawsuits being rejected.
However, there may be exceptions or specific circumstances that apply to your case regarding limitation changes or extensions. Because of this, speaking with an injury lawyer is often recommended as they are aware of any updates, changes or legal opportunities present regarding Chicago's state policies.
Illinois' "At-Fault" Auto Accident Policies
Chicago, and the state of Illinois as a whole, operates under an "at-fault" system when it comes to vehicle accident lawsuits. This means that the driver found to be at least 50% responsible for causing an accident is held liable for the damages suffered by all other parties involved.
This differs from a "no-fault" state, in which each driver involved in an accident is required to have all accident damages covered by their insurance—regardless of who caused the accident. This system is designed to streamline the claims process and ensure that injured parties receive compensation without needing to prove fault.
How The "At-Fault" System Affects Compensation
Higher Stakes: The at-fault system can lead to higher stakes and potentially larger settlements. Those to be determined innocent of causing the accident can pursue compensation for a wide range of damages, including medical bills, property damage, lost wages, and pain and suffering, among others.
Determining Fault: This can involve investigations, witness statements, police reports, and other evidence to establish who caused the accident. The at-fault party's insurance is primarily responsible for covering the losses of the injured party.
Legal Process: In at-fault states, personal injury claims may involve negotiations with the at-fault party's insurance company and, if necessary, litigation. It's crucial to have legal representation to ensure you receive fair compensation, especially when liability is disputed.
Contact a Chicago Auto Injury Attorney
To speak with an auto injury lawyer today, call 855-GOT-SOBO, or schedule online to schedule a free consultation. Sobo & Sobo's Chicago team is available 24/7 to take your call, and learn how they can help you recover damages and win justice for your injuries.
During your free consultation, you'll have the opportunity to meet with an auto injury attorney who has a proven track record of success in cases very similar to yours. Our legal professionals will take the time to listen to your story, understand the details of your case, and assess its unique aspects.
Our goal is to provide you with an approximate value of your case, identify potential challenges or roadblocks, and address any questions or concerns you may have. We believe in personalized legal representation, tailored to your specific circumstances. So, if you've been involved in an auto accident and are seeking compensation for your injuries, don't hesitate to reach out for a free consultation. Let us help you navigate the legal process and work toward a favorable outcome for your case.