Monsanto, Roundup & Non-Hodgkin's Lymphoma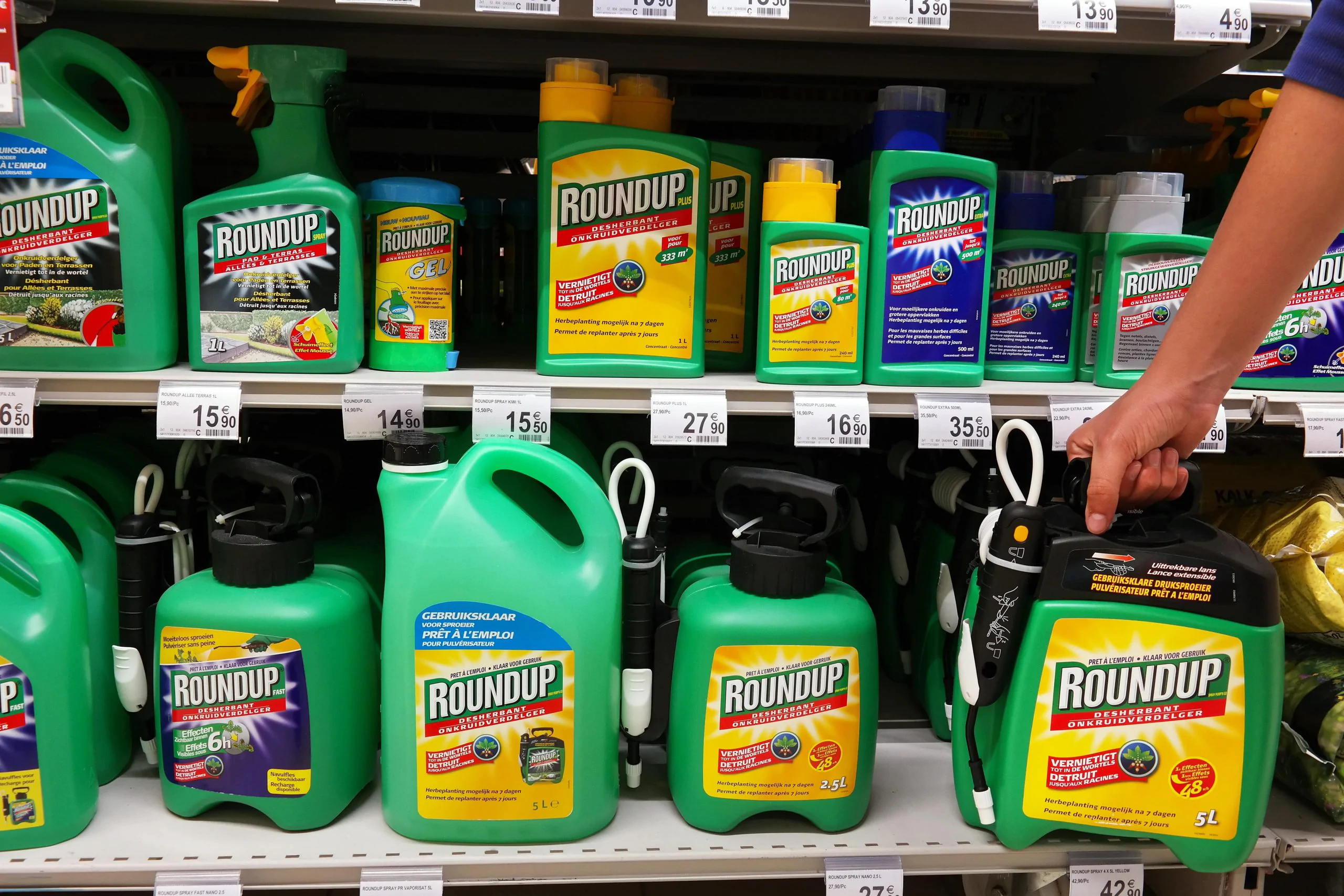 A divide in the scientific community over the potential health risks of Monsanto's Roundup products has created a complicated situation for both consumers and cancer victims from New York to Los Angeles. In fact, the disagreement among health agencies has created an unlikely situation: people can easily buy a product not determined to be cancer-causing by the U.S. but are successfully suing after using it.
Consumers are allowed to purchase the weed killer—sold without a warning label—since the U.S. Environmental Protection Agency (EPA) reports no cancer tie-in. However, victims are currently suing Monsanto's purchaser, Bayer AG, after developing cancers including non-Hodgkin's lymphoma after using Roundup. Though Bayer has appealed rulings, victims are finding juries sympathetic to their plight. A jury in California recently awarded more than $2 billion to a couple suffering from cancer after using Roundup.
Scientists continue to research the link between cancer and Roundup. Simultaneously, Bayer is threatening bankruptcy if it cannot resolve the situation. As a result, many victims remain uncertain regarding if and how to sue for damages.
Pandemic Progress 
Roundup suits and settlements have been influenced by the COVID-19 pandemic. COVID-19 effectively stalled the US justice system. With the death toll rising in New York and across the nation, the coronavirus not only closed schools and businesses, but delayed thousands of trials indefinitely as well. 
This development happened as over 100,000 cancer victims across the country went to court against Monsanto's Roundup weed killer. Bayer AG, the German pharmaceutical and life sciences company of aspirin fame, agreed in June to pay out more than $10 billion to Roundup users with non-Hodgkin's lymphoma.
According to Kenneth Feinberg, the court-appointed negotiator tasked with wrapping up the numerous state and federal cases, the COVID climate with closed courtrooms is accelerating victims' times to collect compensation.   
Recently, Bayer came to final settlement terms with three law firms representing thousands of victims. Yet other attorneys in September told U.S. District Judge Vince Chhabria they are not satisfied with the proposed amounts, and may seek more in further trials.
There is also the question of how to handle future class action suits related to Roundup. The U.S. District Court blocked Bayer's plan to hold off the filing of new cases for four years, and lock a five-member science panel into a determination on Roundup that would have impacted future claims. The aforementioned $10 billion-plus settlement is not affected.
A Landmark Settlement
Whether the $10 billion-dollar settlement is large enough resolve the matter for Bayer remains to be seen, but according to The New York Times, it has become one of the largest civil settlements in history. The deal with Bayer has opened the door to awards in an estimated 95,000 cases, leaving a $1.25 billion split between future claims and an expert panel on Roundup's active ingredient, glyphosate. At least 30,000 cases have declined the class-action route to relief.
Bayer's Inherited Headache   
Bayer purchased Monsanto for $63 billion back in 2018. Within weeks of the takeover, Bayer experienced its first court defeat over Roundup, with more to follow. As of October, 2020, Bayer's stocks have dropped more than 50 percent since acquiring Monsanto. With the COVID-era settlement, Bayer hopes to end court battles over the health effects of Roundup.
Two Legal Opportunities for Victims 
The result of this pandemic push for those suffering from non-Hodgkin's lymphoma is a two-fold option for financial relief.
First, victims can join a class-action settlement. However, going through this 
process requires splitting compensation with numerous other victims. By one estimate, individual settlements could range from $5,000 to $250,000 depending on the severity of the case.
The second opportunity available to victims is to file an individual lawsuit, which a personal injury or medical malpractice attorney would file on the victim's behalf. Though this is subject to appeal, it extends hope for more substantial awards.
Trial Outcomes to Date
The first Monsanto trial awarded a dying school groundskeeper Dewayne Johnson $289 million, but an appeals court brought it down to $21.5 million. A second trial in San Francisco awarded Edwin Hardeman, a California homeowner, $80 million.
And a third jury awarded over $2 billion to Alva and Alberta Pilliod, a Northern California couple who used Roundup for decades.
Although Bayer has appealed each award, the victims still walked away with far more than typical class-action suit amounts on an individual level.
The Glyphosate Debate
The U.S. Environmental Protection Agency (EPA) is not alone in its estimation that glyphosate is safe to use as a weed killer. The European Food Safety Authority also maintains that glyphosate is not likely to cause cancer. And Bayer itself describes glyphosate as safe and efficient.
But as far back as 2015, the International Agency for Research on Cancer, affiliated with the World Health Organization (WHO), announced that glyphosate could "probably" cause cancer. And a University of Washington study of glyphosate health effects, reported on by CNN in 2019, concluded that this herbicide increases the risk of cancer by 41 percent. Bayer has disputed the accuracy of this research.  
What Is Glyphosate?
Glyphosate is described as the most popular weed exterminator in the world. It is the active ingredient in products like Roundup, Pondmaster and Rodeo, and is classified as an herbicide. This means it is toxic to certain plants, grasses, and unwanted vegetation. 
Common Glyphosate Uses
Backyard gardeners and farmers across the country heavily rely on herbicides. These toxins play a key role in the food production cycle by killing weeds that threaten the quality of crops and vegetation. 
Products containing glyphosate are often used to protect fruit and vegetable crops including soybeans, cotton, corn and other crops that have been genetically modified (GMOs) to resist the harmful effects of glyphosate. However, even non-GMO crops like wheat, oats, beans, and wheat are typically sprayed with the herbicide to dry them out, making for an accelerated harvest. Other uses include lawns, forest plantings, aquatic vegetation, and greenhouses.
How to Avoid Glyphosate Exposure
According to WebMD, humans can be exposed to glyphosate by:
Inhaling it through breathing

Exposure through the skin

Getting it into the eyes

Eating or smoking without washing hands after glyphosate use

Touching plants still wet from spraying

Eating food that has been sprayed with it. 
Symptoms of Glyphosate Exposure
For many who come in contact through use the glyphosate exposure symptoms may include:
Irritation to the eyes, nose, skin and throat

Mild eye irritation or mild injury to the cornea

Burns and pain in the mouth and throat if swallowed  

Nausea, diarrhea, and vomiting
The greater concern is the long-term effects of glyphosate, which could include cancer, liver and kidney damage, as well as cause reproductive and developmental complications. Despite scientists' concerns, EPA reports it finds no evidence that glyphosate poses a more substantial risk to pregnant women and children.
What This Means for Victims
For Roundup users facing cancer and other health impacts, there are opportunities for financial relief and perhaps a limited time frame for action. Already, victims from Connecticut to California have taken a stand against Monsanto, and juries have been sympathetic in the few cases that have proceeded to trial. 
If you live in New York and are experiencing symptoms of glyphosate exposure, or have been recently diagnosed with cancer including non-Hodgkin's lymphoma after using Roundup, schedule a free consultation with a personal injury attorney by calling 855-468-7626, or by visiting one of Sobo & Sobo's offices across the Hudson Valley and New York City.
The attorneys at Sobo & Sobo have over 50 years of experience winning toxic tort and personal injury cases for victims seeking compensation and justice for their damages. Contact them today and ask how they can help you get the settlement and peace of mind you deserve.