Roll-Over Accidents in NY: Lawsuits, Compensation & Statistics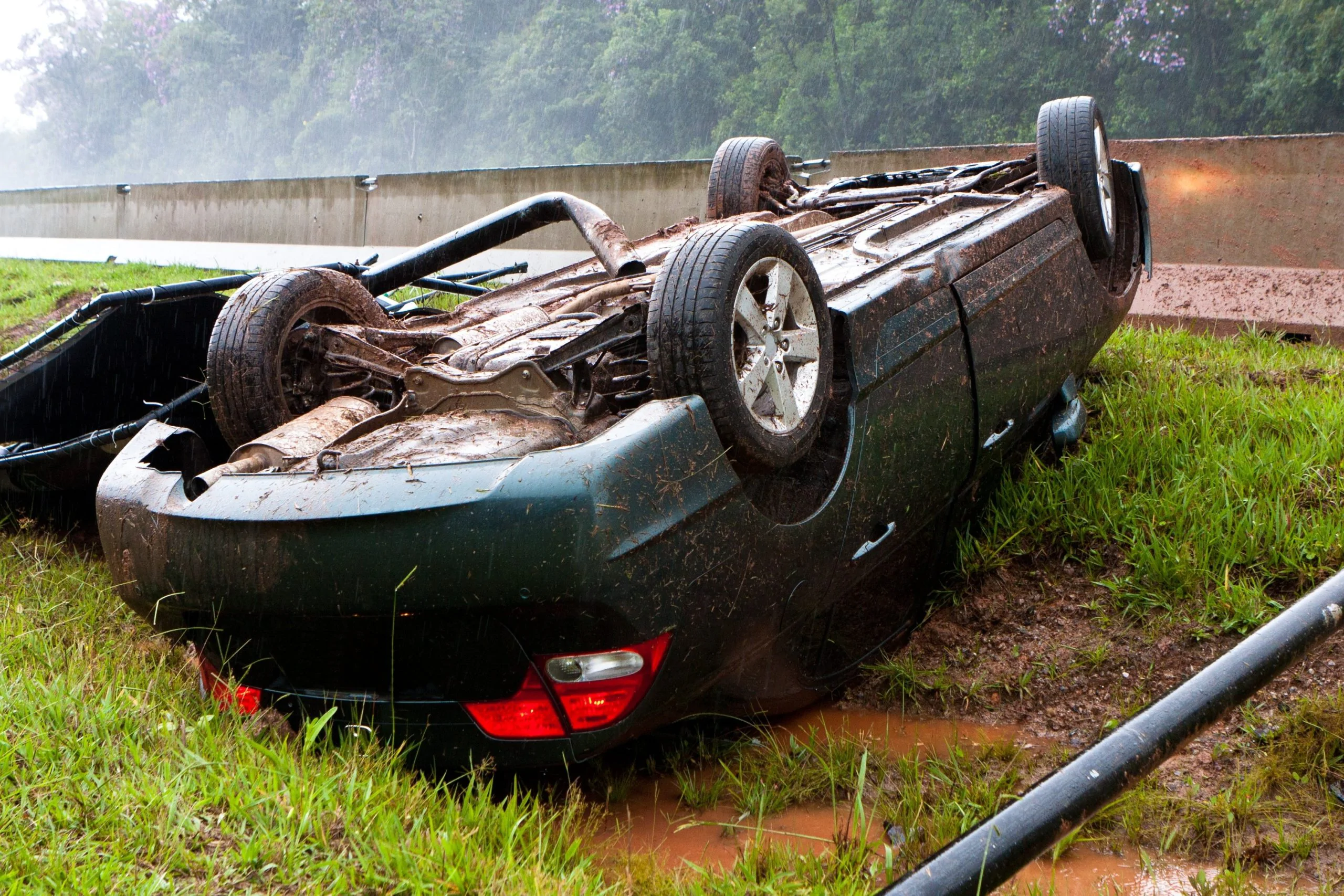 Rollover accidents are particularly violent, and cause some of the most traumatic events a motorist can endure. Rollovers are unlike other types of accidents as there are often a number of factors contributing to the crash. The driver's role, along with road conditions and environmental factors, are all carefully considered during technical investigations needed to prove liability. It is highly recommended that victims of rollover crashes consult with a personal injury attorney to help during the subsequent investigation, as well as possible compensation negotiations and court proceedings.
Rollover Facts & New York State Statistics
According to data from the National Highway Traffic Safety Administration (NHTSA):
Rollovers only count for only about 2.1% of all motor vehicle crashes—yet result in nearly 35% of all car accident fatalities.
Nearly 85% of all rollovers are single-vehicle accidents. This suggests that individual driver behavior plays the most significant role in the cause of most rollover accidents.
Over 90% of rollovers occurr during routine driving operations: driving straight or around a curve. This further suggests that driver behavior (speeding, impairment and attentiveness) plays a large part in the cause of these accidents.
40% of all rollovers are the result of speeding. Nearly 75% of rollovers occur in rural areas with speed limits 55 miles per hour or higher.
Rollovers accidents are unique in that multiple factors are considered while investigating the cause. Though strongly correlated to driver behavior, there are several other factors that increase the likelihood of a rollover occurring.
Common Contributing Factors to Rollovers
Rollovers can be caused by numerous variables that are unrelated to the driver's behavior.
Type of Vehicle
Taller vehicles like SUVs, trucks and vans have a higher center of gravity and are more susceptible to tipping over. These vehicles usually transport heavier loads and may have uneven weight distribution. So, their drivers must be extra cautious while operating, especially around bends and in windy conditions.
Road Conditions and Environmental Impact
Roads with improperly maintained surfaces increase the risk of rollovers. Uneven pavement, potholes and other signals of neglect will increase the chances of a vehicle rolling over. In these cases, it's possible to make a claim against any state or government entity responsible for maintaining safe roadways. The likelihood of a rollover increases during inclement weather as factors such as ice, snow and rain reduce a vehicle's stability.
Note that the statute of limitations for a claim against any agency of the state of New York is 90 days to give notice, and 1 year and 90 days to file the claim. So, it's crucial to take action as soon as possible following any accident.
Roadway Trips
NHTSA data reveals that more than 95% of rollovers are tripped, meaning the vehicle leaves the roadway and slides sideways before coming into contact with something in the environment. This causes the vehicle to become airborne and rollover. Common "trips in the roadway include guardrails, curbs, medians, steep slopes, and soft soil.
Un-tripped rollovers make up less than 5% of rollover accidents, and usually happen to top-heavy vehicles or vehicles with uneven weight distribution. They occur without making impact with an object or environmental factor and are primarily due to the driver's flawed operation of the vehicle.
Defective Car Parts
If a rollover is related to a defective car part, the driver may have a claim against the automobile manufacturing company. A valid product liability claim must prove that the defect occurred during the design, manufacturing or handling of the product. A claim may also prove a lack of warning about the defective part to the consumer.
An example of a defect impacting a rollover is if a vehicle's roof collapses on impact. Vehicles must pass modern safety standards in order to be legally sold. A vehicle's failure to have adequate overhead protection installed in the roof directly compromises the safety of everyone in the vehicle. More examples of possible car defects related to injuries sustained in a rollover include but are not limited to:
Faulty electrical systems that fail to indicate a problem with system performance and dangerously impact necessary mechanical functions (such as gas and brake pedal switches)
Brake malfunctions that prohibit the driver from stopping and slowing down
Steering wheels may lock up and cause the car to remain moving in the same direction, leading it to strike something and tip or roll as a result.
Defective seat belts that failed to hold passengers
In order to have a valid claim against the automobile manufacturer, a victim's claim must prove:
The defective part is related to the cause of the accident
Injuries were sustained during routine and intended use of the vehicle
The vehicle was purchased with defective conditions and not modified
The statute of limitations for product liability is three years. This means you have three years from the date of your accident to take legal action against the manufacturer to claim damages.
Factors Connected to Driver Liability
Speed: Accounting for 40% of all rollovers, speeding is the main cause of these types of accidents. High speeds increase the risk of rollover while turning around sharp bends, and when a driver needs to swerve to avoid collision. This also influences the action of overcorrecting.
Overcorrecting: Overcorrecting is a natural reaction when a driver encounters a soft surface (for example, soil or snow) and attempts to steer out of a slide and/or hit the brakes. This can result in the vehicle losing balance and rolling over.
Distraction: Many rollovers are the result of the driver overcorrecting after not paying enough attention to the road. Cell phone use, operating the radio, or conversation with a passenger are examples of distractions that often lead to dangerous rollover accidents.
Impairment: Alcohol is involved in nearly half of all rollover crashes. Any amount of alcohol above a 0.00% blood alcohol concentration (BAC) has the ability to affect a driver's muscular coordination, vision and judgment. There are obviously extensive legal consequences when alcohol consumption is related to any motor vehicle accident.
What to Do After a Rollover Accident: 5 Steps
As with any accident, there are steps to follow to best legally protect yourself afterward. Your ability to perform these steps at the scene will certainly depend on the severity of your accident.
Call 911 to request police and medical services at the scene. DO NOT attempt to move anyone stuck or injured before trained professionals arrive. You may accidentally worsen his or her condition.
Receive medical services even if you feel fine. Many injuries, such as a traumatic brain injury, may not be evident immediately after the accident. It is important to have documentation of all injuries as soon after the crash as possible to create a strong personal injury claim.
Carefully explain your account of the accident to police. Try not to engage with other parties. Simply state facts and cooperate with the emergency services there to help you. Something as simple as apologizing may be later used against you when determining who is at fault.
If possible, call your insurance company at the scene to report the accident. An agent on the line will likely begin processing your claim and talk you through what to document from the scene. Information you should obtain includes:

Witness statements and contact information from anyone at the scene
Photos of vehicle damage, road conditions and weather conditions. This includes potholes and roadway surfaces, or any other potential hazards mentioned here.
Your own recollection and notes of the event that took place. It's important to document these thoughts as early as possible to best preserve your story without forgetting important details.

Maintain any and all records of doctor visits and medical attention pertaining to your injuries. Building a strong claim requires you to prove that your injuries were caused by the accident and insurance companies will try to downplay your injuries when you go to claim damages. For example, if you file a claim for pain and suffering, it would be extremely beneficial to have a written record of the emotional toll you endured as a result of your injury and how it impacted your daily life.
Compensation Available to Victims of Rollover Accidents
As mentioned, the nature of rollover accidents often leads to brutal outcomes for victims. Some injuries commonly associated with rollovers are:
Traumatic brain injury
Spinal cord injury
Broken bones
Severe lacerations
Determining who to file a claim against will depend on the details of your accident. In most cases, the statute of limitations for a personal injury claim is three years. This is a primary reason for hiring a personal injury lawyer to help identify evidence and negotiate liability with insurance companies on your behalf. Potential damages you may collect from a rollover accident include:
Medical bills, including those for ambulatory services, hospital visits, and any ongoing treatments or procedures related to your injury.
Lost wages and future lost wages due to missed work while you recover from your injuries. You may also receive compensation for any lost earning potential if your injuries will prohibit you from working as you normally would.
Pain and suffering as a result of the emotional distress or trauma endured after the accident. This may include any permanent scarring or disfigurement.
Wrongful death on behalf of a victim who sustained fatal injuries. Family members may claim both economic and non-economic damages, including medical bills, funeral cost, and pain and suffering.
How Sobo & Sobo Can Help
The lawyers at Sobo & Sobo have decades of experience serving victims of car accidents across the Hudson Valley and the Bronx. Our team is eager to take on your case and handle communication between insurance agencies and all legal parties involved. You'll remain informed throughout the legal process and have expert guidance while maximizing your chance of a favorable outcome.
Contact Sobo and Sobo today at 855-468-7626