Talcum Powder Lawsuit Attorneys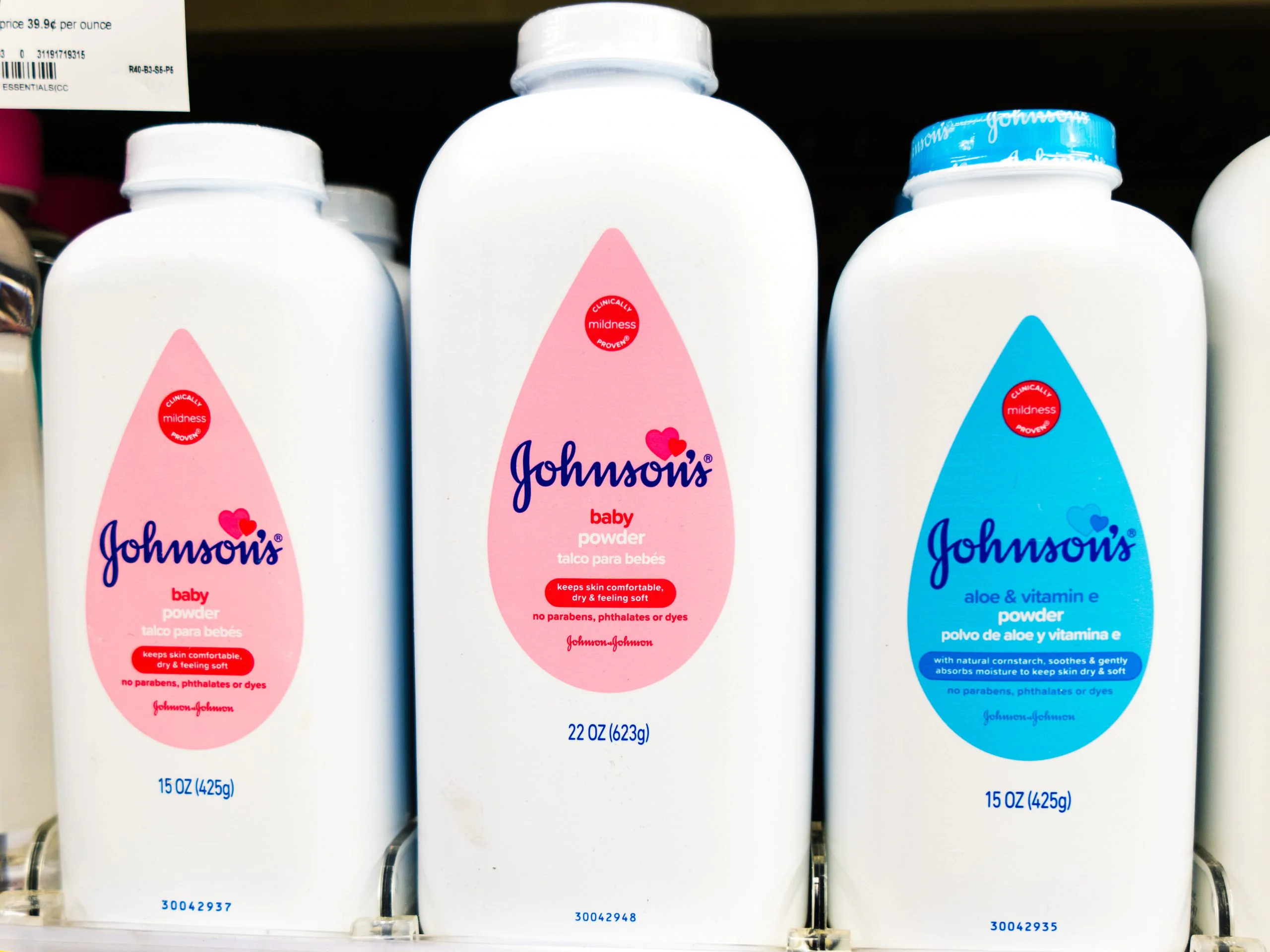 Is talcum powder carcinogenic or not? Is Johnson & Johnson's baby powder and other talc-based products they market, such as Shower-to-Shower, the causal factor in ovarian cancer? This question has been the foundation of numerous lawsuits, and a definitive answer appears to be unavailable.
If you or someone you know is a victim of a harmful talcum powder product, we hear you, and understand your fears and frustration. Sobo & Sobo LLP has won personal injury settlements for thousands of victims across New York, New Jersey and Chicago, IL, and we are here to help you if you feel these products have harmed you. Click here to contact us online, or call 855-468-7626 for a free consultation with a talcum powder attorney today.
What Talcum Powder Is, and How It's Made
Talc is a hydrated magnesium silicate and is always found in combination with at least one other mineral, most commonly chlorite, a chemically and structurally similar ore. Other minerals found with talc include dolomite and magnesite.
Some talc contains asbestos in its natural state and that is generally regarded as being a cancer-causing agent when inhaled. However, talc containing asbestos is not used in modern consumer products and has not been since the 1970s. Additionally, the FDA states it has not found asbestos in any of the talc products it has checked.
There have been at least 36 studies of the causal link between ovarian cancer and talcum powder in recent years, and at least 22 of those studies indicated a positive or possible link between ovarian cancer and talcum powder. Although each study needs to be evaluated on its own, it's good evidence that there does appear to be a connection between perennial talc use and ovarian cancer.
A professor of obstetrics, gynecology and reproductive biology at Brigham and Women's Hospital, Dr. Daniel Cramer, was the first to raise the red flag about talc with a 1982 study that drew a link between long-term genital talc use and the development of ovarian cancer.
Medical researchers apparently still do not clearly understand the link, or even if there is one, between talc and epithelial ovarian cancer. However, science has proven in some cases that there have been talc particles in tumors and other growths that have been removed from patients. Absent clear and compelling evidence, some juries have been ordering J & J to pay hundreds of millions in compensation.
Over the last 50 years, medical journals published studies about a potential link between talcum powder and ovarian cancer. The first was published in 1971 in The Journal of Obstetrics and Gynaecology of the British Commonwealth. It revealed talc particles had been found in 13 women, representing 75 percent of ovarian and cervical tumors surgically removed. Court documents, in September 1971, alleged Johnson & Johnson began a campaign to undermine this initial study.
When Talcum Powder Companies Are Legally Accountable
Companies may be held responsible, or liable, for a defective product or marketing defects, such as the failure to warn consumers of the possibility of potential personal injuries by using a product they manufacture. What that means is that despite differences of opinion over whether talc causes ovarian cancer or not, the fact that J & J knew about a "possible" risk could be enough to hold them liable for failing to warn consumers.
Several juries have agreed that a warning should have been provided, resulting in multi-million-dollar verdicts. Punitive damages (also called compensatory damages) may also play a part in talc-related legal complaints.
Johnson & Johnson Lawsuits Over Carcinogenic Talc-Based Products
In July 2018, Johnson & Johnson was ordered by a Missouri jury to pay 22 women $4.69 billion after the courts found their talcum powder products caused ovarian cancer. Currently, there are over 9,000 and counting lawsuits in federal and state courts alleging this very same thing, that Johnson's Shower-to-Shower and Baby Powder cause ovarian cancer.
The first talcum powder lawsuit was filed in 2009. It's important to note that there are other companies in the marketplace that make talc products, such as Whittaker, Clark & Daniels. At one time, Colgate-Palmolive's Cashmere Boutique was also sold in stores. It is no longer on the market.
The U.S. Food and Drug Administration (FDA) also generally consider cosmetic grade talc safe. That said there is a distinction to be made between talc with asbestos and talc without asbestos. Imerys Talc supplies J & J with the talc in its products. Imerys Performance Additives Division operates mines and processing plants worldwide from Australia to France and Italy to the US.
Withheld Knowledge Leads to Talcum Powder Lawsuits
Compellingly, J & J internal records allegedly indicate that they knew about the possible connection between genital talc use and cancer over 40 years ago but still marketed it as being safe, and another internal memo mentioned health-related objections because a "cancer linkage." They did not choose to inform consumers, did not add a warning label to the products and did not change their formula to use safer ingredients, such as cornstarch.
Legal Costs of Treating Ovarian Cancer
Legally speaking, the cost to treat ovarian cancer for the first year can be as much as (or more than) $82,324. Add in lost income, travel costs, future medical expenses, burial and funeral expenses for those who do not survive and the victims face an uphill financial battle daily.
J & J talcum powder lawsuits typically ask to recover such expenses. Of the $725 million awarded by juries to talcum powder lawsuit plaintiffs, more than $630 million was earmarked as punitive damages.
Other Expenses That May Not Be Covered Include:
In-home care
Various surgeries
Radiation therapy
Anesthesia
Prescriptions for painkillers
Nursing home or hospice care
Antiemetics
PET scans
CT
MRI
X-ray
Biopsies
Chemotherapy
Blood tests/assays
Lawyer fees
Court fees
And yet, still, there are remaining questions for women using talcum powder. Is it safe to use or not? We understand how confusing this issue is and can assure you that we are able to assist you if you are a victim of ovarian cancer potentially caused by talcum powder.
Ovarian Cancer Patients: Know Your Legal Rights
If you or close female relative has been diagnosed with ovarian cancer after using Johnson's Baby Powder, Shower-to-Shower Body Powder, or other talc-based products for many years, it's important to understand your legal rights. Every state has different deadlines and statutes of limitations, and you could miss out if you wait too long to file a claim.
Contact a Talcum Powder Lawsuit Attorney
Free consultations with talcum powder lawyers are offered to anyone seeking legal action in New York, New Jersey, and Chicago IL. Call Sobo & Sobo at (855) 468-7626 as soon as possible to help you make informed decisions about how to proceed. Our prompt action, in partnership with you, could make a difference in the outcome of your case. We would be honored to hear your story and look forward to taking the next step toward winning together.