Commercial & Semi-Truck Accident Lawyers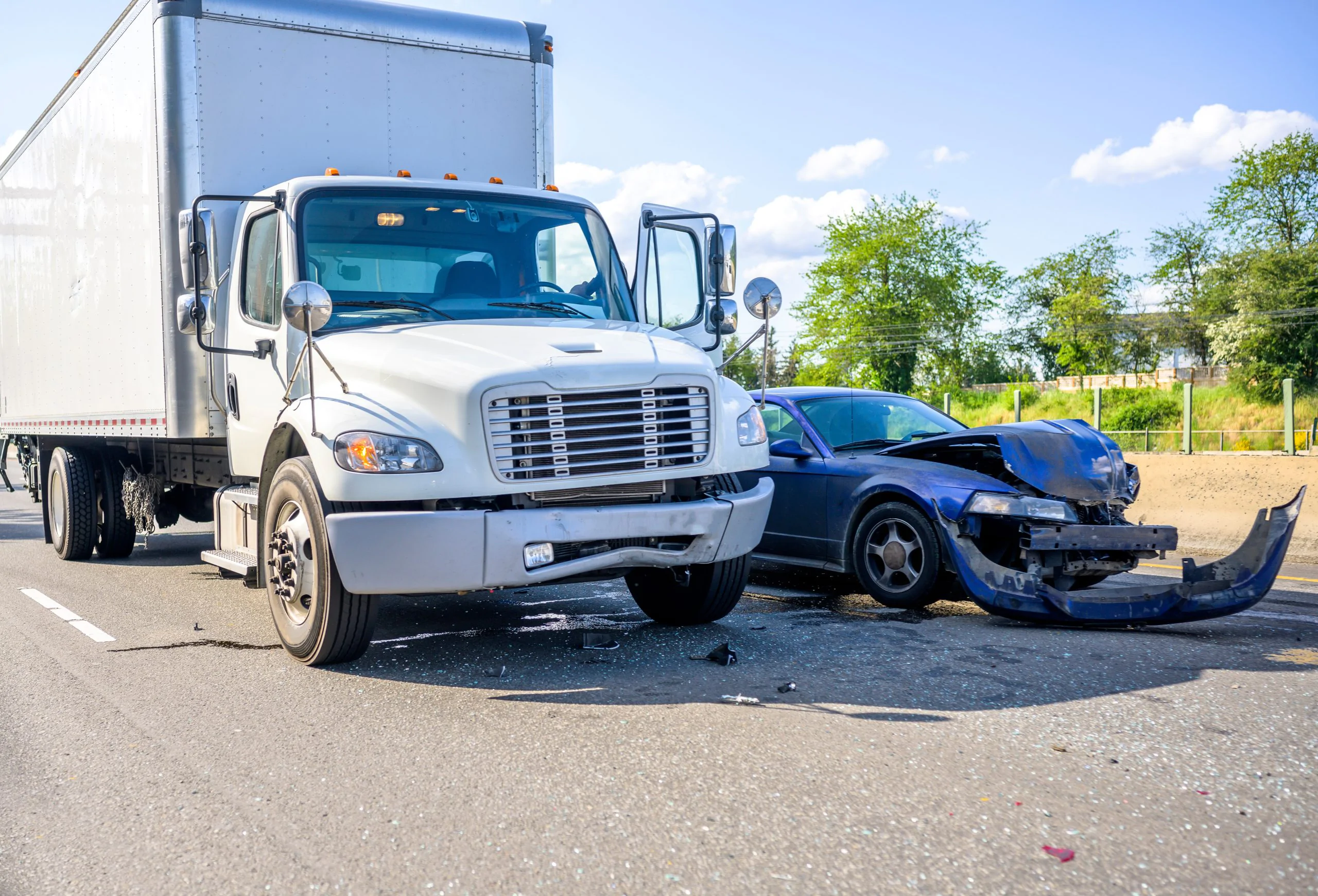 The law holds semi-truck drivers to higher safety standards than others. However, truck drivers are hardly the only party responsible for accidents and have the right to sue for negligence if another party contributes to a crash. Commercial truck lawyers in New York, New Jersey and Chicago, IL represent employed truck drivers who are injured by another negligent party, protect their rights, and maximize the amount owed to them in an injury lawsuit.
Truck drivers have a lot to lose any time they are involved in an accident. In addition to the impacts of big rigs and the injuries that causes, serious traffic violations could cost truck drivers their Commercial Driver's Licenses (CDLs), and therefore their livelihood. Hiring a semi-truck lawyer is often the best way to mitigate any loss of employment, and financial fallout from both their employer as well as other parties suing for damages.
Who is at Fault in a Commercial Vehicle Accident?
Drivers and operators of other commercial trucks are not always responsible for resulting accidents, despite popular opinion. In fact, the NTSA reports that in two-vehicle fatal crashes involving large trucks in 2017, commercial trucks were struck in the rear three-times more often than passenger vehicles.
In fatal accidents that year, large-truck drivers were also less likely to have a suspended or revoked license than the passenger-vehicle drivers involved in such crashes. What's more, only three percent of these big rig operators had a BAC of .08, compared to 21 percent for non-truck drivers.
Leading Causes of Commercial Truck Accidents
The following are the most-common causes of truck accidents in the US, according to the Insurance Institute for Highway Safety (IIHS):
Fatigued Driving: Federal regulations state that commercial drivers cannot exceed more than an 11-hour stretch of driving (with mandated breaks). However, by using a variety of financial incentives, trucking companies often pressure their drivers to break federal law and falsify their driving logs in order to deliver goods on schedule.
Poor maintenance. Commercial vehicles are required to undergo regular maintenance. Accidents can occur if proper care of the vehicle not performed, and/or the company responsible for conducting maintenance procedures fails to recognize or fix a problem.
Defective truck parts. The distributors and manufacturers of the parts and systems in commercial trucks are responsible for ensuring that these parts will not create hazards for the truck driver or other motorists.
Inclement weather. Poor weather conditions, including wet/icy roads or low visibility make it much more difficult to maneuver large trucks. Large trucks struggling to make deadlines while operating in bad weather can lead to dangerous situations such as multi-vehicle pileups.
Trucking companies are responsible for preventing crashes, scheduling, and hiring drivers and ensuring their trucks are safe. They frequently impose unrealistic expectations that encourage drivers to violate rules of service regulations. In the event of an accident, a truck driver could file a personal injury claim, as well as a worker's compensation claim against the company for failing to comply with safe business practices.
Employer Negligence in Commercial Truck Accidents
Trucking companies can be single-minded in their pursuit of profit. Like many organizations, they lobby to reduce government regulation of their businesses. These companies will spend time and money lobbying against regulations that make trucking more costly to provide and also make the trucking industry safer for drivers. This conflict of interests is inevitable and dangerous.
Some of the most common violations include:
Allowing drivers to drive excess hours in violation of service rules. Some drivers have been forced to drive in excess of 20 hours a day.
Pressuring drivers to skip safety inspections to cut back on time
Directly and indirectly asking drivers to speed
Truck drivers and trucking companies always have a duty to maintain and operate their tractor-trailers in a reasonably safe manner. That duty includes following regulations.
When filing a personal injury lawsuit, negligence must be proven that shows a person acted with less care and caution than an average person reasonably would. Trucking accident cases work under a theory of negligence called "negligence per se." Under this legal theory, when a person or company violates a safety regulation or law, that violation is automatically considered negligence.
Legal Options for Commercial Truck Drivers
Truck drivers can report employers that threaten or force them to drive over the state-mandated number of hours, operate vehicles with unsafe equipment, or to act in any way that violates the Federal Motor Carrier Safety Regulations.
The Surface Transportation Act provides whistleblower protection to truck drivers who want to report violations. The Act prohibits the "discharge of an employee, or discipline or discrimination against an employee regarding pay, terms, or privileges of employment," where the employee reports or assists in an investigation of violations.
After suffering an injury on the job, there are two primary ways for truck drivers to take legal action:
Filing a workers' compensation claim. Employees (not those who are hired as independent contractors) can file for compensation from their employer for a work injury. Workers' compensation provides broad coverage, allowing workers to file claims even if their employer wasn't careless or negligent in any way.

Workers can also file a claim if a repetitive stress injury or illness develops because of being exposed to hazardous materials. These benefits include payment of all medical expenses and should also cover partial lost wages if a worker needs to miss work or is temporarily or permanently disabled.A complete guide to Workers' Compensation can be found here.
Filing a personal injury lawsuit against a third party. Potentially liable parties include:
The trucking company. Trucking companies are responsible for providing safe work conditions and ensuring drivers are properly trained in the safe operation of the vehicle. A company can be found liable for failing to prevent an accident that led to a driver's injury.
The shipper. Shippers are sometimes responsible for loading cargo onto trucks. A lawyer will look to see who loaded the trailer and other possible sources of liability if improper loading was the cause of – or contributed to – an accident.
Truck maintenance company. The individual or entity responsible for performing maintenance on a truck may share liability if they failed to maintain the vehicle properly or incorrectly.
The manufacturer or distributor of defective truck parts. If a manufacturer is found to be knowingly distributing and/or directly selling faulty parts that lead to serious injury, they may be liable to be prosecuted.
The drivers of other vehicles. Many accidents aren't the simple result of two vehicles colliding, but rather are caused by the negligent actions of another motorist not directly involved. This is especially true when the accident is a pileup collision. A truck accident lawyer will work to unravel all the factors related to a crash to determine if another driver may share liability.
Click here to schedule a free consultation with an experienced injury attorney near you to discuss the details and value of your case.
What to Do After a Trucking Accident
Documentation is crucial for truck drivers who are trying to prove negligence. It is vital to keep detailed records of the events leading up to the accident. After the accident, it's important to write down a description of the circumstances surrounding the injury:
How much driving was done that week?
Was there pressure to drive "off the books"?
Did an employer perform maintenance or inspect the truck before departing?
Collect and preserve any dashboard camera footage; take ample pictures of the accident and surrounding scene
Save witness statements and contact information
Keep detailed records of any and all medical services received pertaining to the injury
This information could play a large part in winning a personal injury claim against an employer or other negligent party. Collecting as much evidence as possible is extremely important, as chances are high that an employer (or his insurance company) will try to place blame on the driver.
Because of this, it's highly advised for a commercial truck driver in an accident to always hire an experienced personal injury lawyer.
Contact a Commercial/Semi-Truck Accident Lawyer
At Sobo & Sobo, we know how to litigate the most complex commercial truck accident cases. We will work hard to investigate any negligence that led to a truck driver's injury, be it from another vehicle on the road or a corporate violation.
Contact us online or call 855-468-7626 to learn more about how we can help after a truck accident. You can trust us to seek maximum compensation while you focus on getting better.
With over five decades of experience serving victims across NYC and the Hudson Valley, we know how to uncover the hidden violations that companies do their best to keep secret. Our priority is getting justice for injured truck drivers and minimize any financial or emotional dress during the healing period.
Commercial Truck Accident Statistics (Nationwide)
Truck-related crashes cause an average of 5,000 deaths each year nationwide
The majority of accidents involving large trucks occur in rural areas
75% of truck-related accidents occur on non-interstate roadways
65% of truck accidents occur during the daytime
An average of 12,000 large-truck accidents occur each year in New York State