Child Auto Accidents in New York: Lawsuits & Settlements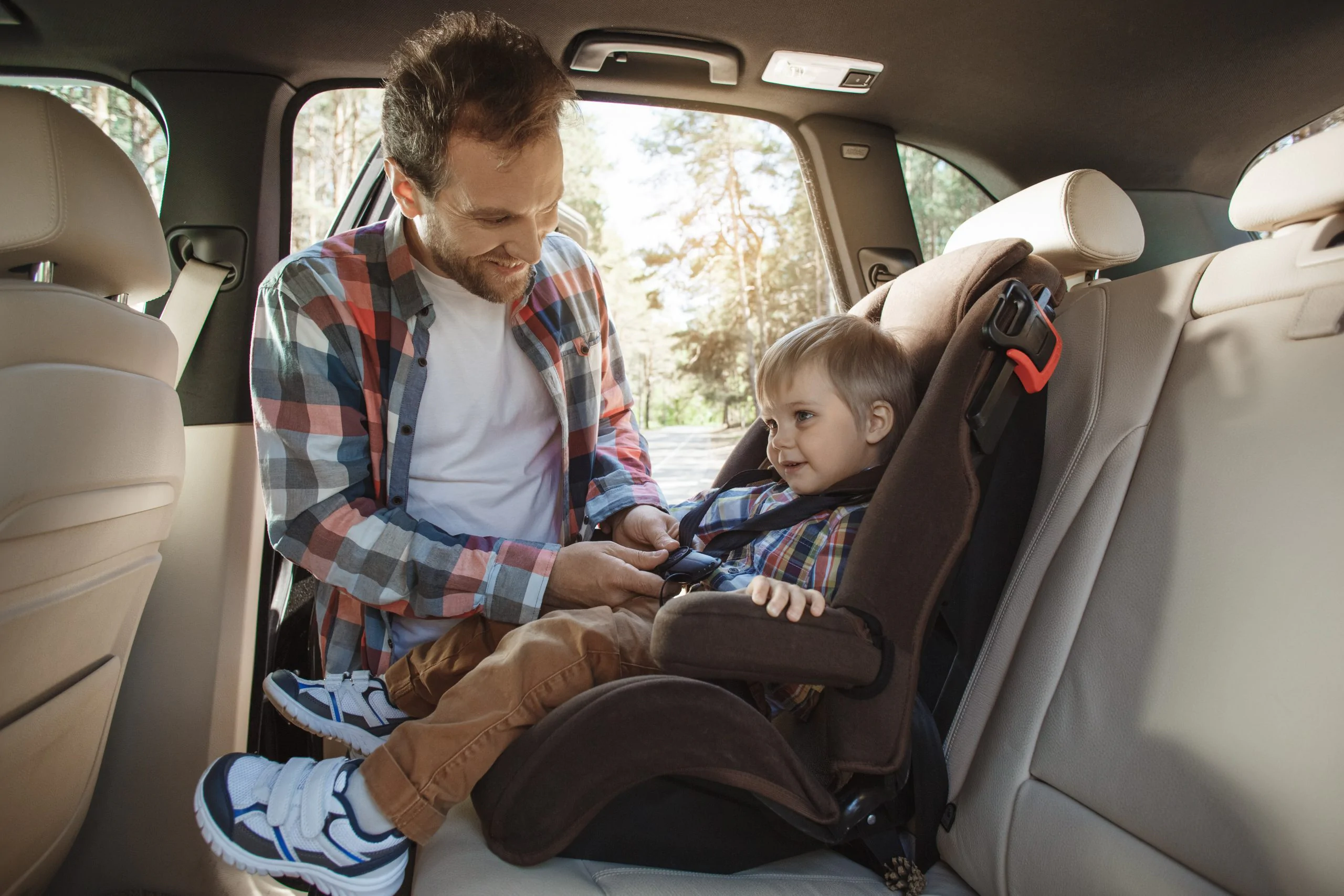 In New York, thousands of children are hospitalized every year for injuries sustained in car accidents. Tragically, motor vehicle injuries are the leading cause of accidental death among children. Efforts to reduce the number of such tragedies include strict rules requiring car seats and restraints when transporting a child. 
Every parent should educate themselves regarding the most common ways children are injured in motor vehicle accidents in New York to avoid accidental injury and death. In worst case scenarios, parents should know the steps to take in order to gain compensation and justice for their childrens' injuries.
New York Child Auto Accident Injury Statistics
Motor vehicle injuries are the leading cause of death for all children under 12 in New York. State statistics from 2018 indicate:
73% of child motor vehicle crash deaths were passengers, 18% were

pedestrians

, 3% were bicyclists

More children (17%) were killed on Saturdays than any other day of the week

The proportion of children killed was greater during the months of May, June and July compared to other months

24% of children deaths in motor vehicle crashes occurred between 3pm and 6pm (rush hour), and 20% occurred between 6pm and 9pm
Children's Safety Seat Data 
Using a child safety seat properly can:
Reduce the risk of death in car crashes by 47-54% for toddlers

Reduce the need for hospitalization for children four years or younger by 69%
Vehicle occupants that do not use seat belts or child safety seats are:
Two times more likely to require hospitalization

Two times more likely to sustain a traumatic brain injury (TBI) 

Three times more likely to be diagnosed with a serious injury



Most Common Bodily Injuries for Children in Car Accidents
The injury outcome in children can be worse than similar injuries sustained by adults. Children's bone structures and tissues respond differently to the forces generated by a car crash. An extensive study done by the National Highway Traffic Safety Administration (NHTSA) details which injuries are most common: 
Head Injuries
The most common head injuries are:
Brain contusions and lacerations (bruising/damage to the brain)

Unconsciousness/concussion
Head injuries are the most common for children in motor vehicle crashes. Children who suffer traumatic brain injuries can experience lasting or delayed neurological problems. These issues are of particular concern when studying child motor vehicle injuries as they require careful monitoring of children as they grow older.
For example, frontal lobe functions are not apparent until a child reaches adolescence. Brain damage may not manifest until later in development when the child reaches school age and displays signs of delayed reading and writing skills.
Thoracic Injuries
Thoracic injuries are the next most common for children in car accidents. These injuries include any harm to the ribs or lungs. Rib fractures are more common among children under one year old. Lung injuries (lacerations or contusions) are more common for older children 4-7 years old.
Abdominal Injuries
Abdominal injuries are third most common for children in car accidents. Bowel injuries among children 4-7 years old account for 30% of all abdominal injuries. Following small/large bowel injury are:
Liver injury

Spleen injury

Kidney Injury
Upper Extremity Injuries
Upper extremity injuries are most common in children 1-3 years old. Humerus fractures (the arm bone between the shoulder and elbow) are most common, followed by clavicle (collarbone) and radius (forearm bone) fractures.
Lower Extremity Injuries
The last group of common child car crash injuries include:
Pelvis fracture

Femur fracture (large, upper leg bone)

Tibia/fibula fracture (shin bones)
Pelvis fractures are more common among children under 1 year old. Injuries below the knees are more common among older children.
New York Safety Restraint Laws 
New York State law requires that:
All children under the age of 4 ride in child safety seats

All children ride in child restraint systems (booster seats) until 8 years old

Safety seats and child restraint systems be certified according to federal motor vehicle safety standards

All front seat passengers must wear seat belts. Children under 16 must wear seat belts when they're in the front seat OR back seat.
Further guidance and aspects of the law include:
Child safety systems must meet the size and weight requirements for the child based on federal requirements and manufacturer recommendations 

Safety seats, harnesses, bests or booster seats must be attached to the vehicle seat belt system, not the seat belt alone

The back seat is the safest location for children to ride. Safety restraints for children should not be used in the front seats. If a child must ride in the front seat, the car seat should be installed as far back as possible.
The Department of Health provides more key tips for keeping children safe from road traffic injuries.
Where Do Most Child Motor Vehicle Injuries Occur?
It is important for parents to know that the school bus is the safest vehicle on the road. The greatest risk to a child is not riding a bus, it is approaching or leaving one. Protected by law and design, students are about 70 times more likely to get to school safely when taking a bus instead of a car. 
That being said, it can be difficult to predict when and where a car accident will occur with a child in a car. However, there are certain places where car crashes occur on a more regular basis. 
Close to Home:

Often, drivers feel comfortable in familiar areas where they know the roads and what to expect.

Progressive Insurance released data stating

that as many as 52% of reported crashes occurred

within 5 miles from home.

Further, 77% occurred within 15 miles.

Rural Roads:

A larger proportion of passenger occupant deaths occur on rural roads as opposed to urban roads. Almost

half of all crash deaths occur on rural roads

, despite only 19% of U.S. citizens living in rural areas. A lack of traffic can lead drivers to become inattentive. Also, these roads are usually less-maintained, which contributes to accidents. It is also true that low-traffic areas encourage faster speeds.

Intersections:

More than 50% of total fatal and injury crashes combined occur

at or near intersections

. More fatal crashes take place on the open road, yet non-fatal car crashes take place at intersections as a result of improper left turns, violations of traffic laws and distracted driving. These accidents are often classified as T-bone collisions, which tend to cause more serious injuries. 
Child Auto Accidents and Lawsuits and Settlements
The best way parents can support their children includes helping them recover from physical, mental, and emotional injuries. Additionally, they can pursue those who are legally responsible for the accident. 
Statute of Limitations
New York's statute of limitations for personal injuries is three years from the date of the accident. This means once three years passes, victims lose eligibility to recover compensation. Child injuries are the exception to this rule.
Anyone under the age of 18 is considered a minor and cannot take legal action on their own. In most cases, parents initiate legal action on their child's behalf immediately after the accident. When this does not happen, the time limit for minors to file a claim extends to three years after they turn 18.
Child Injury Compensation & Serious Injury Threshold
As with any personal injury case, a plaintiff can claim damages related to:
Ambulance services

Hospital bills

Treatment fees (I.E. prescription medication, rehabilitation treatments) 
However, with children, two additional types of damages may apply:
Nominal Damages

: Suffering a painful, serious injury can be traumatizing for a child many years later. Nominal damages can provide additional compensation to aid recovery.

Potential Income

: If a child's injury causes permanent disability, he or she will be prevented from pursuing certain careers once they are 18 years old. Lost potential income may be recovered.
New York's car insurance laws include mandatory liability coverage of:
$25,000 for bodily injury liability coverage for a single person accident injury or death

$50,000 for bodily injury if more than one person is injured or killed

$50,000 in "no fault" personal injury protection coverage
The no-fault system was put in place to limit personal injury lawsuits and recover damages for the injured as quickly as possible. Victims have the right to sue when costs exceed $50,000 or when a "serious injury" is sustained. New York State Insurance Law defines "serious injury" as any of the following conditions:
Death

Dismemberment

Significant disfigurement

Fracture

Loss of a fetus

A permanent loss of use of a body organ, member, function, or system

A significant limitation of use of a body organ or system

A "medically determined injury or impairment of a non-permanent nature which prevents the injured person from performing a person's usual and customary daily activities for not less than 90 days following the occurrence of the injury or impairment"
Defective Car Seats
Depending on certain circumstances, the best legal route could be a product liability claim for a defective car seat. The designer, manufacturer, and distributors of the safety seat can be held legally liable if:
Designers may have made an inherently

defective product

that was dangerous from the outset

Manufacturers may have used the wrong materials or exhibited shoddy workmanship

Distributors might have sold damaged products that were bound to function incorrectly



Common car seat defects include:
Faulty adjusters or straps loosening 

Faulty buckles or latches

Broken frames/lack of strength and durability

Flammable materials
Children and Wrongful Death Claims
In New York, wrongful death lawsuits are meant to compensate for any economic losses a family experiences due to the untimely death of a loved one. Unfortunately, this means parents cannot recover for the emotional toll of losing a child. Parents can fight for any economic loss the child's death has had on the family. This is problematic because a minor does not typically financially support a family. 
The most significant damages awarded in New York wrongful death lawsuits involve:
Medical costs for services required to treat the victim

Costs of funeral, cremation, or burial
Losing a child in an accident that never should have happened is potentially the most traumatic experience a family can be forced to deal with. A wrongful death lawsuit can help alleviate the financial concerns caused by a fatal accident caused by negligence.
Call Sobo & Sobo If Your Child Was Injured in a New York Car Accident
For decades, the attorneys at Sobo & Sobo have been helping victims recover compensation across NYC and the Hudson Valley.  With any personal injury case, emotions can run high. This only intensifies when a child is involved. With Sobo & Sobo, parents can trust that their child gets the best representation throughout the process while being able to focus on his or her recovery.
Contact online or call 855-468-7626 to speak with a child car accident injury expert.