Most Dangerous Roads in the Bronx, NY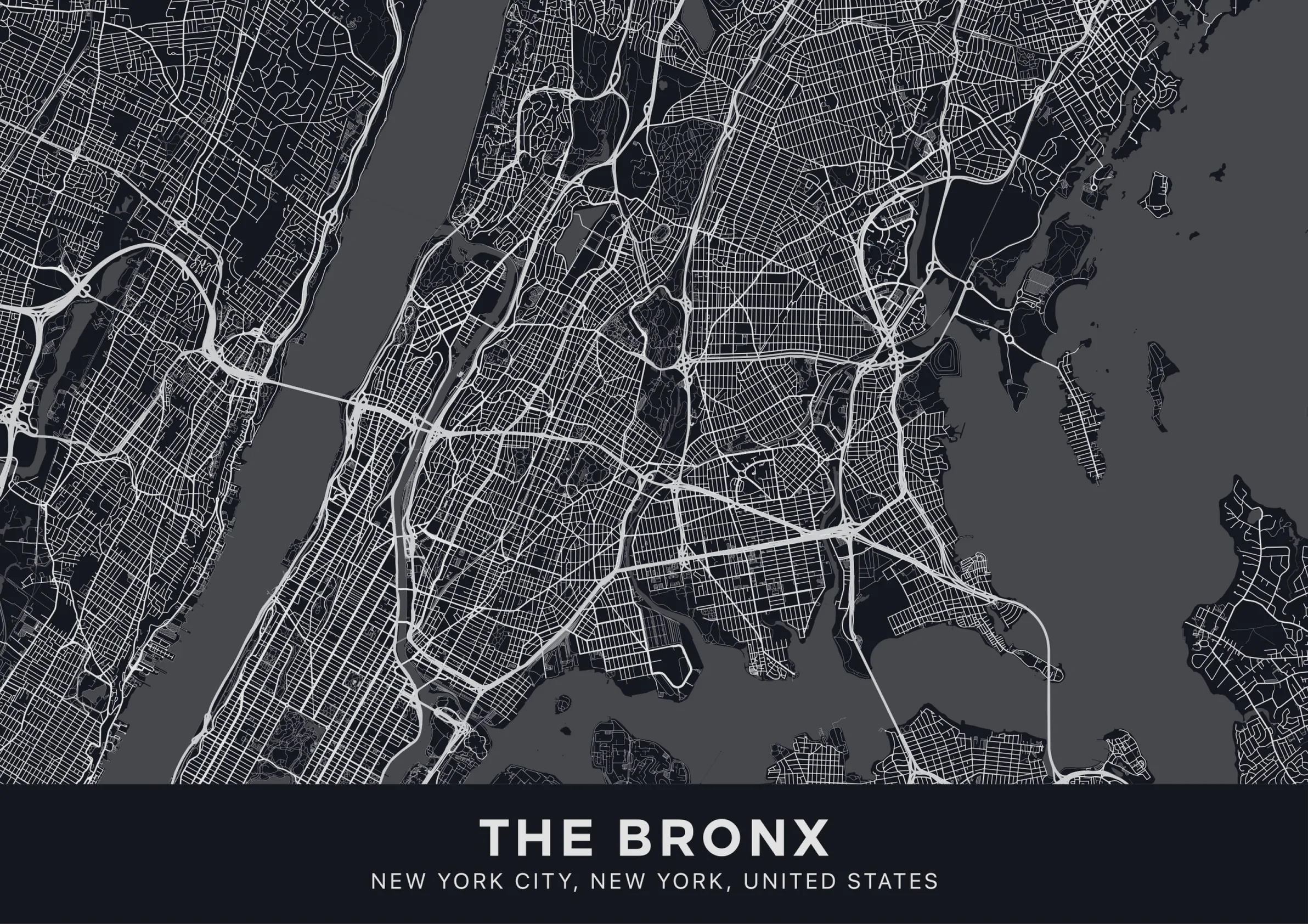 Millions of people migrate daily in and out of Manhattan, heading to jobs and back home. This heavy traffic can make certain roads in the Bronx especially dangerous compared to others, increasing the risk of both drivers and pedestrians experiencing or causing an accident.
Most Dangerous Roads in the Bronx
The NYPD keeps data every month and regularly updates its list of the most dangerous roads in the Bronx and all other New York City boroughs. The most recent data indicates that the following roads are exceptionally dangerous for motorists, pedestrians and cyclists:
Major Deegan Expy. and W Fordham Rd.

Bruckner Blvd. and Tiffany St.

Bruckner Blvd. and East 144

th

St.

3

rd

Ave. and E 163

rd

St.

Cross Bronx Expy. and White Plains Rd.

Bellamy Loop and Coop City Blvd.

Bronx Blvd. and E 233

rd

St.

Mosholu Pkway. and Southern Blvd.
Each of these streets had at least eight distinct traffic collisions in November 2020 alone. There are many more streets in the Bronx that have an average of between 5 and 7 collisions each month.
Drivers should also note that there are particularly dangerous Bronx intersections that they should avoid. These intersections include:
E 168

th

St. and College Ave.

Field Pl. and Creston Ave.

E 196

th

St. and Valentine Ave.

Goble Pl. and Inwood Ave.

East Mosholu Pkway. N and Hull Ave.
While drivers must still commute to and from work, avoiding these roads may help to avoid traffic collisions and injuries.
Dangerous Roads for Bronx Pedestrians
The Bronx is not only a dangerous place to commute for drivers. It can also be dangerous or deadly for pedestrians. Certain roads and intersections are more dangerous places to walk than others.
For example, drivers and pedestrians alike should be aware of White Plains Road, which runs 2.8 miles between the avenues of East Tremont and Birchall. This road is one of the Bronx's most dangerous streets overall and brings both more severe injuries and more traffic deaths compared to 90% of other roads.
This road underwent renovations some years ago to decrease its width and reduce the number of these deaths. Even with these modifications, White Plains Road is still somewhat dangerous and drivers should take special care when using it.
Walking throughout New York City is a way of life for many people. But those walking in the Bronx should show extra caution on specific streets. Both of these streets have been the locations of at least seven pedestrian deaths each over the last decade:
Broadway Street in the Bronx

Grand Concourse Street
Dangerous Roads for Bicyclists
Alongside pedestrians, bicyclists should take special care while commuting to and from the Bronx. The above-mentioned dangerous roads for drivers are also dangerous for bicyclists. But data from the app localize.city suggests that there are several intersections with higher than average levels of total bicyclist injuries compared to other roads. These include:
E 149

th

St. and Morris Ave.

E 161

st

St. and Morris Ave.

Brook Ave. and E 138

th

St.

3

rd

Ave. and 149

th

St.
Bronx Car Accidents
Traffic accidents of all types are unfortunately quite common in the Bronx. In November 2020 alone, there were:
1,845 motor vehicle collisions in total

3,651 motorists involved

237 passengers involved

78 cyclists involved

131 pedestrians involved

617 collisions caused either direct injuries or fatalities
Data from the NYPD suggests that motorists and passengers are the most at-risk groups for injuries. But pedestrians and cyclists are more likely to be killed in motor vehicle accidents in the Bronx:
382 motorist injuries

237 passenger injuries

2 cyclist deaths

5 pedestrian deaths
The Bronx's Dangerous Relationship to Manhattan
The Bronx is one of the five major boroughs that comprise the New York City metropolitan area. It's situated to the east of Manhattan and is connected to the island by ten bridges. Millions of people commute to and from the Bronx from Manhattan every day, creating the conditions for auto accidents of all kinds.
The lack of recently renovated roads and accommodations for increasing traffic over the years have exacerbated dangers.
The Costs of Dangerous Roads
In many circumstances, the Bronx's roadways and pedestrian crosswalks aren't as safe as they ought to be. Dangerous roads can lead to a variety of injuries and even potential fatalities depending on the circumstances and the vehicles (if any) involved.
Common injuries from auto accidents include:
Meanwhile, pedestrians and bicyclists are at an increased risk for serious injuries on certain Bronx roadways. If they are hit by a moving car, they could be at serious risk for death due to the weight and speeds involved in any car and pedestrian collision.
What to Do After Experiencing and Auto Accident or Personal Injury
Anyone involved in a Bronx auto accident should contact the authorities immediately. After any injuries are stabilized and treated, victims may consider pressing a personal injury or auto accident lawsuit with legal counsel.
Car accident and personal injury lawsuits can help individuals to recover from their injuries by providing compensation that can cover:
Past and future medical expenses

Coverage for loss of income

Other damages, including pain and suffering
However, car accident and personal injury lawsuits are difficult to win without skilled legal consultation. 
Bronx Car Accident Attorneys Near You
Car accident victims in the Bronx can receive a free consultation by visiting Sobo & Sobo's Bronx office, located on 932 Sheridan Avenue, or by calling 718-928-3324. With over 50 years of experience winning car accident cases for Bronx and NYC residents, the attorneys at Sobo & Sobo know what it takes to win the settlements that victims need to recover, and the justice they deserve. Contact them today for a free consultation.