Most Dangerous Areas for Pedestrians in the Bronx, NY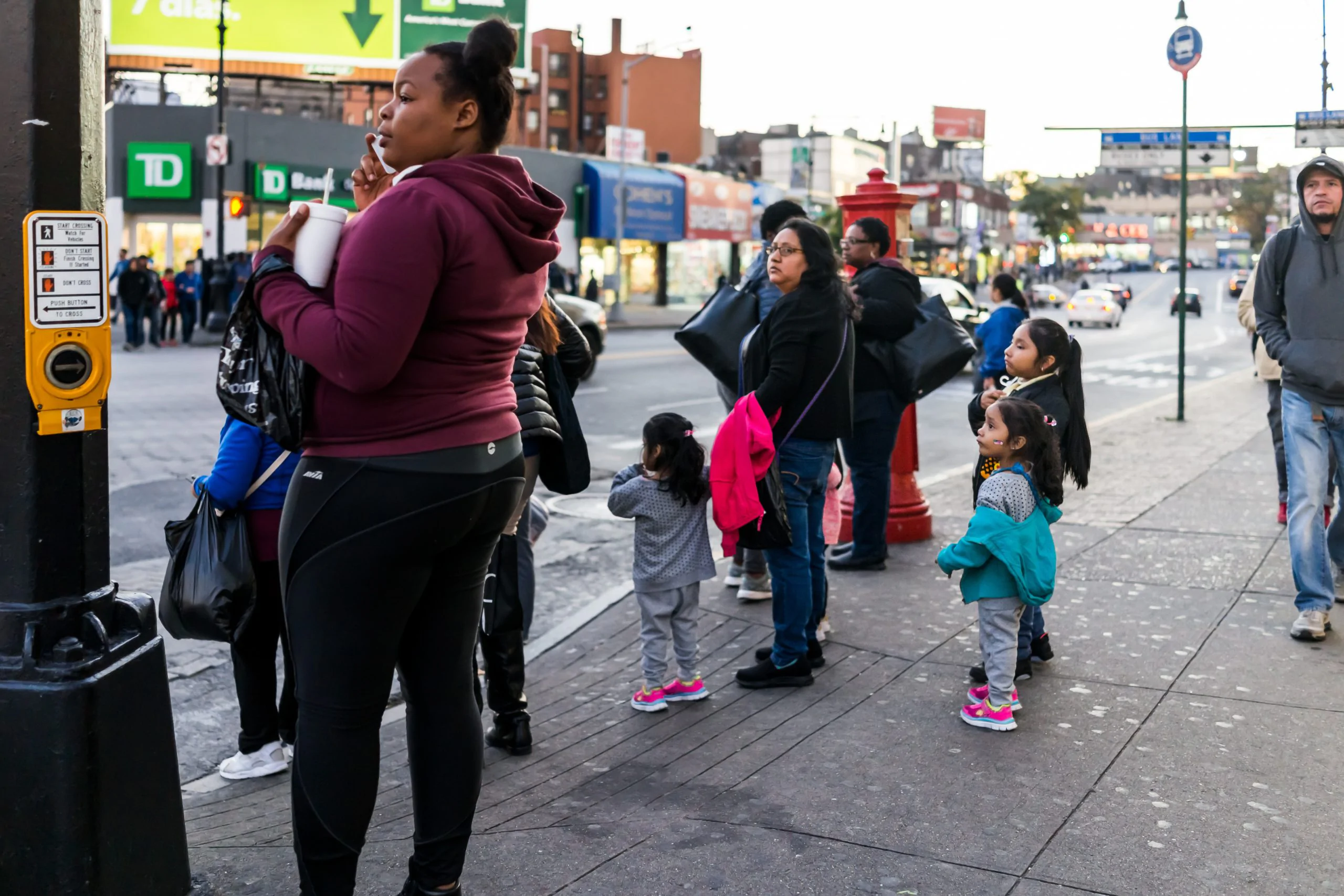 Most people don't think twice about leaving their homes and going for a walk. In today's busy world, both pedestrians and motorists often rush to the next destination without much concern for safely sharing the road. In a city as populated as New York, pedestrian injuries and fatalities are an unfortunate reality. As one of the most densely populated counties in the US, the Bronx has an alarming pedestrian fatality rate compared to the rest of New York City.
Pedestrian Accidents: Bronx Statistics
According to NYC Crash Mapper, the Bronx has experienced the following incidents in 2020:
7,554 total crashes

8,319 injuries

38 deaths
Of those incidents:
1,337 pedestrians were injured (16%)

12 pedestrians were killed (32%)
Top Contributing Factors to Pedestrian Accidents in the Bronx
According to NYPD data, the top causes of car crashes resulting in pedestrian injury or fatality are:
Driver inattention/distraction

Failure to yield/right of way

Backing unsafely
Vision Zero in The Bronx
As of 2020, the number of pedestrian injuries and fatalities due to traffic accidents has seen a slight decrease since Vision Zero was started. Vision Zero is a safety campaign adopted by the city with the goal to eliminate traffic fatalities by 2024. To promote pedestrian safety several safety measures have been implements across the borough, including:
Repainting street markings and

crosswalks with stop lines

to increase visibility of pedestrians

Left turn signals added to organize traffic

Countdown signals added to help pedestrians at wide crosswalks

"Look" pavement markings added to alert pedestrians of traffic
Many locals believe these changes aren't adequate enough to prevent the erratic driving responsible for pedestrian harm.
The Most Dangerous Intersections for Walking in the Bronx
Pedestrians must brave dangerous intersections in far too many places in the Bronx. Pedestrians should exercise caution, and always be aware of their surroundings, especially in the following areas.
East 170
th
Street & Grand Concourse
The Grand Concourse is sometimes referred to as the Bronx's own "Boulevard of Death." There are several intersections along the congested roadway that are simply dangerous due to the width of the street. Grand Concourse is 180 feet wide and frequently traversed by speeding, reckless drivers.
East 170th Street & Grand Concourse is one of the worst intersections in the Bronx due to pedestrians having to cross multiple lanes of heavy traffic. There are high pedestrian volumes due to "high retail-related" activity. It was identified in a 2010 study of the top 20 dangerous intersections, ranked most hazardous in the Bronx with eight pedestrian crashes. Between 2009 and 2013, seven pedestrians were seriously injured, and one was killed.
The Department of Transportation has implemented some improvements, but the intersection is still known to the area's residents as a dangerous one. The best advice is to be cautious and alert if it's necessary to cross here.
Grand Concourse & East 183
rd
Street
Grand Concourse & 183rd Street has been a safety concern with a bad reputation since the late 90s. Problematic features of this junction on the "Boulevard of Death" are the wide streets and long crossing distances. Several changes have been implemented to this intersection as a part of Vision Zero, but many locals believe they're not enough to regulate heavy traffic.
The five-year traffic study ranked it tied for 2nd most dangerous intersection, with six pedestrian crashes in 2010. In 2005, a 12-year-old was killed in the crosswalk when she was struck by an off-duty police officer. An 11-year-old was killed here in 2011 while crossing against a red light, despite there being a crossing guard on duty.
White Plains Road & East Gun Hill Road
White Plains Road & East Gun Hill Road experiences heavy pedestrian and vehicle volumes on a wide roadway. There are visibility issues related to dangerous turns leading under an elevated subway line. There were six pedestrian crashes at the intersection in 2010. The two roads are extremely dangerous for pedestrians on their own. The Tri-State Transportation Campaign reported both on their list of four deadliest roads in the Bronx.
Despite implemented improvements to the intersection such as narrowed lanes, new "LOOK" pavement markings and countdown signals, tragedies still occur here. In 2016, a 61-year-old woman was killed in a hit-and-run while using the crosswalk.
East Fordham Road & Webster Avenue
East Fordham Road & Webster Avenue is a 70 feet wide intersection with no median, which makes it very difficult to cross within the signal time. As a shopping hub, this intersection is frequently grid-locked, forcing pedestrians to weave between cars while attempting to cross.
More than 80,000 people flow through this area around Fordham Plaza each day. In addition to the thousands of locals who use the sidewalk daily, the intersection is a stop on eight different bus lines. The unloading of buses causes pedestrians to walk in the street due to little space on the sidewalk.
In 2010, the intersection was ranked as the third most dangerous for pedestrians and cyclists. In 2012, a 24-year-old was hospitalized in critical condition after was struck in the crosswalk by a hit-and-run driver. Vision Zero has initiated several safety measures to the area, including retiming lights in the intersection and installing a median. However, this intersection remains dangerous until all the projects are completed.
New York Pedestrian Safety Laws
Many of the same laws that apply to motor vehicle drivers apply to pedestrians using the roadways in New York:
Pedestrians must obey all traffic signs and pavement markings

Pedestrian signals must be followed when they are present: Walking person/Walk, Steady Red Hand/Don't Walk, Flashing Red Hand/Don't Walk, but finish crossing if already in the street

When in a crosswalk where there isn't a traffic control signal, drivers must yield the right-of-way to the pedestrian

If there isn't a crosswalk, sign or signal, a pedestrian must yield to all vehicles

Pedestrians must use sidewalks where they are provided. When there are no sidewalks, walk on the left side of the roadway facing traffic
Compensation for Pedestrian Accidents in Bronx, NY
An injured pedestrian has various options for recovering compensation after an accident. New York is a No-Fault state, meaning that insurance companies will pay up to $50,000 for all medical bills related to pedestrian accidents, no matter what. This insurance law was enacted to ensure that any crash-related medical expenses are paid for victims as soon as possible, regardless who was at fault.
Most recent data suggests that pedestrian victims have the highest average hospitalization cost, second to motorcyclists. The average hospitalization charge for an injured Bronx pedestrian was $49,293 in 2014. Unfortunately, many injuries may require compensation beyond the $50,000 provided by the No-Fault policy. To recover more than this amount, a victim must pursue a separate personal injury claim. This is when it becomes essential to consult with a Bronx personal injury attorney.
Pedestrian Personal Injury Claims and Settlements
The total amount received through compensation depends on unique factors surrounding each case. A personal injury attorney can help investigate the accident to determine liability and gather evidence to prove the extent of any injuries.
New York's statute of limitations for personal injury is three years. This means a victim has three years from the date of the accident to take legal action. Once a personal injury claim is filed, an experienced attorney can help recover damages such as:
Hospital bills

Prescriptions, medications, and other treatments

Any future medical treatments

Loss of income from missed work

Loss of future income and reduced earning capacity

Non-financial damages such as pain and suffering, emotional distress, and trauma
Pedestrian accident lawyers in New York can help injured pedestrians make the strongest possible case. Quality legal assistance can ensure victims receive all the damages needed for recovery.
Contact Bronx Pedestrian Accident Attorneys
The lawyers at Sobo & Sobo have over 50 years of experience investigating pedestrian-related personal injury claims across the Bronx and Hudson Valley. Allow our experts to identify crucial evidence on your behalf and negotiate with legal parties in pursuit of maximum compensation. Don't hesitate to contact for a free consultation and ask how we can help.
Contact online or call 855-GOT-SOBO today