Swimming Pool Accidents and Injuries: When to Hire a Lawyer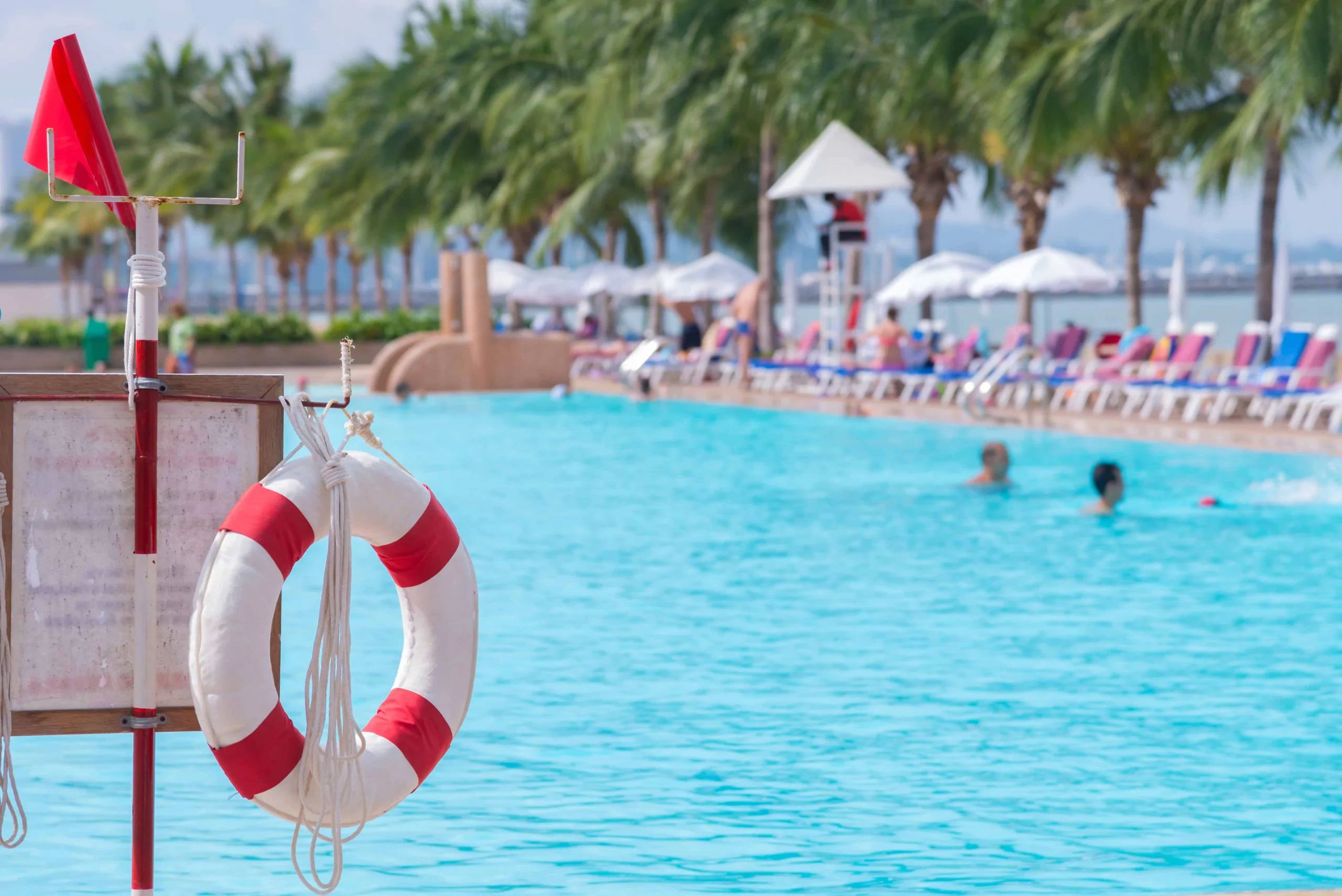 A swimming pool can be the perfect remedy for a hot summer day. For many, the cool relief from a pool serves as a way to relax while entertaining children. In a perfect world, there's little to worry about as long as children are supervised and pool owners follow proper safety guidelines on their property. Still, swimming pool accidents happen when people least expect them and can result in serious injury, and sometimes, death.
When someone is injured or drowns in a swimming pool accident, the property owner may be liable for damages. Whether a public facility or private property, owners are responsible for keeping their property safe for visitors. Understanding legal requirements for operating a pool in New York State can help victims or family members understand if legal action is a consideration.
Swimming Pool Accidents in New York: State Statistics
The Center for Disease Control reports that drowning ranks fifth among the top causes of unintentional death in the United States. An average of ten people die every day from unintentional drowning. Recent New York State studies reveal that from 1987-2017, more drownings were reported at pools than in natural bodies of water. The majority of these drownings are categorized as having occurred at "regulated facilities, including:
Aquatic amusement parks
Municipal pools
Apartment complexes
Health clubs
School swimming pools
Mobile home parks
Homeowner association pools
Swimming pools are most dangerous for New Yorkers under four years old. A study conducted on unintentional drownings revealed that most drownings for children ages four and under occurred in residential swimming pools, while people of all other ages most often drowned in natural bodies of water.
More New York state swimming pool drowning statistics:
Most drowning victims are between 11 and 25 years old
Victims are four times more likely to be male than female
58% of pool drownings at regulated facilities happened in water less than five feet in depth
The leading cause of children drowning in residential swimming pools is their ability to access the pool via inadequate fencing or faulty gates
The New Definition of Drowning
Until recently, only fatal instances of drownings were taken into account when determining a universal definition for "drowning. In 2005, experts in clinical medicine, injury epidemiology, and rescue teams, together with the World Health Organization (WHO) argued for a universal definition of drowning that included non-fatal cases. The following definition was determined:
"Drowning is the process of experiencing respiratory impairment from submersion/immersion in liquid."
The decision came after successfully arguing that there are drowning outcomes that do not involve death. In these cases, there are usually resulting injuries that are caused by submersion in liquid such as brain and/or lung damage.
Drowning fatalities are devastating. But even when there is no fatality, injuries sustained from prolonged submersion can be severe and life-altering. Statistics suggest that for every fatal child drowning, another five require emergency department care for a non-fatal incident.
Further, more than 50% of these emergency-care recipients require hospitalization or a transfer for further care. This percentage for all fatal and non-fatal drowning victims is significant compared to the 6% hospitalization rate for other unintentional injuries.
Non-fatal Drowning
Even if they ultimately survive drowning, people who are submerged underwater for too long are subject to serious complications. Victims can sustain severe brain damage from hypoxia, the medical term for oxygen deprivation. This injury is referred to as an acquired brain injury. Some of the long-term effects of an acquired brain injury include:
A coma, permanent loss of basic functioning (a vegetative state), or brain death. The differences between these conditions are described here.
Various cognitive disabilities such as memory problems and deficiencies in speech and attention
Impairments to both fine and gross motor abilities
Difficulty controlling emotions and behavior
Slipping and Falling
Pool decks or surrounding areas tend to have slick surfaces. Walking carefully could still result in someone losing their footing and falling. Slips and falls on a hard surface can result in serious consequences such as:
Traumatic Brain Injuries: Falling can result in blunt force to the head. A traumatic brain injury sustained from physical force has the same potential side effects as hypoxic brain damage, mentioned above.
Spinal cord injuries that can result in paralysis or other long term-disability
Bone fractures and soft tissue damage such as a shattered ankle, fractured hip, or sprained wrist.
Diving Injuries
Diving into shallow pool water can cause catastrophic injuries to the head, neck, and spine. In severe cases, these injuries can lead to paralysis or brain damage. Other common injuries from diving include lacerations to the head or face and other soft tissue injuries from blunt force.
Pool Drain Injuries
These types of injuries can be severe and are more common than one might think. Reports have claimed that certain pool drains can exert up to 300 pounds of pressure per square inch. An improperly covered drain can subject someone to serious injury or death due to the intensity of its suction. Pool drain suction can cause dangerous entrapments including:
Hair entrapment: It's especially likely for swimmers with long hair to get it caught in a drainage outlet
Extremity entrapment: Improper maintenance to drain covers can enable swimmers to get their hands or feet stuck. In severe cases this can result in amputation of fingers or toes, or broken bones
Body entrapment: Some pool drains are strong enough to catch a small child's body and lead to damage of their soft tissue and organs
Fixture entrapment: Accessories such as bracelets, necklaces or parts of a bathing suit can get caught in unsafe drains and prevent the swimmer from surfacing.
Exposure to Pathogens
Pools must be regularly inspected for pathogens that can cause serious illnesses, such as E. coli outbreaks. The CDC points out that a pool with proper chlorine levels doesn't immediately kill all germs. It's also important to note that chemicals used to treat pools also pose a risk to swimmers. Though necessary for safe water quality, pool chemicals, when improperly administered, can lead to medical issues such as chemical burns, eye and tissue injuries or respiratory problems.
Public Swimming Pools: Health Hazards and Legal Action
Accidents in public pools hold government agencies or government employees liable if negligence can be proven as the cause of injury.
In order to operate a public swimming pool, New York enforces a series of rules, codes and regulations that owners must follow. Violating any of these guidelines can pose a serious threat to a swimmer's safety and serve as direct evidence for negligence.
The list includes, but is not limited to, 16 items outlining public health hazards that are the owner's responsibility to correct:
failure to provide adequate supervision of the swimming pool (a certified lifeguard);
failure to provide the minimum disinfectant residual levels;
failure to continuously operate the swimming pool's filtration and disinfection equipment;
use of an unapproved or contaminated water supply source for potable water use;
overhead electrical wires within 20 feet horizontally of the swimming pool;
unprotected electrical circuits or wiring within 10 feet of the swimming pool;
failure to maintain emergency lighting source;
absence of all lifesaving equipment on swimming pool deck;
swimming pool bottom not visible;
absence of or improper depth markings at a swimming pool;
plumbing cross-connections between the drinking water supply and swimming pool water or between sewerage system and the swimming pool's filter backwash facilities;
failure to provide and maintain an enclosure around the swimming pool area that will prevent access to the swimming pool during the hours in which the pool is not open for use;
use of unapproved chemicals or the application of chemicals by unapproved methods to the swimming pool water;
broken or missing main drain grate in the swimming pool;
overcrowding of the swimming pool that results in poor supervision of bathers;
glass or sharp objects in swimming pool or on deck area; or any other item determined to be a public health hazard by the permit-issuing official.
There are also extensive guidelines for public pool operation, supervision and maintenance.
Public swimming pool violations are shockingly common. For instance, hundreds of upstate New York swimming pools were cited in 2017 with critical violations. Browsing the list of facilities with the most violations reveals two pools in Monticello, a middle school pool in Poughkeepsie, and a condominium in Newburgh. All were cited with violations involving proper enclosure of the pool and drain grates and/or disinfectants.
Failure to properly maintain a pool that the public uses is dangerous and negligent. Pool owners have a duty of care to keep the public safe. If their negligence causes injury, the victim is within their rights to sue for compensation.
Filing Against the City or State Authority
Filing a claim against the city has restrictions unique from other personal injury claims.
Typically, a personal injury claim has a statute of limitations of three years. However, when suing a government entity in New York City, you must file a Notice of Claim within 90 days of the incident. After filing a Notice of Claim, the victim or family member has one year and 90 days to file a lawsuit.
Pool Owner Liability and Guest Injuries
Buying a swimming pool in New York requires the owner to follow the Uniform Code for safety. These regulations include rules to keep people safe while swimming, and to keep the property secure when the pool is not in use. The Uniform Code dictates the following requirements:
Pools built after March 30, 1998 must have a barrier of at least 4 feet high and can only be entered through self-closing and self-latching doors and gates
All pools built after 2006 must have an alarm that sounds when a child enters the pool. The alarm must sound at the pool and at another location, such as in the house. Doors that open directly to the pool must also have an alarm.
A personal pool owner may also be held liable for putting public health in danger. Their negligence could look like:
Cracked tiles or poorly maintained concrete that forms a tripping hazard
Algae build up that creates a slippery walkway
No supervision of children swimming
Broken ladders or diving boards
Chemical imbalances of the water that cause breathing issues or other injury to skin or eyes
Not providing necessary safety equipment
Legal Options for Pool Accidents and Injuries
Legal approaches for swimming pool injuries are evaluated on a case by case basis. Many New Yorkers have access to residential pools, but many rely on public pools as their only option. People often feel safe in public pools since they are regulated and have lifeguards on duty. However, any swimmer can be the victim of an accident no matter what type of pool they're swimming in.
Both public and private pool owner premises have legal obligations to oversee the pool for any hazards and ensure safety for all swimmers.
Swimming Pool Accidents and Premises Liability
Swimming pool lawsuits usually fall under premises liability law, mandating that property owners are accountable for all injuries that result from negligence on their property. To build a successful premises liability case for a swimming pool injury, the following must be proven:
The pool owner had a duty of care to provide safe premises for anyone using his or her pool
The pool owner knew or should have known about a dangerous condition and failed to fix the issue
Death occurred or injury was sustained as a result of the pool owner's negligence
The injury resulted in economic loss and/or emotional damage to the victim
Swimming Pool Accidents and Product Liability
Additionally, injuries sustained from defective equipment, such as a pool drain, may warrant a product liability claim against the manufacturer or seller. To prove product liability, the victim must prove that the device or equipment was improperly manufactured or that the manufacturer knew about the defect and failed to correct it. Secondly, the victim must prove that the defect caused injury and the injury resulted in loss to the victim.
Swimming Pool Accidents and Wrongful Death
If a swimming pool accident results in the fatality of a family member, a wrongful death claim may be filed. Compensation in a wrongful death claim in New York may include:
Funeral and burial costs
Medical expenses up until death
Wages from loss of work up until death
Pain and suffering
In New York, most wrongful death lawsuits must be filed within 2 years of the accident.
Potential Damages Claimed from Pool Accidents
Swimming pool accidents can require extensive treatments and lead to costly medical bills. Examples of damages that can be recovered are:
Ambulance services
Emergency room visits and hospitalization
Surgeries and procedures
Physical rehabilitation
Cognitive therapy/rehabilitation for brain injuries
Emotional pain and suffering and any psychological therapy used to cope with trauma related to the accident
Loss of pay from missed work, as well as loss of any future wages due to an inability to work
An experienced swimming pool accident attorney can help establish liability and demonstrate the extent of a victim's losses and damages.
Get Help from an Experienced Personal Injury Lawyer
The experienced lawyers at Sobo and Sobo will help to build a strong case to fight for the rightful compensation of any swimming pool accident victim. We have offices conveniently located in Middletown, Newburgh, New York, Monticello, Spring Valley, Poughkeepsie.
Our lawyers will help collect vital evidence to prove the negligence of all possible parties and figure out the best strategy for your case. We understand how such a traumatic experience requires compassion and support. Don't hesitate to contact us online or call 855-468-7626 for a free consultation.