What is a Paralegal, and What Do They Do?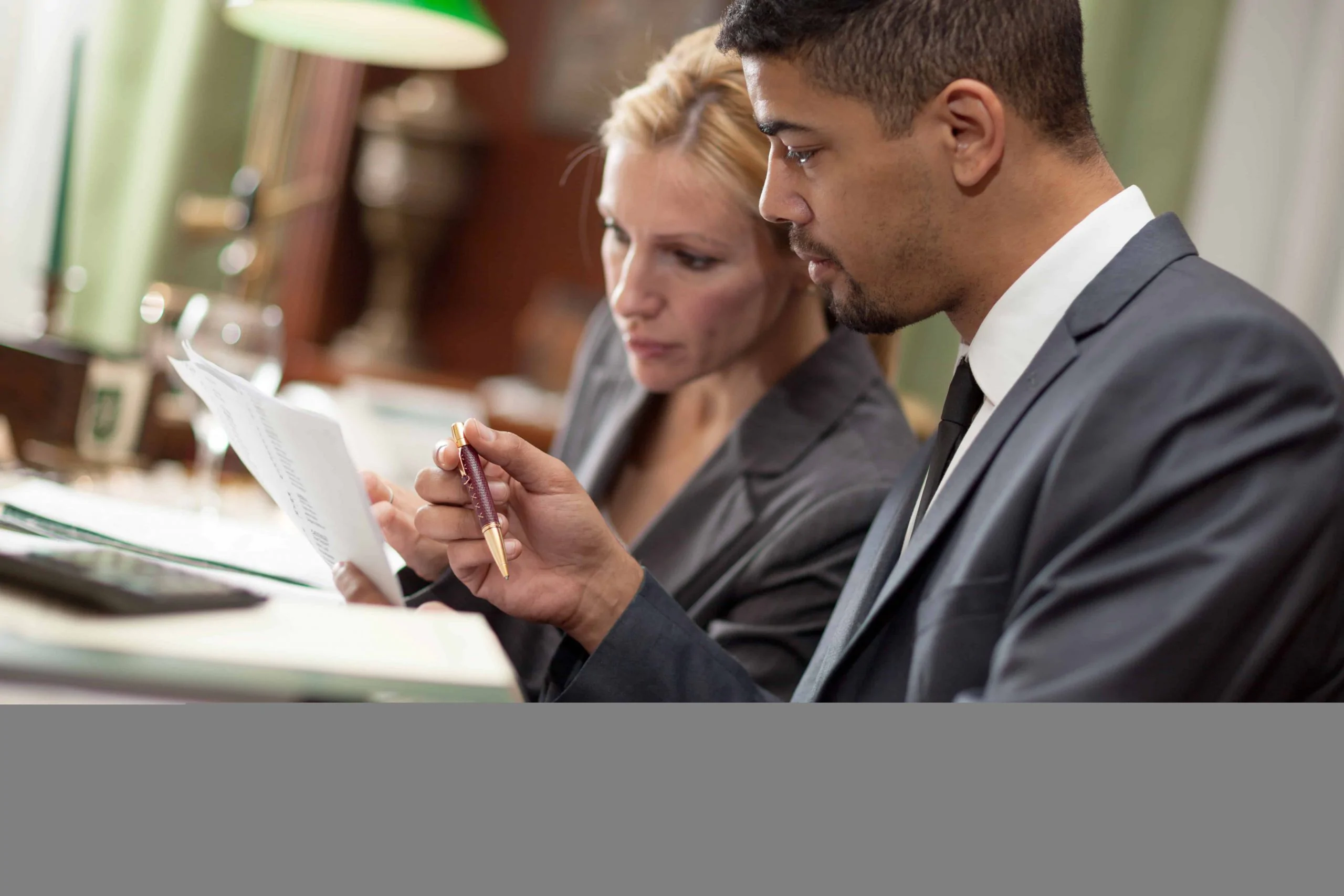 Paralegals assist personal injury lawyers in all aspects of personal injury litigation. A paralegal's duty encompasses a wide range of responsibilities geared towards assisting lawyers to ensure every detail of a case is handled accurately and efficiently. Paralegals provide essential contributions to a law firm, and the value of their role within a legal team cannot be emphasized enough.
What Does Paralegal Mean?
According to the American Bar Association (ABA), a paralegal can be defined as "a person, qualified by education, training or work experience who is employed or retained by a lawyer, law office, corporation, government agency or other entity and who performs specifically delegated substantive legal work for which a lawyer is responsible."
Paralegals usually take a mandated series of courses in law and legal processes that are less demanding than those required for a licensed attorney. However, paralegals are heavily involved in the bulk of challenging legal work.
What Do Paralegals Do?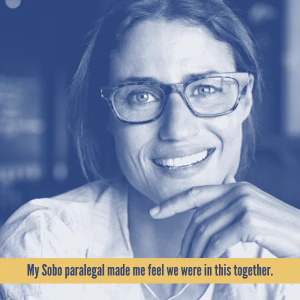 "I had no idea what a paralegal did until I hired Sobo & Sobo," said Danielle, who recently picked up a settlement following a successful medical malpractice case.
"My attorney was exceptional in fighting for my case," said Danielle, "But it was my paralegal that kept me constantly updated, returned every call without fail, and even checked in regularly just to see how I was feeling. You don't know you'll need this kind of help when you first file a lawsuit, but the help from my paralegal proved to be invaluable."
"My paralegal didn't just help my lawyer with the case – she helped keep me sane," said Danielle.
This is a true story. We've changed the name and photograph of our client to protect her privacy.
As a representative of the legal firm, a paralegal job description usually includes a majority of the legal work aside from the actual representation in trial. The following are the typical duties and responsibilities of a paralegal.
Communicating with Clients and the Public
Often a paralegal will handle the bulk of the legal work for the clients, with the work being approved and signed off by a lawyer at the firm. These duties may include:
Serving as a guide for clients throughout legal proceedings

Contacting legal and case-specific experts

Collecting witness statements

Serving as a liaison between the firm and opposing counsel
Paralegals must have impressive communication skills as the right-hand assistant to the lawyers. Depending on the size of the firm, paralegals may include handling the initial screening of new clients and any ongoing counseling before they meet with other members of the legal team. Most firms (ie. smaller firms) typically only take on cases they are confident they can win.
Those who interview prospective clients are, therefore, critical to the clients' success and the acceptance of cases appropriate to the law firm's expertise and abilities. In many cases, clients with cases better served by other attorneys are guided to those resources by the paralegal they first meet.
Being the first one to meet with a potential client is no easy task. Paralegals must ask difficult, uncomfortable questions with a calm demeanor in order to make clients feel welcome in their trying time. They must also be skillful and experienced in detecting when a potential client is lying, or when a case is "too good to be true." 
All in all, the paralegal must be compassionate and understanding while gathering initial information from a victim of personal injury. An individual seeking help from a personal injury firm is suffering from injury or loss and likely in a fragile mental state. While this is business as usual to the law firm, the issues are a real and harrowing part of the client's life, and paralegals are responsible for navigating this territory with compassion and understanding.
Writing and Research
In many law firms, paralegals are responsible for most of the legal research and drafting various types of legal documents. These responsibilities require traditional legal research methods and a comprehensive knowledge of legal databases. Law firms typically rely on paralegals to draft the following documents:
Discovery responses

Correspondence forms

Pleadings

Motions

Briefs

Agreements

Resolutions

Contracts
Paralegals must apply intensive investigative skills to successfully locate and obtain medical records, evidence, and witnesses. The fact that each case is unique means that there are enormous amounts of case law archives throughout history. Paralegals have to be masterful at researching these cases to support the arguments made during settlement negotiations and, if necessary, during trial.
Administrative and Managerial Duties
Law firms often use paralegals as a kind of office manager. In addition to paralegal duties, they may be responsible for managing other office personnel or legal secretaries.
 Other duties may include monitoring and updating the legal library. This can be incredibly time consuming and painstaking to go through as legal cases can involve thousands of pages of paperwork. Paralegals sort, organize and archive documents properly so that they are easily retrievable at any time. This makes it significantly easier for attorneys to navigate any intricacies of a case and provide the best service in an efficient and productive way.
Most modern law firms manage information about individual cases in software specifically designed for the chore. "Case management software" stores data in searchable, organized files. It also saves scanned paper documents and photos for future use. Paralegals are required to master these computing tools.
Assisting Before and During Trial
Personal injury paralegals play an important role in litigation and maintaining a favorable impression with judges. They are responsible for coordinating deadlines and filing requirements often for multiple clients at once. Paralegals ensure that none of the attorneys at a firm are scheduled to be in two court rooms at the same time.
Paralegals may take on any number of tasks at trial, including:
Witness preparation, including bringing witnesses into the courtroom when they testify

Preparing and keeping any exhibits or evidence organized, including pulling and passing them to the attorney when needed

Providing assistance during jury selection, also known as

voir dire, by helping the attorney evaluate or reject potential jurors

Communicating with the client as the attorney presents the case

Assisting with trial strategy and any needed adjustments as the case progresses, acting as a second set of eyes and ears in the courtroom
Qualifications to Become a Paralegal in New York
New York state follows the American Bar Association model that guides lawyers' responsibilities to non-lawyer assistants. Under New York's Rule 5.3, lawyers must provide supervision of all paralegals, including instruction in ethics and confidentiality. The supervising attorney is considered responsible for the professional conduct of the paralegal.
There are no educational or training requirements to legally become a paralegal in New York. However, many hiring lawyers prefer to hire entry-level paralegals who have earned degrees in paralegal studies. Further, the Empire State Alliance of Paralegal Associations (ESAPA) encourages both paralegals and the attorneys who employ them to follow educational guidelines they have developed.
Suggested ESAPA Educational Guidelines for Paralegals
An associate's degree in paralegal studies

A post-baccalaureate certificate in paralegal studies, or

A bachelor's degree with a major, minor, or concentration in paralegal studies

Continuing education: a minimum of 12 hours of continuing education to be completed every two years, including at least two hours of coursework in ethics
What is a Paralegal Certificate in New York?
Earning a post-baccalaureate certificate is not the same as earning national certification. These certificate programs are offered to aspiring paralegals who have earned a degree in another field. The programs consist of coursework specific to paralegals who have already fulfilled other general education requirements. Individuals who complete these programs become certificated paralegals.
National Paralegal Certification
The ESAPA supports the credentialing of paralegals through national certification, during which they become certified paralegals. This certification allows paralegals to demonstrate proficiency by meeting education and training requirements in addition to passing one of the national certification exams. 
There are currently four nationally recognized certification exams. Two are offered by the National Federation of Paralegal Associations (NFPA):
The Paralegal Advanced Competency Exam (PACE)—

"for those with not only a comprehensive education in paralegal studies but also years of practical experience." This test demonstrates that a paralegal is one of the best in the field.

The Paralegal CORE Competency Exam (PCC)—

"for those prepared by education for many types of paralegal work, and helps you stand out from others whose schooling and experience are otherwise similar."
In New York, most paralegals take the PACE or PCC because most members of the Empire State Alliance of Paralegal Associations are affiliated with the NFPA. Two other nationally recognized certification exams are:
The

Certified Paralegal Program

 offered by the National Association of Legal Assistants (NALA)

The Professional Paralegal Exam

offered by the Association for Legal Professionals (NALS)
Paralegals can assume more responsibilities if they specialize in different areas. These areas could be litigation, personal injury, employee benefits, criminal law, etc. They are professionals with impeccable organizational and interpersonal skills who are crucial to the success of any personal injury claim, and the legal system in general. 
Law Offices of Sobo & Sobo
The legal teams at Sobo & Sobo focus all their effort on managing cases while keeping clients informed every step of the way. Our skilled negotiators have decades of experience and successful settlements for clients across New York City and the Hudson Valley. We have offices conveniently located in Middletown, Newburgh, Spring Valley, Poughkeepsie, Monticello, the Bronx and Inwood.
For more information about how we can help, contact us online or call us at 855-468-7626 for a free consultation.