NY Bicycle Accident Lawyers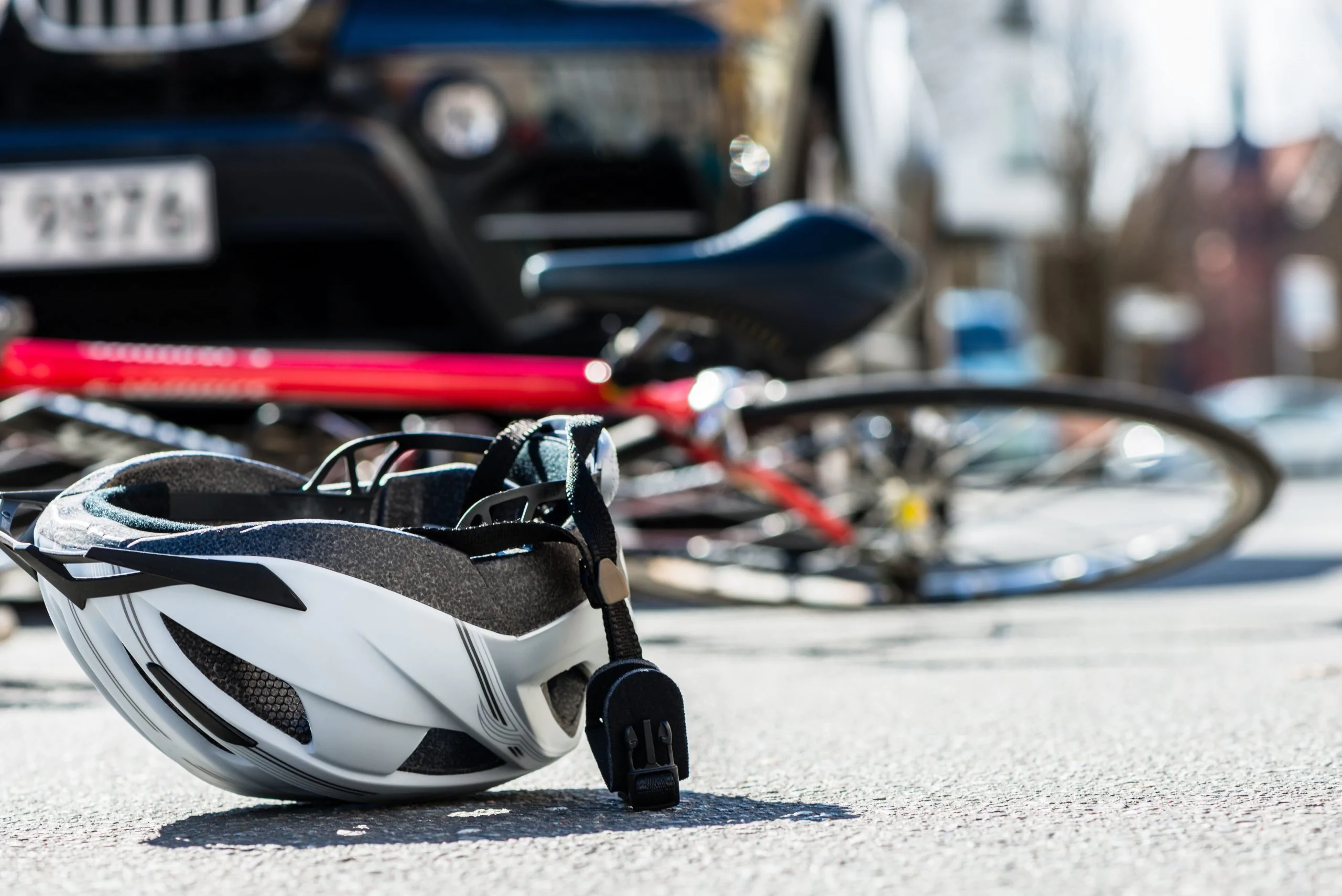 Each year, roughly 6,000 New Yorkers suffer non-fatal injuries from bicycle crashes, according to reports from the New York State Department of Motor Vehicles (NYDMV). Over 95% of these crashes involve a motor vehicle colliding with a cyclist. Fortunately, the majority of these injuries are not fatal—yet the injuries sustained by cyclists are often severe enough to cause long-term to permanent injuries, disabilities, and suffering.
If you or a loved one has been injured in a bicycle accident, either as a cyclist, pedestrian, or driver, the personal injury lawyers at Sobo & Sobo can help you receive compensation for your damages. Filing an injury claim can help you pay for damages including medical costs and lost wages directly caused by your accident. Schedule a free consultation by calling 855-468-7626, or contact Sobo & Sobo online.
Who is at Fault in a Bicycle Accident?
Bike accident lawsuits that involve a motor vehicle are similar to car accident lawsuits in New York. If property damage is the only issue, cyclists can file a no-fault insurance claim. This will cover property expenses without requiring payment out of either party's pockets.
As a "no-fault" state, New York law usually allows a motor vehicle driver's insurance to pay for a cyclist's medical expenses, regardless of who is "at fault" for the accident.
If the injury is severe enough, however, victims may be eligible to file a personal injury lawsuit. What qualifies as "severe" is normally left up to the determination of a court, or if medical expenses exceed $50,000. Injuries commonly decided as severe enough to file a personal injury case include broken bones, permanent disabilities and traumatic brain injuries (TBIs).
If a cyclist is determined to be partly at fault for causing the accident, the other party may be able to recover damages as well. The court may deduct this total from the damages awarded to the cyclist. For this reason, hiring a bicycle accident lawyer is recommended to prove the negligence of the third party, and in turn maximize compensation for any damages.
When Cyclists are at Fault
In New York, bicyclists are required to abide by the same roadway laws as motor vehicle operators. That means cyclists, like drivers, must:
Signal when making lane changes
Yield the right of way to pedestrians
Stay off sidewalks
Obey all traffic signs and signals
Never drink and ride
According to the National Highway Traffic Safety Administration (NHTSA), 20% of bicyclists killed in the U.S. each year have a blood alcohol concentration of 0.08 or higher.
If a cyclist violates a traffic law and causes an accident, they can be held liable for any resulting injuries and damages. Both motorists and bicyclists are responsible for abiding by the rules of the road, and so the cyclist or the driver that is negligent will be found to be liable for at least the majority of a resulting accident.
In New York, it is common for all parties involved in an accident to take on some share of liability. The more negligent one party is discovered to be, the more they will be held liable. Bicyclists that are injured in any kind of accident—whether the accident involved a cyclist and a pedestrian, or a cyclist and a motorist—typically seek help from a personal injury lawyer to represent them. This is done to minimize liability and maximize compensation for any accident-related damages.
Common Bicycle Accident Injury Lawsuits
Bicyclists can experience one of three accident types: accidents with pedestrians, other cyclists, or motor vehicles. Accidents with motor vehicles are the most dangerous due to the difference between the speed and weight of both vehicles and because bicyclists are much more physically exposed than motor vehicle drivers and passengers.
Bike accident injuries are normally inflicted on the cyclist. However, pedestrians can also be injured. Common injuries inflicted on cyclists or pedestrians include:
Skull and traumatic brain injuries, which occur in between 22% and 47% of injured bicyclists. These are particularly more likely if a collision occurs with a motor vehicle
Acute trauma such as lacerations, road rash, dislocations, and fractures
Scrapes
Road rash
Bruises
Nerve damage
Dislocation
First Steps to File a Bicycle Accident Lawsuit
There are certain steps you can take as soon as possible after your accident to maximize your chances of building a successful case—before you file a lawsuit:
Do NOT let another driver's insurance company take a recorded statement regarding the accident. This is typically asked by insurance companies so that statements made before consulting with an attorney can be used as evidence that may discredit any recounting of the accident later
Collect a copy of the police report
Try to get a recording or hand-written account from any witness of the accident willing to give you a statement
Most intersections are equipped with security cameras to catch people who illegally disregard traffic signals. This can be valuable evidence for your case. A personal injury lawyer will be able to help you collect this evidence.
Keep a detailed record of all medical records relating to your injury, as well as a list of lost working hours and wages that are directly related to any injury.
It is recommended that you enlist the help of a personal injury attorney with years of experience representing those involved in bicycle accidents. The right lawyer can help you collect all the evidence, paperwork and testimonials you'll need to build your case, and maximize your settlement.
Benefits of Hiring a Bike Accident Lawyer
Bike accident lawsuits can lead to significant compensation for bike accident victims. But winning a proper settlement is never a sure thing, especially since New York is a no-fault state.
No-fault states like New York make it particularly difficult for accident victims to prove that their injuries were the direct result of the negligence of another person. Bicycle accident attorneys can assist with such cases by:
Maximizing Compensation by Proving Innocence in Court: Bike accident lawyers help victims maximize their settlements by proving their innocence and proving negligence on behalf of neglectful motorists or pedestrians.
Collecting Evidence: Legal teams help injured victims by collecting evidence that proves that third parties were wholly responsible for causing the accident. Such evidence can include camera footage, witness accounts, and police reports.
Organizing Documents & Deadlines: An experienced bike accident attorney will keep in constant contact with their clients to help collect and organize paperwork, and ensure all deadlines are met.
24/7 Communication A legal team consisting of attorneys and paralegals ensure that their clients are always able to reach them via phone or email to address any questions or concerns they have.
Bike Accident Lawsuit Settlements
A cyclist injured in an accident may require many medical procedures and treatments in order to recover fully. Skin damage, broken bones, and deeper trauma may be inflicted depending on the severity of an accident.
Because bike accident injuries can be so severe, medical costs can also be quite high. Pressing a claim for a bike accident lawsuit may be helpful in managing the mounting costs of surgery, pain medication, and physical therapy. Furthermore, many bicycles are either damaged or totally lost as a result of damage incurred during a bike accident. The costs of bicycle repair or replacement may also be factored into a victim's total settlement amount.
Experienced bike accident attorneys help victims receive compensation for:
Past and future medical expenses
Costs for physical therapy
Pain and suffering damages
Costs to replace a broken bicycle or to make repairs
Compensation for lost income
Compensation for future lost wages in the event of permanent disability
Bicycle accident lawyers in New York can help injured cyclists make the strongest possible case. Their legal assistance can ensure victims get all the damages they need to recover.
Victims of Bicycle Accidents Never Pay Unless We Win
At Sobo & Sobo, our attorneys are only paid with a portion of a settlement. That means our bike accident clients never have to pay out of pocket. So, it is impossible to ever owe Sobo & Sobo money.
Contact a New York Bicycle Accident Lawyer
If you or someone you know was injured in a bike accident due to an act of negligence, contact the bicycle attorneys at Sobo & Sobo online for a free consultation, or call 855-GOT-SOBO. At Sobo & Sobo we have over 50 years of experience helping victims win settlements for bike accidents across the Hudson Valley and New York City.
New York Bike Accident Statistics
Recent data from the New York Department of Transportation (NYDOT) gives insight into the frequency and unique factors involving bicycle accidents experienced throughout New York:
4,000 bike accidents involve motor vehicles
300 accidents involve only bicycles
270 accidents involve both bicyclists and pedestrians
Of these accidents, an average of 10 each year result in fatalities
Including all those involved in bike accidents, an average of 10,000 people are seriously injured each year