Suing a Nursing Home for Negligence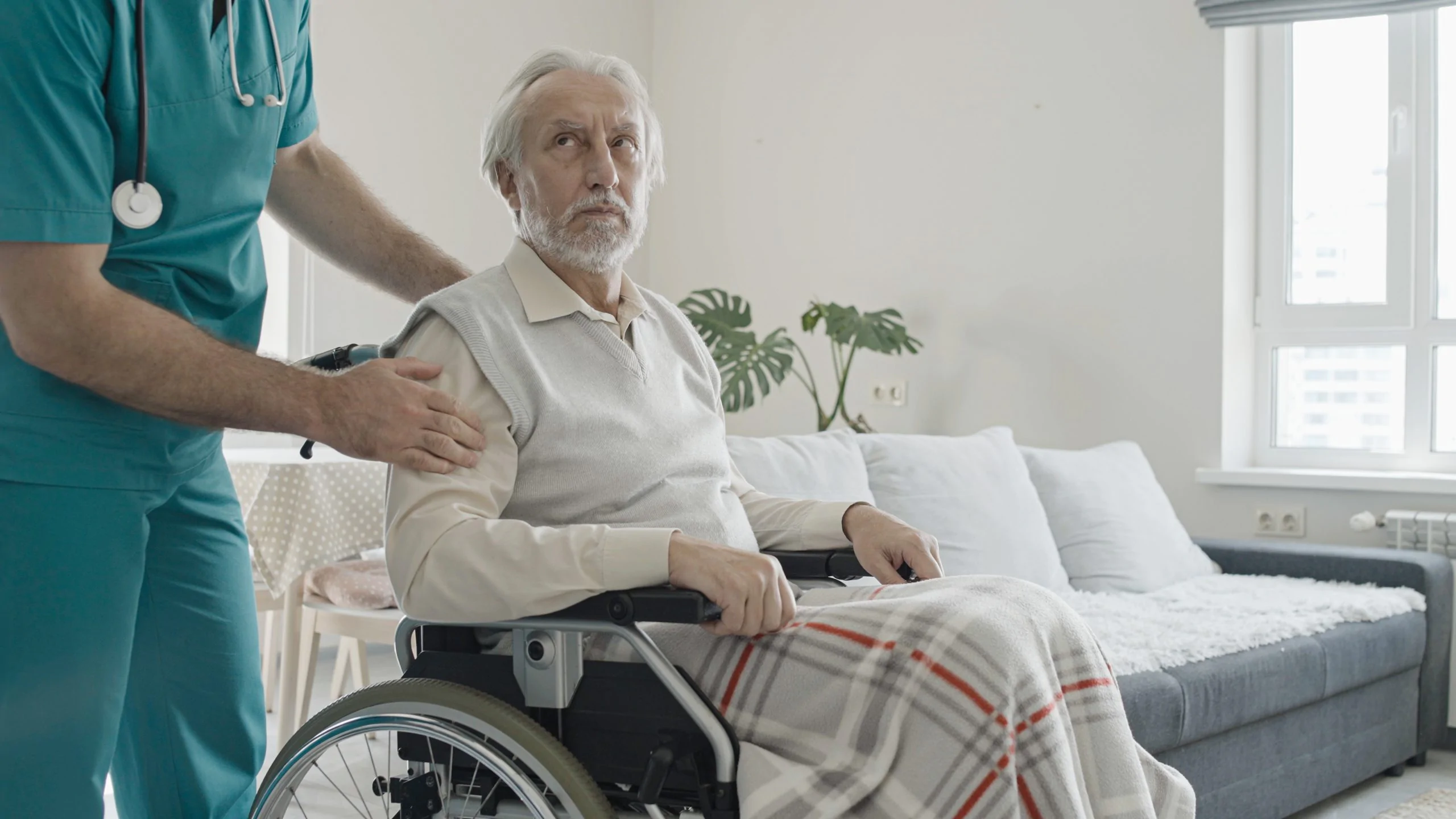 Nursing homes are where many New Yorkers turn for help when a loved one needs special care. Yet sometimes nursing homes neglect patients or abuse their responsibilities in ways that can result in a resident's injury or death.
When a loved one is injured or dies while under a nursing home's care, family members can take legal action. If the victim survives an incident and is fully competent, they can file their own personal injury litigation against the nursing home. However, in cases where there is dementia or other limitations, relatives may act on their behalf with a power of attorney.
Depending on the details of the case, lawsuits can also be brought against staff members or the manufacturer of a defective product (for instance, a wheelchair that broke and caused injury).
Legal Options for Nursing Home Negligence
Personal injury lawsuits may also encompass a medical malpractice lawsuit against the nursing home. Medical malpractice is when a health-care representative injures a patient through an omission or negligent act, according to the American Board of Professional Liability Attorneys (ABPLA).
Personal injury cases are heard in civil court, where the victims can be compensated with a financial award that covers medical expenses, lost income from being out of work, pain, suffering and other damages.
Criminal charges can also be filed against nursing home operators. For example, a Massachusetts veterans' home faced a class action suit of more than $175 million for reportedly not isolating those with Covid symptoms.
There are specific grounds for filing a civil suit. Though a particular nursing home may fall short of a family's expectations, these flaws do not always rise to the level of a court case.
Real Story of Nursing Home Negligence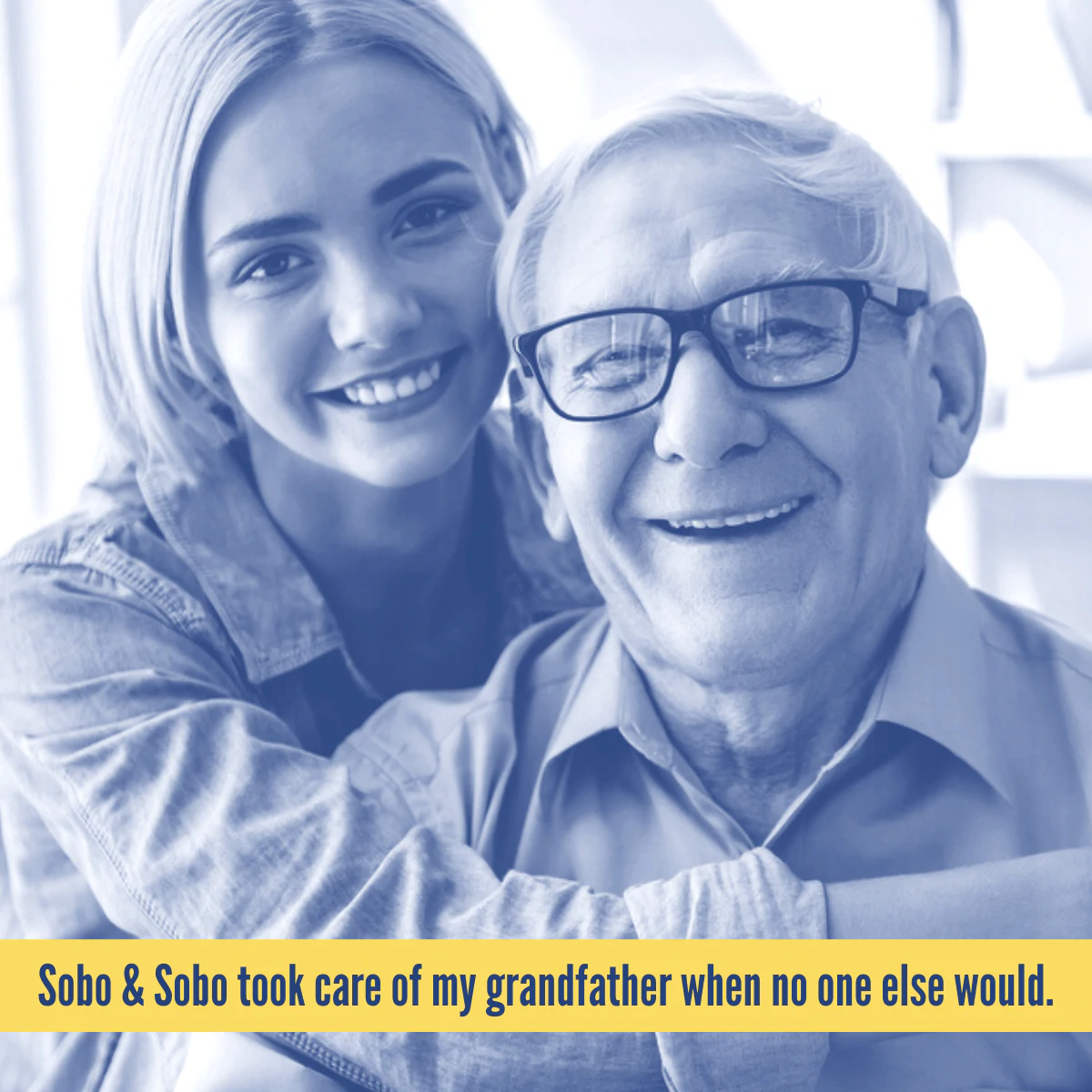 "We had to put Grandpa in a nursing home because he couldn't take care of himself anymore," said Julia, granddaughter of our client Nelson. "His Alzheimer's was getting worse, until he couldn't remember where he was or what he was doing most days. We thought a nursing home would know how to handle his condition better than we did, but they wound up making it terrible for him."
A few months into Nelson's stay, Julia overheard multiple nursing staff members laughing about how they took advantage of her grandfather, and saying that they "Never had to worry about bringing him his food or medications on time, since he never knew what time it was anyway." Julia told her parents, who immediately took Nelson out of the home, and went to Sobo & Sobo to file a nursing home malpractice lawsuit for negligent practices.
After launching an investigation into the nursing home, the Sobo team found that Nelson was just one of many patients that the staff was taking advantage of routinely. With limited staff and an overcrowded home, staff members were cutting corners every chance they could by taking advantage of their patient's mental and physical illnesses, which was making many of their conditions worse over time with skipped meals and medications.
Today, Julia's parents are using their settlement funds to place Nelson in a better nursing home with a more caring and compassionate staff. "He's still not all here, but I can tell he's much happier," said Julia. "Thank you Sobo & Sobo for caring about my Grandpa when no one else would."
This is a true story. We've changed the name and photograph of our client to protect their privacy.
Grounds for Filing a Nursing Home Lawsuit
Grounds for a civil suit against a nursing home may include the following:
Poorly maintained premises:

Nursing homes have been held accountable for failing to prevent slip and fall accidents and other mishaps by addressing hazards on the grounds.

Inadequate staff and supervision:

The understaffing of qualified personnel makes it difficult for a nursing home to provide proper care. A nursing home can be held accountable for damages that result because of a shortage of staff and supervision.

Failure to maintain a clean and healthy environment:

Each nursing home is expected to have a procedure in place to ensure sanitary conditions.

Neglecting the standard of medical treatment:

Nursing home residents often require special care. When treatment falls short and tragedy results, the nursing home can be held liable.

Intentional acts:

At times nursing home staff has been accused of physical abuse against residents. Even when it's an employee who commits the intentional act, the nursing home may still be held at least partially responsible for the act, if not entirely.
Federal Regulations for Nursing Home Care
In cases where a nursing home accepts Medicare or Medicaid, federal regulations determine the standard of care for patients. If failure to meet federal standards causes harm, the incident could result in a civil suit.
One hypothetical example of a federal nursing home violation might be a staff member administering medicine that is not part of the patients' care plan. If the wrong medication is given with detrimental results, that could be the basis for a suit.
Patients have the right to be free from discrimination, restraints, and verbal, physical, mental, and sexual abuse under the guidelines at Medicare.gov.
Covid-19-Related Lawsuits
Considering the death toll and potential abuses, Covid-19 could be another basis for a lawsuit in certain cases. According to the Centers for Disease Control and Prevention (CDC), about 43,000 Covid-related deaths had occurred in nursing homes as of July 26, 2020.
The fact that someone died of Covid at a nursing home is not enough on its own to initiate a lawsuit. However, if neglectful acts or violations of the nursing home's standard of care contributed to the loss, loved ones have the option of consulting with a personal injury attorney about the merits of their case.
Many states have limited lawsuit options relating to Covid, but New York has partially repealed immunity for nursing homes. Protection for nursing homes is now limited to when a facility is diagnosing or treating Covid.
Complaints Against NY Nursing Homes
In New York State, the first step toward putting an end to abuse and neglect at a particular nursing home may be filing a complaint with the Department of Health. This can be done 24 hours a day, seven days a week at the complaint hotline (888-201-4563). There is also an official online complaint form through NY.Gov that can be filled out here.
In investigating complaints, the Department of Health looks at whether a nursing home failed to meet state and federal requirements. If found deficient, a nursing home could be issued a citation and required to follow a corrective action plan.
Complaints, fines, and other governmental action against a nursing home can help substantiate a case if a family decides to pursue legal action against a nursing home. It is best to keep dated records of interactions with staff as memory can fade with time.
Just as with any personal injury lawsuit, the more evidence that can be gathered the greater the likelihood of a settlement to cover damages.
How Common is Nursing Home Abuse in New York?
It's unclear how many nursing home lawsuits are filed annually in New York and across the nation. However, the New York State Department of Health (DOH) does keep track of filed complaints, which have increased each year from 2012, in which 8,907 complaints were filed, to 12,343 complaints in 2016.
The majority of the 2016 cases (91%) dealt with alleged violations of state and federal laws, and 9% percent involved resident abuse, neglect, or mistreatment by an individual in a nursing home, according to research from the DOH.
The nonprofit Long Term Care Community Coalition also keeps tabs on nursing homes sanctioned for theft, abuse, and neglect in New York. Financial penalties against nursing homes for violations included the following:
For federal sanctions, fines totaling $1.12 million were levied against 37 NYS nursing homes in 2019 for failure to meet minimum standards.

For state sanctions, 47 nursing homes received fines totaling $381,000.

In addition, the Office of the Medicaid Inspector General acted against 41 defendants, for issues ranging from drug theft to assault and dangerous understaffing levels.
Most Common Nursing Home Injuries
Bedsores:

In 2004,

more than one in 10 nursing home residents had a pressure ulcer

, commonly known as a bedsore, according to the CDC. Bedsores are highly preventable and often associated with neglect. Some pressure ulcers are severe enough to expose bone and create life-threatening infection.

Falls:

"

Falls among nursing home residents

occur frequently and repeatedly," says the CDC. "About 1,800 older adults living in nursing homes die each year from fall-related injuries and those who survive falls frequently sustain hip fractures and head injuries that result in permanent disability and reduced quality of life."

Overdose or incorrect medication:

Each year adverse drug events, which can include overmedication and medication errors, leads to 1.3 million Emergency Room visits and 350,000 hospitalizations. No doubt a certain portion of these errors occur in a nursing home setting.
Signs of Nursing Home Neglect
Some nursing home problems the U.S. Department of Justice (USDOJ) highlighted in early 2020 included:
Inadequate nursing staff

Failure to follow the basic standard of hygiene and infection control

Inadequate food for those emaciated and weak

Use of physical or chemical restraint to restrain or sedate residents
When to File a Nursing Home Lawsuit
When a family decides to sue a nursing home, there is a window of opportunity in which they need to act. This is called the statute of limitations. The statute of limitations for a personal injury in New York is about three years from the time of the injury for a lawsuit to be filed.
The statute of limitations for a medical malpractice lawsuit in New York is typically two years and six months from the act of medical negligence.
Contact Sobo & Sobo
Need help deciding whether to take legal action? Consider a free consultation with New York-based Sobo & Sobo. When a loved one is abused or mistreated in a nursing home, there's no need to fight for justice alone. Sobo & Sobo is experienced in all kinds of personal injury lawsuits. Call Sobo & Sobo today.